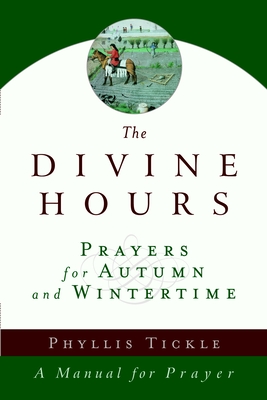 The Divine Hours (Volume Two)
Prayers for Autumn and Wintertime: A Manual for Prayer
Paperback

* Individual store prices may vary.
Other Editions of This Title:
Paperback (1/17/2006)
Description
The second volume in a trilogy of prayer manuals compiled by Publishers Weekly religion editor Phyllis Tickle as a contemporary Book of Hours to guide Christians gently yet authoritatively through the daily offices.

The Divine Hours is the first major literary and liturgical reworking of the sixth-century Benedictine Rule of fixed-hour prayer. This beautifully conceived and thoroughly modern three-volume guide will appeal to the theological novice as well as to the ecclesiastical sophisticate. Making primary use of the Book of Common Prayer and the writings of the Church Fathers, The Divine Hours is also a companion to the New Jerusalem Bible, from which it draws its Scripture readings. The trilogy blends prayer and praise in a way that, while extraordinarily fresh, respects and builds upon the ancient wisdom of Christianity.

The second book in the set, Prayers for Autumn and Wintertime, provides prayers, psalms, and readings for these two festive seasons. Compact, it is perfect for those seeking greater spiritual depth. As a contemporary Book of Hours, The Divine Hours: Prayers for Autumn and Wintertime heralds a renewal of the tradition of disciplined daily prayer, and gives those already using the first volume the continuity they are seeking. The series will culminate in a third volume for springtime, completing the liturgical and calendar year with the offices for every day.
Praise For The Divine Hours (Volume Two): Prayers for Autumn and Wintertime: A Manual for Prayer…
"The Divine HoursTM is simply the best book for people who want to work prayer into the fabric of their daily life."
—Bert Ghezzi, author of Voices of the Saints

"A welcome remedy for the increasing number of lay Christians who have rediscovered the Daily Offices . . . Tickle puts each day's prayers, psalms, readings, and refrains—everything you need—in one place . . . The rhythm that Tickle's book establishes gives one a stronger sense of participating in an ancient, worldwide but very personal liturgy."
—Nora Gallagher, Beliefnet.com, and author of Things Seen and Unseen: A Year Lived in Faith

Image, 9780385505406, 688pp.
Publication Date: September 19, 2006
About the Author
Phyllis Tickle has been reporting on religion for Publishers Weekly for many years and is currently Contributing Editor in Religion for the journal. One of the most respected authorities and popular speakers on religion in America today, she is frequently quoted and interviewed both in print media, including the New York Times, Washington Post, Newsweek, and Time, and in electronic media, such as CNN, C-SPAN, BBC, and "Voice of America." She appears frequently on the Odyssey Channel and is a regular guest on PBS's "Religion & Ethics NewsWeekly." She is the author of over two dozen books, including the recently published God-Talk in America. She lives in the rural community of Lucy, Tennessee.

Visit the Divine Hours Web site at www.thedivinehours.com.

The Divine Hours is a trademark of Tickle, Inc.
or
Not Currently Available for Direct Purchase