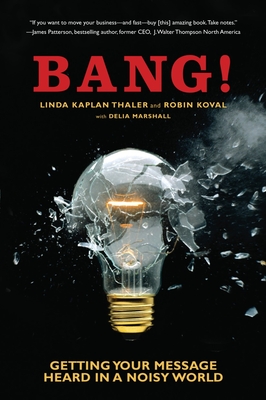 Bang!: Getting Your Message Heard in a Noisy World (Paperback)
Getting Your Message Heard in a Noisy World
Crown Business, 9780385508179, 256pp.
Publication Date: January 18, 2005
* Individual store prices may vary.
or
Not Currently Available for Direct Purchase
Description
We all want to get our message heard. And in "Bang ," marketing gurus Linda Kaplan Thaler and Robin Koval tell us how. They and their talented colleagues are the brains behind a host of memorable and highly successful ads, from the enormously successful AFLAC duck to the irresistibly sentimental "Kodak Moment" to Herbal Essences' outrageous "Totally Organic Experience." In "Bang ," Kaplan Thaler and Koval offer proven strategies for creating a loud, clear, attention-grabbing message about and product or service.
Full of entertaining anecdotes and inspiring accounts of campaigns that have propelled revenues and dramatically increased market share, "Bang "shows managers how to create a marketing campaign that cuts through the message clutter and creates a genuine marketing explosion.
About the Author
Linda Kaplan Thaler is the CEO and Chief Creative Officer and Robin Koval is General Manager of the Kaplan Thaler Group, ranked as the fastest growing advertising agency in the U.S. by leading industry and business publications. They are responsible for some of the biggest bangs in the marketing world skyrocketing sales, infiltrating pop culture and creating brand icons such as the AFLAC Duck. "From the Hardcover edition."
Praise For Bang!: Getting Your Message Heard in a Noisy World…
Acclaim for Bang!

"This top-notch book... is as much about creating an atmosphere that fosteres creativity as it is about memorable marketing."
— Fast Company

"Bright, breezy, but deadly serious guide to creating a buzz—and a bang."
— Miami Herald

"Linda Kaplan Thaler and Robin Koval 'get it' from every angle. This book is full of extraordinary insight on effective message delivery."
— Gordon Bethune, Chairman and CEO, Continental Airlines

"The AFLAC duck campaign that Linda and Robin's agency created ...dramatically increased our brand awareness. Today nine out of ten people recognize the AFLAC name."
— Daniel P. Amos, Chairman and CEO, AFLAC Incorporated
Advertisement