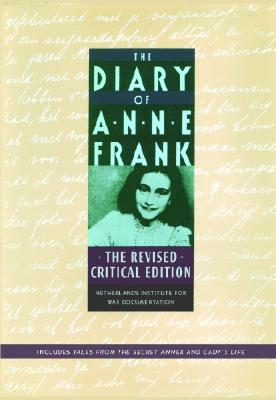 The Diary of Anne Frank
Hardcover

* Individual store prices may vary.
Other Editions of This Title:
Paperback, Marathi (2/1/2015)
Hardcover (5/1/2010)
Description
The only complete collection of writings by Anne Frank, this impressive volume contains three of the extant versions of her Diary (including pages that came to light in 1998), Tales from the Secret Annex (he lesser known short stories, fables, and personal reminiscences), and Cady's Life (her unfinished novel), along with the latest, most definitive scholarly research into Frank's life.
Anne Frank's diary has become a modern classic. It stands alone as the moving testimony of a young girl whose world collapsed around her in the nightmare of Hitler's Final Solution. Published in the United States in 1952, Anne Frank: A Diary of a Young Girl has been translated from the Dutch into nearly seventy languages, and millions of people the world over continue to respond to her extraordinary voice. The Diary of Anne Frank: The Revised Critical Edition presents the most fascinating, comprehensive study of that diary in existence.
Prepared by the Netherlands Institute for War Documentation, this monumental work allows the reader to compare the three versions of the diary itself: Anne's original entries; the diary as she herself edited it in the hiding place of the "Secret Annex"; and the version most popularly known, as edited by Anne's father, Otto Frank, and a Dutch publishing house after World War II, when they removed certain family and sexual references. Every aspect of the diary--including Anne's handwriting and the paper used--is meticulously examined, providing compelling proof and historical of its poignant testament. Absorbing biographical information on the Frank family enhances Anne's personal perceptions, and a summary of critical events during and after the family's arrest--including how the Nazi authorities learned about the Franks and their secret hiding places--adds a new dimension to this tragic, still resonant story.
Illustrated throughout with black-and-white photographs, the Diary of Anne Frank: The Revised Critical Edition is an invaluable contribution to our awareness of the Holocaust and a stirring tribute to the author's impressionable spirit.
Doubleday Books, 9780385508476, 864pp.
Publication Date: March 25, 2003
About the Author
Issues related to war violence generate a lot of interest from society and demand independent academic research. NIOD conducts and stimulates such research and its collections are open to all those who are interested. The Institute was founded on 8 May 1945 to write the history of the Second World War in the Netherlands and in the former Dutch East Indies through independent research. Since 1 January 1999 the Institute is part of the Royal Netherlands Academy of Arts and Sciences (KNAW). On 9 December 2010 NIOD merged with the Centre for Holocaust and Genocide Studies (CHGS) and it now operates under the name NIOD, Institute for War, Holocaust and Genocide Studies.
or
Not Currently Available for Direct Purchase