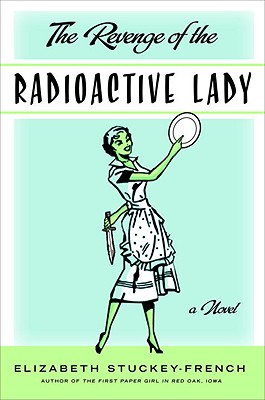 The Revenge of the Radioactive Lady
Hardcover

* Individual store prices may vary.
Other Editions of This Title:
Paperback (1/10/2012)
Hardcover, Large Print (8/1/2011)
Description
This lively, intricately plotted, laugh-out-loud funny, and surprisingly touching family drama combines the wit of Carl Hiaasen with the southern charm of Jill McCorkle.

Seventy-seven-year-old Marylou Ahearn is going to kill Dr. Wilson Spriggs come hell or high water. In 1953, he gave her a radioactive cocktail without her consent as part of a secret government study that had horrible consequences.

Marylou has been plotting her revenge for fifty years. When she accidentally discovers his whereabouts in Florida, her plans finally snap into action. She high tails it to hot and humid Tallahassee, moves in down the block from where a now senile Spriggs lives with his daughter's family, and begins the tricky work of insinuating herself into their lives. But she has no idea what a nest of yellow jackets she is stum­bling into.

Before the novel is through, someone will be kidnapped, an unlikely couple will get engaged, someone will nearly die from eating a pineapple upside-down cake laced with anti-freeze, and that's not all . . .

Told from the varied perspectives of an incredible cast of endearing oddball characters and written with the flair of a native Floridian, this dark comedy does not disappoint.
Praise For The Revenge of the Radioactive Lady…
Advance Praise for The Revenge of The Radioactive Lady

"Elizabeth Stuckey-French's latest novel is playfully retro...We don't expect, in comic little-old-lady novels, to encounter childhood cancer, randy preachers and a boy building a homemade breeder reactor in the tool shed. But Stuckey-French knows that if you dig deep enough, we're all oddballs, and the the world is a perilous and unpredictable place."
-- The New York Times Book Review

"[A] charmingly off-kilter novel...Stuckey-French channels her characters -- including two mildly autistic teenagers -- with precision and wit, weaving in wry insights about modern suburban life. The result is a smart and improbably cheerful tale about family that's actually quite sweet at its core."
-- People Magazine (3 out of 4 stars)

"[The Revenge of the Radioactive Lady] turns out to be the best kind of page-turner -- one with heart."
--The Boston Globe

"Mixing the suburban angst of Tom Perrotta with the snarky humor of Carl Hiaasen, Stuckey-French has written a page-turner that is thoughtful, amusing, and nearly impossible to put down."
--Library Journal, starred review

"The Revenge of the Radioactive Lady is surprisingly chipper as the neurotic and lovable cast turns a macabre tale into a wildly compulsive read."
--Bookpage.com

"It's impossible not to love a novel that starts out with a 77-year-old woman planning cold-blooded murder, especially when the old lady in question is as charming and funny as Stuckey-French's Marylou Ahearn. As she steadily worms her way into the world and family of her intended victim, this fast-paced and witty book expands to create a big-hearted, hilarious and touching portrait of a community full of an amazing and vivid cast of characters. A true pleasure to read."  
--Dan Chaon, bestselling author of Await Your Reply. 

"Cheeky and cinematic...Fast-paced, vibrant and quirky, this novel will surely win new fans for Stuckey-French." 
 --Winnipeg Free Press 
 
"Stuckey-French expertly builds character..."
--The Christian Science Monitor

"The Revenge of the Radioactive Lady is a title that could have been used for 1950s-vintage pulp fiction. But modern dilemmas rule Elizabeth Stuckey-French's darkly funny novel that manages to deliver some sharp observations on the fruits of venegeance along the way."
-- The Denver Post

"The non-fiction bestseller "The Immortal Life of Henrietta Lacks," by Rebecca Skloot, could have been the inspiration for this strangely comic novel about a Memphis woma's desire to murder the doctor who administered radioactive vitamins to her when she was pregnant...One could feel guilt for being so effectively entertained."
--New Jersey Star-Ledger

"Elizabeth Stuckey-French mines all the great stuff: love, heartache, family, revenge.  And then she offers a gift, one we desperately need: She lays bare what truly makes the quirky, necessary heart of forgiveness tick.  Grace and hard won wisdom flash through these funny, wonderful pages, leaving me to ruminate on three words: luminous, real, unforgettable."  
-- Connie May Fowler, bestselling author of How Clarissa Burden Learned to Fly and Before Women had Wings

"If you liked the film Little Miss Sunshine, you'll absolutely LOVE this book!  Not only whacked-out and wonderful, this novel is secretly very damn serious, too, as well as up-to-the-minute contemporary and compelling.  I couldn't put it down."
--Lee Smith, bestselling author of The Last Girls and On Agate Hill
 
"An often hilarious, always entertaining novel, but Elizabeth Stuckey-French has achieved much more. With remarkable wisdom and empathy, she has given us a profound meditation on what it means to be a family and the human heart's complex, sidling path toward forgiveness."
--Ron Rash, bestselling author of Serena and One Foot in Eden
 
"How wonderful it is to find a writer who perfectly captures the spirit of this crazy age:  that bizarre and irreducible mix of high and low culture, of tragedy and comedy.  This is no mean literary feat.  And Elizabeth Stuckey-French achieves it brilliantly.   Not only a wildly entertaining novel, an important one."
-- Robert Olen Bulter, Pulitzer Prize-winning author of Hell and A Good Scent from a Strange Mountain

"If revenge is a dish best served cold, then Marylou Ahearn is serving up ice cream...A dark, humorous portrait of a dysfunctional modern family." -- Kirkus Reviews


Doubleday, 9780385510646, 352pp.
Publication Date: February 8, 2011
About the Author
ELIZABETH STUCKEY-FRENCH is the author of the novel "Mermaids on the Moon" and the short story collection "The First Paper Girl in Red Oak, Iowa." She lives in Tallahassee, Florida, where she teaches fiction writing at Florida State University.

elizabethstuckeyfrench.com
Book Videos
Do you believe that revenge is ever justified, and under what circumstances? To what extent do you sympathize with Marylou's decision to move to Tallahassee and stalk Wilson Spriggs? What do you think you would have done in her situation?
Are there ways in which Otis and Ava's having Asperger's Syndrome is similar to the radiation experiment that Marylou experienced? How are the two situations different?
Asperger's Syndrome affects Otis differently than Ava. What do you know about Asperger's and other neuro-disorders on the autism spectrum? Does the book seem to speak authentically to the ways in which Asperger's Syndrome affects both boys and girls differently? In what ways do you think Suzi's problems are a consequence of having two siblings with Asperger's?
What's the biggest problem in Vic and Caroline's marriage? What do you think's going to happen to them?
What does it mean to forgive someone? How important is it to forgive, and to be forgiven? What role does religion play in this novel?
Who is your favorite character in the book and why?
Quite likely you were surprised by the change in Wilson and Marylou's relationship, but did you find their relationship believable? Understandable? Why or why not? Why do you think it takes the turn it does?
As the novel's acknowledgements reveal, the radiation experiments in this book are based on actual experiments carried out on U. S. citizens during the Cold War. Do you think such experiments are ever justified? Even if you don't, how do you think scientists and government officials justified them to themselves?
The Revenge of the Radioactive Lady is told from multiple points of view. Though always third-person limited, the point of view shifts from character to character with each chapter. Did you find this technique effective? What does it allow that first-person or third-person omniscient would not have allowed?
Stuckey-French is known for her dark humor. Do you find this novel humorous? If so, what parts did you find funniest and what are the sources of the book's humor?
or
Not Currently Available for Direct Purchase