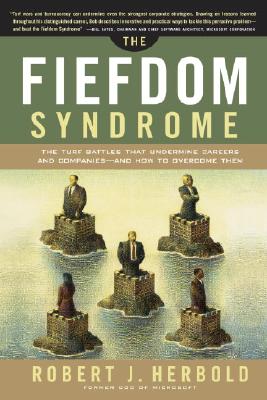 The Fiefdom Syndrome: The Turf Battles That Undermine Careers and Companies - And How to Overcome Them (Paperback)
The Turf Battles That Undermine Careers and Companies - And How to Overcome Them
Crown Business, 9780385510684, 272pp.
Publication Date: October 18, 2005
* Individual store prices may vary.
or
Not Currently Available for Direct Purchase
Description
The turf battles and territorial -fiefdoms- that undermine so many companies--and how to break through them, by long-term Microsoft COO Robert J. Herbold
There is a potentially infectious condition inside virtually all organizations that can cause more damage than economic downturns, management upheavals, and global business shifts. Until now it has had no name. But it has impacted some of the world's leading companies, including Procter & Gamble, IBM, Coca-Cola, and Microsoft.
Robert J. Herbold, the COO who brought corporate discipline to a young Microsoft organization and helped to transform it into a mature global giant, calls it the Fiefdom Syndrome. And it happens at organizations large and small, profit and nonprofit, at the individual level as well as the group and divisional level. It can undercut a company's effectiveness, and in extreme cases it has shaken entire industries and taken down major corporations.
The problem begins when individuals, groups, or divisions--out of fear--seek to make themselves vital to their organizations and, unconsciously or sometimes deliberately, try to protect their turf and others' perceptions of them. It is a natural human tendency, dating back to the origins of our species, but if it isn't managed properly, the damage caused by these -fiefdoms- can spell the death knell of what should have been a strong and vital organization.
People who create fiefdoms can become dangerously insular, losing perspective on what is happening in the world outside their own control. They hoard resources. They are determined to do things in their own way, often duplicating or complicating what should be streamlined throughout the company, leading to runaway costs, increased bureaucracy, and a loss of agility and speed.
In The Fiefdom Syndrome, Bob Herbold exposes the myriad ways such fiefdoms can compromise a company's effectiveness--as well as show what managers, companies, and individuals can do to break up fiefdoms and conquer the turf wars. Illustrated with countless examples from Microsoft, Procter & Gamble, IBM, and other corporations, The Fiefdom Syndrome is an essential tool in every manager's toolkit.
About the Author
ROBERT J. HERBOLD is an authority on business operations, marketing, and the dynamic relation between the two. During his eight years as the COO of Microsoft, the company experienced a fivefold increase in revenue and a ninefold increase in profits. Previously, he spent twenty-six years at Procter & Gamble, where he revolutionized product distribution. He recently launched Herbold Group LLC, which consults with CEOs on strategy and profitability issues.
Praise For The Fiefdom Syndrome: The Turf Battles That Undermine Careers and Companies - And How to Overcome Them…
"Turf wars and bureaucracy can undermine even the strongest corporate strategies. Drawing on lessons learned throughout his distinguished career, Bob describes innovative and practical ways to tackle this pervasive problem—and beat The Fiefdom Syndrome."

—Bill Gates, Chairman and Chief Software Architect, Microsoft Corporation


"Bob Herbold's book identifies the causes, symptoms, and cures of one of the great diseases (scourges) that insidiously destroy large corporations in America (e.g., fiefdoms and bureaucracy)."

—Jamie Dimon, Chairman and CEO, Bank One Corporation


"I've seen Bob successfully tackle business challenges both at Procter and Gamble and at Microsoft. In The Fiefdom Syndrome, he identifies a critical business problem in the corporate world that very few have been able to solve—until now. It should be required reading across corporate America."

—James I. Cash, Jr., Ph.D., James E. Robison Professor of Business Administration, Harvard University Graduate School of Business


"A vitally important business book. As Bob Herbold, longtime COO of Microsoft makes clear, the battles over territory and turf stem from basic human behavior. Uncontrolled, they can be incredibly destructive, yet they are inherent in every organization. In The Fiefdom Syndrome, Herbold shows how fiefdoms can hamstring a company's operations, and how to break through them. I strongly urge people of all organizations, large and small, profit and nonprofit, to read this book."

—John Chambers, President and CEO, Cisco Systems


"Fiefdoms are the enemy of collaboration and external focus. They turn organizations inward and distract companies from customer needs and competitive realities. Bob Herbold gets to the heart of why fiefdoms exist and what leaders can do to overcome them. This is an important book for any leader who is responsible for sustained business growth."

—A. G. Lafley, Chairman, Chief Executive and President, The Procter & Gamble Co.


"The foundation of a successful organization is a team focused on common goals. With its thorough analysis and practical insights, this book will help you recognize, eliminate, and prevent the cancer of individual agendas."

—Michael Dell, Chairman, Dell Inc.  
Advertisement