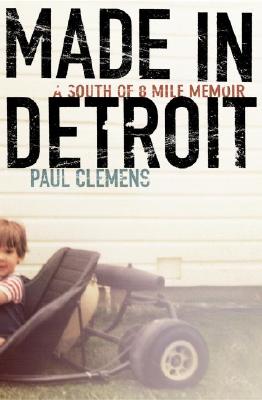 Made in Detroit: A South of 8 Mile Memoir (Hardcover)
A South of 8 Mile Memoir
Doubleday, 9780385511407, 256pp.
Publication Date: September 13, 2005
* Individual store prices may vary.
or
Not Currently Available for Direct Purchase
Description
Paul Clemens grew up in the northeast corner of Detroit, just south of the city's famed 8 Mile border. In this moving and affectionate memoir, Clemens, born the year Detroit's first black mayor (the legendary Coleman Young) was elected, tracks his own growth to maturity against the background of the city's long decline during Young's twenty years at the helm.

Made in Detroit describes what it was like to grow up white and working class in a city that had become emblematic of white flight and urban decay. Clemens writes with passion and unflinching honesty about the crime and the prejudices, both black and white, that marked his days in Detroit, and about the linguistic confusions that attend being a minority in a city where minorities are the majority. His neighborhood's common denominator, Catholicism, helped keep Detroit's disorder at a distance. Likewise, Clemens's father, a car enthusiast and weekend drag racer of the kind only Detroit can produce, helped keep at arm's length the racism that infected much of white Detroit. Though he may have grumbled about the corruption and inefficiency of the Young administration, he would not tolerate expressions of racial hostility.

Made in Detroit is the story of a young man's education in social and racial realities most writers would rather avoid. But it is also the story of a literary apprenticeship in the classic American mold. In addition to his youthful Catholicism, Clemens acquired another belief–in reading and writing–and he embraced the writer's vocation with the enthusiasm that only those raised in a household devoid of books can. Yet, in coming to grips with Detroit, and race relations in America in general, he discovered that there are places–geographic, mental, emotional–where even literature cannot help.

This is a story about being caught in the middle: about being white in a black city, urban in suburban America, blue collar in an increasingly obsolete Rust Belt, and Catholic in a place where churches close at an unprecedented pace. Sparing no one–including himself–Clemens depicts with raw authenticity and redemptive grace the realities of one city's, and one family's, recent history.
Praise For Made in Detroit: A South of 8 Mile Memoir…
Praise for Made in Detroit:

"In Made in Detroit, Paul Clemens tells a personal account of the life and death of an American city. Love among the ruins is never easy, sweet, comfortable, or without a sense of injury, and so it proves here. With clarity, courage, and a deep familiarity with his literary predecessors—from James Joyce to James Baldwin—Clemens has written a book as riven, wounded, and yet surprisingly durable as its subject."

—Jeffrey Eugenides, author of The Virgin Suicides and Middlesex

"Excellent...besides being a funny and moving memoir, it is one of the frankest accounts of race relations in America in recent years."

—The New York Times Book Review

A New York Times Notable Book of the Year (2005)
Advertisement