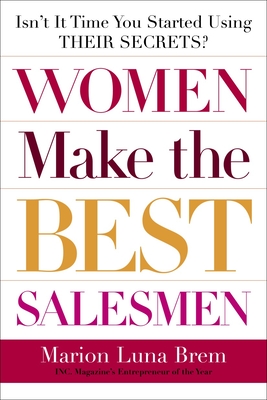 Women Make the Best Salesmen (Paperback)
Crown Business, 9780385511636, 240pp.
Publication Date: May 17, 2005
Description
A thirty-year-old mother of two, Marion Luna Brem had just been given a death sentence: terminal cancer. She had no job. No health insurance. Her marriage would collapse under the stress of her treatment. And her most pressing concern: How do I pay next month's rent?
Her first major -sale- was landing a job as a car salesman. Within two months she had become salesperson of the month and by the end of her first year, salesperson of the year. Four and a half years after selling her first car, Brem bought her own dealership, and in the next decade went on to open additional dealerships and businesses. She beat her cancer, too.
In Women Make the Best Salesmen, Brem reveals the top sales strategies she discovered, refined, and applied to build hermultimillion dollar enterprise. But, as she points out, we are all -salesmen- - whether we interviewing for a job or operating a register at a department store, trying to get our children into a special program or looking for a lifelong companion. And women, with their natural social skills and acute emotional antennae, have natural advantages both sexes can learn from.
Filled with unconventional wisdom and real-life lessons, Women Make the Best Salesmen is the essential guide to the art of selling yourself.
About the Author
MARION LUNA BREM was Inc. magazine's Entrepreneur of the Year, holds an Avon Women of Enterprise Award, was inducted into the International Automotive Hall of Fame, and was named one of the 100 Most Influential Hispanics in the United States by Hispanic Business magazine. She is the author of The 7 Greatest Truths About Highly Successful Women and lives in Corpus Christi, Texas.
Praise For Women Make the Best Salesmen…
"She'd not only beaten cancer but risen up the ranks from salesman to CEO . . . Brem's book offers insights into her rise to the top." —Newsweek
"Brem covers everything from dealing with difficult people, to making your workplace more appealing to customers, to speaking another person's 'language,' to closing a deal." —Chicago Tribune

Advertisement