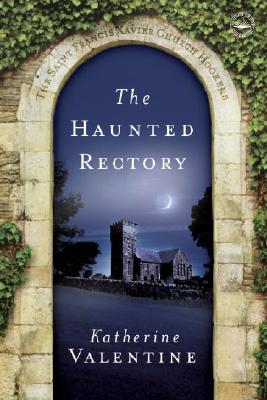 The Haunted Rectory
The Saint Francis Xavier Church Hookers
Paperback

* Individual store prices may vary.
Description
The author of the popular Dorsetville series takes us to the small town of Bend Oaks to meet a group of hookers—rug hookers, that is. When rumors of a haunted rectory shake up the small town, a new priest comes to pastor, and what he discovers will change all of their lives forever.

Bend Oaks is a small town with a big problem—every new priest who comes to town flees the rectory in the night, and no one will say why. Strange disappearances, unexplained sounds and smells, and mysterious deaths all haunt this hallowed building. But this doesn't stop the St. Francis Xavier Church Hookers from continuing their decades-old tradition of meeting in the rectory to hook their colorful rugs to auction off at the Strawberry Festival in order to raise money for the parish.

This tight-knit band of faithful women is startled by the arrival of Father Rich Melo, sent by the archdiocese to live in St. Francis Xavier's "haunted" rectory. Father Rich brings skepticism to his mission in Bend Oaks, but he also carries with him the terrible memory of an earlier encounter with demonic forces.

From the unearthing of an ancient biblical curse to an exorcism in Rome to the bowels of a decaying insane asylum, Valentine brings readers on a wild ride set against the familiar backdrop of small-town New England. This heartfelt tale is both an exciting suspense story and a deeply moving story of the power of faith.
Praise For The Haunted Rectory: The Saint Francis Xavier Church Hookers…
Praise for The Haunted Rectory
"The St. Francis Xavier Church Hookers captivate by name alone! Then, Katherine Valentine's wonderful characters draw readers into a lovingly crafted story that's both haunting and heartwarming." —Courtney White, producer, A&E


Is Lucifer lurking in L. L. Bean land? In this nifty metaphysical thriller, a hunky exorcist and a passel of ghostbusting gal pals combat Dark Forces invading a picture-perfect Yankee hamlet.
St. Francis Xavier parish is losing pastors. Over the years, three freaked priest have fled, having beheld Sights Too Terrible to Speak Of. Enter redoubtable replacement Father Rich Melo, who's both fearless of Satan and Thornbirds-cute. Jane Edwell, plucky proprietor the Sip and Sit Café, joins Melo in his bid to blast open the malefic mystery. A 40ish gamine with a jogger's hard body, she's psychically gifted, her sixth sense an uncanny after-effect of her surviving a car crash that killed he family when she was a teen. Jane and the Church Hookers–soccer moms who meet to handcraft folk-art rugs–become demon detectives while sparing time to flirt harmlessly with the padre and exchange benign gossip with other un-desperate housewives. Melo, driven by the memory of his first exorcism of a 12-year-old gorgeous Italian bambina (one of the novel's truly terrifying scenes), gets down to soul-saving business while chastely boyfriending the women. A delightful storyteller with an eye for quotidian detail (the Hookers shop at T. J. Maxx and adore Oprah), Valentine turns in a smarter Touched by an Angel. It's the kind of determinedly edifying fiction that recalls G.K. Chesterton's Father Brown whodunits or Giovanni Guareschi's Don Camillo tales, sweet fluff once beloved of pre-Vatican II Catholics. Valentine's heroic priest-protagonist is a nice novelty and her heroines are engagingly down-to-earth.
Devilishly entertaining fantasy fare for people of faith, from the creator of the Dorsetville series of miraculous tales (On A Wing on a Prayer, 2005, etc.) --Kirkus Review


Praise for Katherine Valentine's Dorsetville Novels
"One of the loveliest novels I've read in years. Kate Valentine has created a world filled with laughter, tears, and enough goodness to warm the heart.…A triumph of faith, humor, and hope." —New York Times bestselling author Barbara Delinsky
Image, 9780385512022, 288pp.
Publication Date: June 6, 2006
About the Author
KATHERINE VALENTINE is the author of Grace Will Lead Me Home, On a Wing and a Prayer, A Miracle for St. Cecilia's, and A Gathering of Angels. A folk artist, she has taught at the New York City Museum of American Folk Art and the Brookfield Craft Center and appears regularly on Lifetime's Our Home.
or
Not Currently Available for Direct Purchase