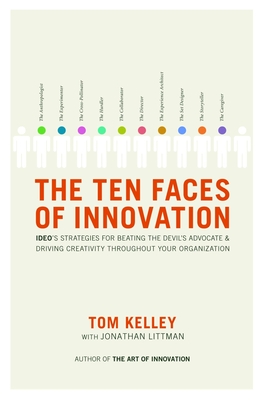 The Ten Faces of Innovation
IDEO's Strategies for Beating the Devil's Advocate and Driving Creativity Throughout Your Organization
Hardcover

* Individual store prices may vary.
Description
The author of the bestselling The Art of Innovation reveals the strategies IDEO, the world-famous design firm, uses to foster innovative thinking throughout an organization and overcome the naysayers who stifle creativity.

The role of the devil's advocate is nearly universal in business today. It allows individuals to step outside themselves and raise questions and concerns that effectively kill new projects and ideas, while claiming no personal responsibility. Nothing is more potent in stifling innovation.

Over the years, IDEO has developed ten roles people can play in an organization to foster innovation and new ideas while offering an effective counter to naysayers. Among these approaches are the Anthropologist—the person who goes into the field to see how customers use and respond to products, to come up with new innovations; the Cross-pollinator who mixes and matches ideas, people, and technology to create new ideas that can drive growth; and the Hurdler, who instantly looks for ways to overcome the limits and challenges to any situation.

Filled with engaging stories of how Kraft, Procter and Gamble, Safeway and the Mayo Clinic have incorporated IDEO's thinking to transform the customer experience, The Ten Faces of Innovation is an extraordinary guide to nurturing and sustaining a culture of continuous innovation and renewal.
Praise For The Ten Faces of Innovation: IDEO's Strategies for Beating the Devil's Advocate and Driving Creativity Throughout Your Organization…
Advance Praise for The Ten Faces of Innovation

"Essential reading for every single person in your organization--even the CEO should read it! Each page contains a nugget that's worth the price of the entire book. Wow."
—Seth Godin, author of Purple Cow
 
"A concensus is emerging that Innovation must become most every firm's 'Job One.' 'Hurdle One,' however, is a doozer: establishing a Culture of Innovation. IDEO thought leader Tom Kelley offers a thoroughly original and thoroughly tested approach to creating that 'culture of innovation.' Rigorously applying his 'Ten Faces' will get the innovation ball rolling ... fast. Bravo!"
— Tom Peters

Critical Acclaim for Tom Kelley's Previous National Bestseller The Art of Innovation

"Tom Kelley has unlocked the magic box of innovation for corporate America."
—Bruce Nussbaum, BusinessWeek

"In light of all the books on the market about creativity, it takes a certain amount of chutzpah to call your book The Art of Innovation. Yet Kelley makes a good case.... Practical, clearly written, and highly detailed."
—USA Today

"On nearly every page, the story of some upstart invention is recounted in patter that's as good as a skilled magician's…. Almost like visiting an IDEO workshop in person."
—Wired
Currency, 9780385512077, 288pp.
Publication Date: October 18, 2005
About the Author
TOM KELLEY is a partner at IDEO, and the author of the bestselling The Art of Innovation and Creative Confidence.

JONATHAN LITTMAN is the author of several books on business, crime, and sport. He is the founder of Snowball Narrative and SmartUp.life, and was previously a contributing editor at Playboy.