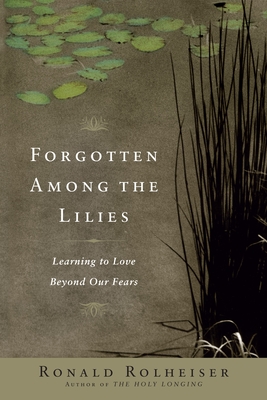 Forgotten Among the Lilies (Paperback)
Learning to Love Beyond Our Fears
Image, 9780385512329, 336pp.
Publication Date: February 20, 2007
* Individual store prices may vary.
Description
The author of The Holy Longing explores the debilitating obsessions that often dominate our lives and offers down-to-earth guidance for learning to leave our fears, anxieties, and guilt "forgotten among the lilies.""Rarely do we taste the food we eat or the coffee we drink. Instead we go through our days too preoccupied, too compulsive, and too dissatisfied to really be able to be present for and celebrate our own lives," Ronald Rolheiser writes in the introduction to this powerful collection of essays.Forgotten Among the Lilies shows that there is a better way to find contentment and joy. Only by trusting in God's grace and providence, Rolheiser argues, can we move beyond our obsessions and rejoice in what we have and who we are.With his trademark blend of insight, compassion, and honesty laced with humor, the author teaches that it is possible to experience freedom instead of anxiety, solitude instead of loneliness, and a generosity of spirit that returns to the giver far more than it costs.
About the Author
RONALD ROLHEISER, O.M.I., is the author of The Holy Longing, which has sold more than 150,000 copies, The Restless Heart, and The Shattered Lantern. He is a specialist in spirituality and systematic theology and writes a regular column in the Catholic Herald. He lives in Toronto, Canada.
Praise For Forgotten Among the Lilies: Learning to Love Beyond Our Fears…
Praise for The Holy Longing

"A master weaver is at work here. … I found my soul on every page. At least we have a guide who helps us know what to do with the fire of desire within us. At last a comprehensive, life-giving approach to sexuality. At last a dynamic understanding of how the paschal mystery plays in our own lives. At last a way to weave love for the poor and struggling people with the highest mystical love of God—I love this book."
—Sister Helen Prejean, author of Dead Man Walking


Praise for The Restless Heart
"Ronald Rolheiser examines the pain of loneliness and the meaning of our longing with compassionate precision. The book is not simply an exercise in personal spirituality—it also comes at a time when great social and political harm is done because many of us cannot endure and enjoy who we are in our loneliness. A much-needed antidote to the uneasiness of the times."
—Alan Jones, Dean of Grace Cathedral, San Francisco, author of Living the Truth, and coauthor of Seasons of Grace


"Ronald Rolheiser has emerged as one of the finest spiritual writers of our time. In this new edition of his earliest work, he tills the soil where the holy longing is cultivated, nurtured, and sustained: the lonely human heart. He holds the key to helping loosen the suffocating grip of loneliness so that our deepmost desires flourish and find rest in God."
—Michael Downey, Cardinal's Theologian, Archdiocese of Los Angeles


From the Hardcover edition.