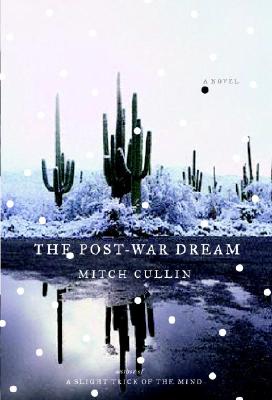 The Post-War Dream
Hardcover

* Individual store prices may vary.
Other Editions of This Title:
Paperback (3/10/2009)
Description
"Cullin is an unusually sophisticated theorist of human nature."
–The New York Times Book Review

Hollis and Debra have settled into their golden years in a gated community outside of Tucson. Although they are devoted to each other, events that took place decades earlier have left Hollis with a deep-seated trauma–and with a secret he has never been able to share with his wife. When Debra is diagnosed with cancer, she makes her husband a simple request–"Tell me about us"–which forces Hollis to revisit his past.

In 1950, Hollis fought in the Korean War alongside the bigoted but charismatic Bill McCreedy. McCreedy seems to have it all, although he is a mercurial soldier whose ungovernable behavior is often at odds with what Hollis believes to be right. Now, years later, Hollis is haunted by memories of McCreedy and his own wartime actions that he had tried to suppress. These recollections eventually lead him from the body-strewn battlefields of Korea to the remote farmhouse in Texas where McCreedy had grown up–and for the first time he finds himself examining his and Debra's life to understand how chance had played a hand in bringing them together.

Mitch Cullin, one of today's most celebrated young novelists, captures some of the most difficult themes in literature: fate, love, and death. The Post-War Dream is literary fiction of the highest order.
Praise For The Post-War Dream…
A finalist for the California Book Award in fiction!

"If you haven't read any of Mitch Cullin's seven previous works of fiction, which include unnerving tales of gothic, even grotesque strangeness, you may be puzzled by this novel's almost offhanded salting of the ordinary with the inexplicable. The book begins with Hollis' eerie, sporadically recurring dream of a post-apocalyptic world. This is followed by a tally of disorienting waking visions in which he confronts his double, 'an apparition of himself' who over the years looks much worse for wear than Hollis does, as though his 'disquieting doppelgänger' reflected the true nature of his battered soul. Cullin intimates that 'the imperturbable, calm world' his protagonist creates and clings to is an antidote for war wounds far deeper than the snaking scar on Hollis' left leg, an injury that still pains him nearly 50 years after he was hit by a North Korean sniper.
Yet Hollis' disturbing dream and encounters with his mysterious double soon fade away as Cullin eschews the rampaging weirdness of his earlier books for a more covert approach to the dark and chaotic side of the human condition, represented in this psychologically acute novel by war and cancer....
Cullin writes with inordinate empathy about a close, insular marriage rooted in a lie and put to the ultimate test…. The story shuttles between Hollis' haunting war recollections and shockingly specific accounts of the battleground that Debra becomes as ovarian cancer wreaks havoc on her body…. Cullin's detailed descriptions are excruciating…. [His] feat in writing a cancer novel positively useful in its candor is all the more remarkable.
Cullin is equally forthright and purposeful in his rendering of the monstrousness of war. Not only the explosive violence, but also the romanticism, confusion, terror, hate, rage and lies that fuel its beastly machine of war….Hollis' scouring memories of war are dramatic and evocative, to be sure, but it's the little things, like Hollis' unearthing green plastic toy soldiers in his cactus garden, or a session with a blind Asian masseur, that give one shivers….
In this exacting, suspenseful, elegiac yet life-embracing novel, Cullin reminds us that no boundaries separate the personal and communal, the past and present, the false and true."
–Los Angeles Times

"Mitch Cullin, one of this country's most talented young writers, is back with a must-read book…. It's a shame that such popular writers as John Grisham easily make it to the top of the best-seller lists, and the Mitch Cullins of the world struggle with much less recognition. Grisham may have sizzling plots, but Cullin's wording is beautiful and inspirational. The research and care he puts into a novel should elevate him to the highest ranks of writers….Watch out for this author. Each book is worth waiting for. A reader doesn't flip through the pages; each one is worth savoring like fine wine or coffee."
–The Oklahoman

"Cullin's brilliantly clear descriptions of both emotions and landscape give this story a near-mystical feel."
–Booklist

"Cullin followers will recognize the same sharp psychologist who meditated on deterioration in his previous novel, A Slight Trick of the Mind."
–San Francisco Chronicle

"This touching, quintessentially American story of marriage, aging, and the fading Greatest Generation is enhanced by poetic prose, vivid accounts of war, and sympathetic characters whom many of us will find familiar."
–Library Journal

"Mitch Cullin's fine novel The Post-War Dream is as much about love as it is about coming to terms with memories.... A sensitively told, finely crafted story."
–Denver Post

"Mitch Cullin is the kind of writer whom you can savor for the beauty of his prose…. As with Cullen's work in general, it is the language that makes the book worth your effort. The fact that he is able to weave such a gripping story as well is a bonus for the reader."
–Fredericksburg Free-Lance Star

"Cullin has a naturally poetic style, which tends toward revelatory moments and memorable sensory descriptions…. The novel ends with a satisfying twist that ultimately renders it a tender-hearted and moving…examination of love and loss."
–The L Magazine

"After Cullin reveals the deep bond binding husband and wife, he summons a devastatingly powerful ending."
–Palm Beach Post

"Mitch Cullin is a tremendous storyteller and writer…. The story is an emotional rollercoaster, so grab your heart and a box of tissues and give it a good read. Cullin's writing will be a gift to you."
–ArmchairInterviews.com

Praise for A SLIGHT TRICK OF THE MIND

"Cullin is an unusually sophisticated theorist of human nature. . . As the conclusion of this beautiful novel makes plain, lives aren't like cases or, for that matter, like narratives. They are never solved or resolved: they just one day come to an end."
–Dan Chiasson, New York Times Book Review

"This is a lovely, tenderhearted book, full of reserve, good manners, elegance of feeling. It's what a novel should be. You don't read it to be improved but for the plain joy of seeing what the language can do in the hands of an affectionate, very accomplished writer."
–Carolyn See, The Washington Post

"A multi-faceted, sympathetic portrait of a great man, the kind of memoir that any of us would be honored to have–and it doesn't matter at all that Sherlock Holmes was never a real person. The psyche and its lessons are all the same, and Cullin has captured them brilliantly."
–Detroit Free Press

"Cullin's compassionate work happily reveals the detective to be a man after all. In short, while the book wears the garb of another Holmes adventure, Cullin's tale is a wise and touching examination of the human condition."
–Los Angeles Times Book Review

"Conan Doyle used to complain, perhaps with some degree of jealousy, that most people believed Holmes was a real person and he was only the stenographer. Cullin, a gifted poet and novelist, takes that confusion and turns it into the highest level of art."
–Chicago Tribune

"[A] wonderfully written and heartbreaking study of the detective at 93 as he wrestles with the gradual fading of his memory and mental powers."
–San Francisco Chronicle

"Cullin ends this perfectly conceived and executed narrative with a compelling picture of the ultimate rationalist, a stranger and afraid, alone in a fragmenting world he is powerless to remake. It's a haunting variation on the image of Holmes approaching retirement that lends an autumnal glow to the later Conan Doyle stories, and it makes for an exquisite, immensely satisfying novel."
–The Washington Times
Nan A. Talese, 9780385513296, 256pp.
Publication Date: March 18, 2008
Do you think that Hollis would suffer from the traumatic flashbacks of his time in the Korean War if he were not faced with his wife's illness and probable death?
Why is it so important for Debra to have Hollis "tell her about us?" Do you think that each spouse has a different version of their story of courtship and marriage?
How does the recurring cycle of war in our country's history affect each generation?
What constitutes a good marriage? Do Hollis and Debra have a good marriage?
Do you believe in chance? How did chance play a role in bringing Debra and Hollis together?
Do you fear loss? What do you consider worse: loss of love, hope, youth?
Do you consider Hollis' life a dream or nightmare? How does memory affect each version?
or
Not Currently Available for Direct Purchase