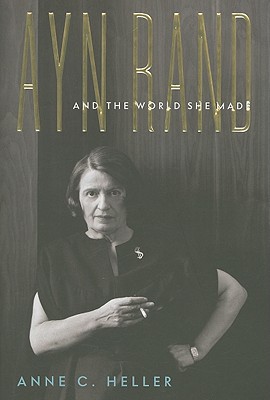 Ayn Rand and the World She Made
Hardcover

* Individual store prices may vary.
Other Editions of This Title:
Paperback (10/19/2010)
Audio Cassette (11/1/2009)
Audio Cassette (11/1/2009)
MP3 CD (10/27/2009)
Compact Disc (10/12/2009)
Compact Disc (10/27/2009)
Description
Ayn Rand is best known as the author of the perennially bestselling novels The Fountainhead and Atlas Shrugged. Altogether, more than 12 million copies of the two novels have been sold in the United States. The books have attracted three generations of readers, shaped the foundation of the Libertarian movement, and influenced White House economic policies throughout the Reagan years and beyond. A passionate advocate of laissez-faire capitalism and individual rights, Rand remains a powerful force in the political perceptions of Americans today. Yet twenty-five years after her death, her readers know little about her life.

In this seminal biography, Anne C. Heller traces the controversial author's life from her childhood in Russia during the Bolshevik Revolution to her years as a screenwriter in Hollywood, the publication of her blockbuster novels, and the rise and fall of the cult that formed around her in the 1950s and 1960s. Throughout, Heller reveals previously unknown facts about Rand's history and looks at Rand with new research and a fresh perspective.

Based on original research in Russia, dozens of interviews with Rand's acquaintances and former acolytes, and previously unexamined archives of tapes and letters, AYN RAND AND THE WORLD SHE MADE is a comprehensive and eye-opening portrait of one of the most significant and improbable figures of the twentieth century.
Praise For Ayn Rand and the World She Made…
New York Times Notable Book

"Groundbreaking…a thoughtful, flesh-and-blood portrait of an extremely complicated and self-contradictory woman."
—Janet Maslin, The New York Times
 
"Excellent…far more interesting than anything in Rand's novels."
—Adam Kirsch, The New York Times Book Review
 
"Splendid…Anne Heller crafts a narrative that gains force from its engagement with Rand's writing…without falling into adulation or derision."
—T. J. Stiles, San Francisco Chronicle
 
"Engrossing…Anne Heller portrays Rand as a woman who was at once a phenomenon of courage and self-determination, a monster of egotism and narcissism, a sharp logician, and a fanatic ideologue."
—Francine Prose, Bookforum
 
"Remarkable."
—New York Magazine
 
"Anne C. Heller, in her skillful life of Rand…paints a detailed and engaging portrait of Rand's interior life."
—The New Republic

"The closest we are likely to get to an objective account of a figure non-admirers would mostly care to ignore. They do so at their peril."
—The New York Observer
 
"[An] excellent biography.... A comprehensive study, in novelistic detail, of Rand's personal life."
—Time
 
"Heller is excellent at capturing the loneliness at the center of Rand's (and indeed, any writer's) life. Using original research from Russia, Heller draws a critical but sympathetic thread through Rand's biography, arguing that Rand's insistence on individualism was heavily informed by the anti-Semitism her family faced in pre- and post-revolutionary Russia…. Heller also has a great eye for the contradictions and hypocrisy that ultimately make her subject more approachable…. Heller's account of the figures who helped Rand develop her thought … helps recover an entire intellectual tradition that has mostly been forgotten."
—The Wilson Quarterly

"Famous for her credo of individualism and unbridled capitalism, novelist and philosopher Ayn Rand never talked about her life as Alissa Zinovievna Rosenbaum, an "awkward and offbeat" Russian Jewish girl of "startling intelligence." Yet Heller believes that Rand's adamant self-regard and vehement protest against any form of collectivism or social conscience are rooted in her family's suffering in early-twentieth-century Russia, where Jews were violently persecuted and personal freedom was abolished. Heller is the first to fully investigate and vigorously chronicle Rand's willful life and phenomenal and controversial achievements, from her sense of destiny (by age 11 she had already written four novels) to her arrival in America at age 21 in 1926, her work in Hollywood, and her reign in New York as a cult figurehead. Heller also offers arresting analysis of The Fountainhead and Atlas Shrugged, Rand's critically condemned yet perpetually popular and enormously influential novels of erotic melodrama and self-aggrandizing ideology. But the heart of the book is the wrenching story of Rand's marriage to long-suffering Frank O'Connor and her affair with the much younger man who packaged and peddled her beliefs as Objectivism. The champion of individuality who insisted on obedience and conformity from her followers (including Alan Greenspan), Rand emerges from Heller's superbly vivid, enlightening, and affecting biography in all her paradoxical power."
—Booklist, starred review
 
"In the calamitous aftermath of the latter years of the Age of Greenspan, what could be more welcome-and timely-than Anne C. Heller's stunning biography of Ayn Rand. Using a plethora of newly unearthed research and fresh insight, Heller's graceful and highly readable narrative once again brings Rand to life and reminds us all why she remains one of the best-selling and highly influential authors of all time."
—William D. Cohan, bestselling author of House of Cards

 "Anne C. Heller has written a riveting, massively researched biography of the self styled 'radical for capitalism' Ayn Rand. Heller documents how Rand's novels The Fountainhead and Atlas Shrugged became virtual bibles for the followers of Objectivism, Rand's controversial philosophy, and she vividly dramatizes the passionate battles that ensued within Rand's cult. This is a fascinating study of a fascinating and implacable woman; it's a major work. Heller has done an extraordinary job."
—Patricia Bosworth, author of Diane Arbus: A Biography

 "Anne C. Heller has given us a great gift: an engaging, important biography of Ayn Rand, a quietly ubiquitous yet little-understood architect of the way we live now."

—Jon Meacham, author of American Lion: Andrew Jackson in the White House, winner of the 2009 Pulitzer Prize for Biography

"Starting now, anyone curious about the extraordinary self-created woman who became the complex, contradictory, and utterly fascinating Ayn Rand will have to begin with Anne C. Heller's brilliant biography. Reading this book will be the only way to comprehend the totality of the woman whose swashbuckling life was an epic that could rival any screen play or novel she ever wrote, any political theory or philosophy she ever espoused or created."

—Deirdre Bair, author of Samuel Beckett: A Biography, winner of the National Book Award

"An intriguing look at an important woman. This extensively researched biography reveals Rand's fierce intelligence and forceful will to seduce and influence some of the 20th century's leading decision makers."
—Janet Wallach, author of Desert Queen: The Extraordinary Life of Gertrude Bell

"A thoroughly absorbing account of the passion, ferocity, ambition, and humanity of Ayn Rand-an extraordinary tale, deftly narrated."
—Alexander Waugh, author of The House of Wittgenstein: A Family at War

"The author's research is formidable…and she ably highlights the hues of Rand's dark side(s)."
—Kirkus Reviews
Nan A. Talese, 9780385513999, 592pp.
Publication Date: October 27, 2009
About the Author
ANNE C. HELLER has written for such publications as "Lear's," "Mademoiselle," "TriQuarterly," and "Esquire." She is the former fiction editor of "Esquire" and "Redbook," and a former executive editor at Conde Nast Publications. She lives in Manhattan.
Coverage from NPR
or
Not Currently Available for Direct Purchase