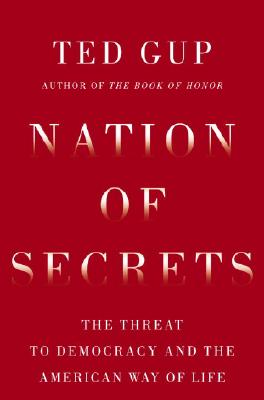 Nation of Secrets: The Threat to Democracy and the American Way of Life (Hardcover)
The Threat to Democracy and the American Way of Life
Doubleday, 9780385514750, 336pp.
Publication Date: May 29, 2007
* Individual store prices may vary.
or
Not Currently Available for Direct Purchase
Description
In The Book of Honor, Ted Gup uncovered some of the CIA's closest-held secrets: the names and stories of the seventy-one undercover operatives who were killed in the line of duty. Now he turns his attention to a broader range of American institutions, exposing how and why they keep secrets from the very people they are supposed to serve. Drawing on original reporting and startling analysis, Gup argues that a preoccupation with secrets has undermined the very values—security, patriotism, privacy, the national interest—in whose name secrecy is so often invoked.

Gup shows how the expanding thicket of classified information leads to the devaluation of the secrets we most need to keep, and that journalists have become pawns in the government's internal conflicts over access to information. He explores the blatant exploitation of privacy and confidentiality in academia, business, and the courts, and concludes that in case after case, these principles have been twisted to allow the emergence of a shadow system of justice, unaccountable to the public.

Drawing on Gup's decades of work as an investigative reporter, NATION OF SECRETS will shake our faith in some of our most trusted institutions, piercing the veil of secrecy to reveal an alarming new threat to democracy in America. Gup presents a vision radical in its clarity, conservative in its roots, of a country teetering on the brink of losing its identity.
Advertisement