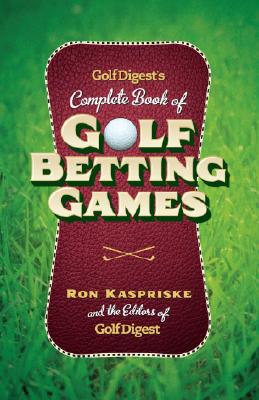 Golf Digest's Complete Book of Golf Betting Games (Hardcover)
Doubleday Books, 9780385514910, 157pp.
Publication Date: May 29, 2007
* Individual store prices may vary.
or
Not Currently Available for Direct Purchase
Description
Net and Gross . . . Nassau . . . the Hawk . . . Amigo . . . the Train Game . . . Second Ball . . . the Umbrella Game . . ."What does it all mean?"Recreational golfers around the world thrive on games within games as a way to enhance the golf experience, level the playing field, and, most important, have a lot more fun."Golf Digest's Complete Book of Golf Betting Games"lays it all out every game, every format, and every variation with a quick-reference glossary of every golf gambling term ever uttered. Organized by chapters for twosomes, threesomes, foursomes, or buddy trips with all the side games, each section is simple to navigate, with helpful strategy tips for each game and a set of clear-cut scorecard instructions.
About the Author
Ron Kaspriske has been an editor at "Golf Digest" for six years and has been writing about golf for over a decade. He also coauthored a travel book called "Golf Weekends," and writes articles for "Golf Digest" with David Leadbetter, Rick Smith, David Toms, and Chris DiMarco. The author lives in Norwalk, Conn., and usually plays $5 nassaus with junk and snake on the side.
Advertisement