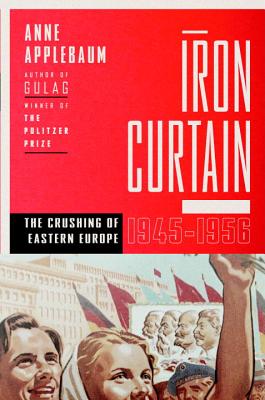 Iron Curtain (Hardcover)
The Crushing of Eastern Europe, 1944-1956
Doubleday, 9780385515696, 608pp.
Publication Date: October 30, 2012
Other Editions of This Title:
Digital Audiobook (10/29/2012)
Paperback (8/13/2013)
Compact Disc (10/1/2012)
* Individual store prices may vary.
Description
In the long-awaited follow-up to her Pulitzer Prize-winning Gulag, acclaimed journalist Anne Applebaum delivers a groundbreaking history of how Communism took over Eastern Europe after World War II and transformed in frightening fashion the individuals who came under its sway.

At the end of World War II, the Soviet Union to its surprise and delight found itself in control of a huge swath of territory in Eastern Europe. Stalin and his secret police set out to convert a dozen radically different countries to Communism, a completely new political and moral system. In Iron Curtain, Pulitzer Prize-winning journalist Anne Applebaum describes how the Communist regimes of Eastern Europe were created and what daily life was like once they were complete. She draws on newly opened East European archives, interviews, and personal accounts translated for the first time to portray in devastating detail the dilemmas faced by millions of individuals trying to adjust to a way of life that challenged their every belief and took away everything they had accumulated. Today the Soviet Bloc is a lost civilization, one whose cruelty, paranoia, bizarre morality, and strange aesthetics Applebaum captures in the electrifying pages of Iron Curtain.
About the Author
ANNE APPLEBAUM is a columnist for The Washington Post and Slate. Her previous book, Gulag, won the Pulitzer Prize for Nonfiction and was a finalist for three other major prizes. Her essays appear in The New York Review of Books, Slate, and The London Spectator. She lives in Washington, D.C., and Poland with her husband, Radek Sikorski, a Polish politician, and their two children.
Praise For Iron Curtain: The Crushing of Eastern Europe, 1944-1956…
Praise for IRON CURTAIN:

"One of the most compelling but also serious works on Europe's past to appear in recent memory…In her relentless quest for understanding, Applebaum shines light into forgotten worlds of human hope, suffering and dignity."
—Washington Post

"In this epic but intimate history, Ms. Applebaum offers us windows into the lives of the men and sometimes women who constructed the police states of Eastern Europe. She gives us a glimpse of those who resisted. But she also gives us a harrowing portrait of the rest—the majority of Eastern Europe's population, who, having been caught up in the continent's conflicts time and time again, now found themselves pawns in a global one."
—Wall Street Journal

"Remarkable…a book that reanimates a world that was largely hidden from Western eyes, and that many people who lived and suffered in it would prefer to forget….Iron Curtain gives us some idea of what it was like to be trapped in the Soviet experiment, to be a witness to the demolition and reconstruction of one's environment."
—Louis Menand, The New Yorker

"Bracing, important…Applebaum is unafraid of complexity; she traffics in exceptions. She names names.…Iron Curtain is essential reading."
—Cleveland Plain Dealer
 
"Illuminating…Human beings, as Ms Applebaum rousingly concludes, do not acquire 'totalitarian personalities' with ease."
—The Economist

"A meticulously researched and riveting account of the totalitarian mind-set and its impact on the citizens of East Germany, Poland and Hungary....Even as it documents the consequences of force, fear and intimidation, however, Iron Curtain also provides evidence of resistance and resilience."
—Minneapolis Star Tribune
 
"Iron Curtain is a superb, revisionistic, brilliantly perceptive, often witty, totally gripping history, filled with colorful character sketches of Stalinist monsters, based on Soviet and local archives, on hundreds of interviews with survivors, and on the widest reading, that tells the dramatic, unknown and terrifying story of the Stalinization of eastern Europe….The book is full of things I didn't know — but should have."
—Simon Sebag Montefiore, London Evening Standard
 
"Magisterial…Anne Applebaum is exceptionally well qualified to tell [this story]. Her deep knowledge of the region, breadth of view and eye for human detail makes this as readable as her last book, on the Gulag."
—Orlando Figes, Daily Mail

"The Communist takeover of Central and Eastern Europe has waited a lifetime for its historian. A tenacious researcher, an eloquent writer, but above all a passionate—and compassionate—judge of the human condition, Anne Applebaum has written a masterly account. It is a timely reminder of how swiftly liberation can be turned into slavery."
—Niall Ferguson, author of The Ascent of Money

"Iron Curtain is an exceptionally important book which effectively challenges many of the myths of the origins of the Cold War. It is wise, perceptive, remarkably objective and brilliantly researched."
—Antony Beevor, author of Stalingrad and The Second World War

"This dramatic book gives us, for the first time, the testimony of dozens of men and women who found themselves in the middle of one of the most traumatic periods of European history. Anne Applebaum conveys the impact of politics and ideology on individual lives with extraordinary immediacy."
—Amanda Foreman, author of Georgiana: Duchess of Devonshire and A World on Fire: Britain's Crucial Role in the American Civil War

"So much effort is spent trying to understand democratization these days, and so little is spent trying to understand the opposite processes. Anne Applebaum corrects that imbalance, explaining how and why societies succumb to totalitarian rule. Iron Curtain is a deeply researched and eloquent description of events which took place not long ago and in places not far away - events which contain many lessons for the present."  
—Fareed Zakaria, author of The Post-American World
 
"Anne Applebaum's highly readable book is distinguished by its ability to describe and evoke the personal, human experience of Sovietisation in vivid detail, based on extensive original research and interviews with those who remember."
—Timothy Garton Ash, author of The Magic Lantern: The Revolution of '89 Witnessed in Warsaw, Budapest, Berlin, and Prague

or
Not Currently Available for Direct Purchase