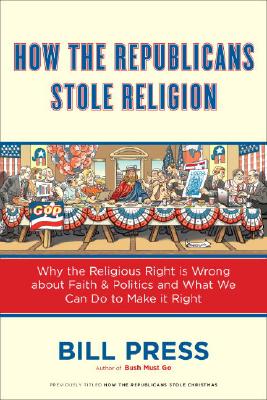 How the Republicans Stole Religion: Why the Religious Right Is Wrong about Faith & Politics and What We Can Do to Make It Right (Paperback)
Why the Religious Right Is Wrong about Faith & Politics and What We Can Do to Make It Right
Three Leaves Publishing, 9780385516044, 279pp.
Publication Date: November 21, 2006
* Individual store prices may vary.
or
Not Currently Available for Direct Purchase
Description
For decades, Press argues, conservatives have defined religion so narrowly that Democrats and liberals have been pushed outside the fold. According to their narrow gospel, God put George W. Bush in the White House to deal with gays, guns, and abortion—and those who don't agree are on the sure road to hell. How the Republicans Stole Religion is Press's fervent call for the left to reclaim religion and return it to its basic principles of social justice, charity, and tolerance.
About the Author
Bill Press has been a political commentator for MSNBC and a cohost of CNN's "Crossfire" and "The Spin Room" with Tucker Carlson. "The Bill Press Show" is heard daily on Sirius Satellite Radio. He has enjoyed a high-profile career in government, politics, and broadcasting for three decades and served as chairman of the California Democratic Party from 1993 to 1996. He was named Best Commentator of the Year by the Associated Press and has received numerous other awards for his work, including four Emmys and a Golden Mike Award. He is the author of "Spin This!" and "Bush Must Go" and writes a syndicated newspaper column distributed by Tribune Media Services. A native of Delaware, Press now lives in Washington, D.C., and maintains a home in northern California.""
Praise For How the Republicans Stole Religion: Why the Religious Right Is Wrong about Faith & Politics and What We Can Do to Make It Right…
"The movement toward a theocratic America has a new obstacle: Bill Press's articulate defense of real religious freedom and condemnation of pious dogma which marginalizes the rights and values of women, gay and lesbian Americans, religious minorities, and free thinkers."
—The Rev. Barry Lynn, Executive Director, Americans United for Separation of Church and State

"God bless Bill Press. This former seminarian and former California Democratic Party chair has the courage, theological training, and moral clarity needed to point out both the deep spiritual values of the left and the hypocrisy of some on the far right. Hallelujah, Brother Bill!"
—Paul Begala, Cohost, CNN's The Situation Room


"Bill Press writes the way he talks: with wit, spiritual conviction and political passion."
—Lydia Howell, Pulse of the Twin Cities

Advertisement