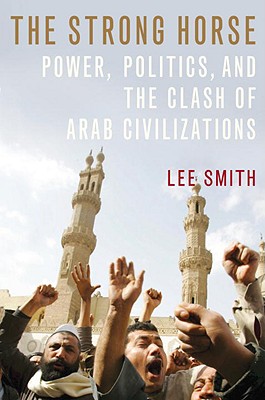 The Strong Horse (Hardcover)
Power, Politics, and the Clash of Arab Civilizations
Doubleday, 9780385516112, 256pp.
Publication Date: January 12, 2010
* Individual store prices may vary.
Description
Reforming the Middle East is not America's fight, argues Lee Smith, nor is it a fight we can win.

Soon after the World Trade Center towers fell, leaving ashes floating over journalist Lee Smith's Brooklyn neighborhood, he left for Cairo to find out "why the Arabs hate us." He spent eight years reporting from Cairo, Beirut, and Jerusalem and discovered that the anger and disorder in the Middle East are not caused by a clash of civilizations between East and West, as is so often contended. Instead, he found a clash among Arab civilizations that led him to reassess America's efforts to bring a "freedom agenda" to the Arab world. In The Strong Horse, Lee Smith offers paradigm-shifting insight into how the Arab world works and what America's role should be in that world today.

The Strong Horse combines evocative reporting with brilliant analysis that gracefully overturns many of the myths held about the region. Perhaps the most important myth that hobbles policy in the Middle East is the idea that the turmoil there is the legacy of Western interference. In fact, Smith shows, violence has been the only currency of power in the region for centuries. Another myth is that dictators are the main cause of widespread oppression in countries like Egypt, Saudi Arabia, and Syria. Yet Smith finds that much of the repression that stagnates Arab society happens at the level of the family where rigorous redlines of social and religious behavior are enforced. What's more, in a region seething with minorities, with no liberal tradition, no reverence for individual rights, and no tolerance for difference, authoritarian regimes exist because the alternative, as has been seen most recently in Lebanon and Iraq, is endless sectarian violence.

In The Strong Horse, Smith reveals the Arab world to be defined by a tribal culture where support goes to "the strong horse." Technology and democracy will not transform the Arab world, Smith convincingly demonstrates. Rather, Arab peoples and governments naturally align themselves with the strongest power, even when that power is the United States or Israel. Smith's groundbreaking book redefines America's role in the Middle East as "benevolent strong horse" and offers an important corrective to our understanding of the Arab world.
About the Author
Lee Smith is a Middle East correspondent for the "Weekly Standard." He has written for Slate.com, the "New York Times," the "Boston Globe," the "New Republic," and major Arab media outlets. He is also a visiting fellow of the Hudson Institute. A native of New York City, he currently resides in Washington, D.C.
Praise For The Strong Horse: Power, Politics, and the Clash of Arab Civilizations…
From Publishers Weekly:

Starred Review: Smith, Middle East correspondent for the Weekly Standard, argues that it was tensions within the Middle East—not a clash of civilizations, American policies in the region or the creation of Israel—that prompted the attacks on September 11. He writes, "In believing that 300 million Arabs had really lined up as one against America, we had been taken in by a mirage," and he takes to task Edward Said and others he feels homogenize Arabs into a monolithic group. In the book's strongest sections, Smith looks at continuities from the pre-Islamic Arab world to the present to trace mores and differences that seep into the modern day, adding a fascinating historical angle. While he undermines his argument with a penchant for proclaiming the condition of the region to be immutable ("In the Middle East, political violence is not an anomaly. It is the normal state of affairs"), he should be lauded for his commitment and careful research. The book is compelling, well written and worth a read even—or perhaps especially—by those who would disagree with the author. (Jan.)
Copyright © Reed Business Information, a division of Reed Elsevier Inc. All rights reserved.


Praise for The Strong Horse

"The Strong Horse is hard to describe and even harder to put down. Lee Smith has concocted an addictive and original brew of reportage, memoir, and political analysis that casts the Middle East and its relations with the 'Great Satan' in a fresh and fascinating light. Writing about his meetings with everyone from Omar Sharif to Natan Sharansky, he delivers one shrewd insight after another. Anyone seeking to understand the world's most volatile region should read this timely and entertaining book."
 
         —Max Boot, Jeane J. Kirkpatrick Senior Fellow for National Security Studies at the Council on Foreign Relations and author of Savage Wars of Peace: Small Wars and the Rise of American Power and War Made New: Technology, Warfare, and the Course of History, 1500 to Today
 
"Lee Smith is a free-thinker in an age of herd mentalities. The Strong Horse is a powerful book—trenchant, shrewd, informed, vivid, provocative, and full of a wisdom that is not the conventional wisdom."
            
           —Paul Berman, author of Terror and Liberalism


"In The Strong Horse, Lee Smith lets readers see beyond the stereotypes by which Western academics have misunderstood, and Western governments have mishandled, the Middle East. Based on wide-ranging conversations in the Arab world as well as on a dispassionate understanding of its intellectual and political history, he shows how the tribal nature of Arab societies combines with Islam to produce a way of life in which force is the ultimate argument. The Strong Horse is a fascinating journey from Cairo's cafes to the Gulf's business offices, to Lebanon and Syria's countryside, and into the region's seminal literature."
            
         —Angelo M. Codevilla, Professor emeritus of international relations, Boston University
 
"Lee Smith is the rarest of Middle East commentators, an observer without any ax to grind, whose book is a hammer shattering many of the blithe pieties about the Middle East that prevail in academia, government, and the media."
            
         —Peter Theroux, former Director of Persian Gulf Affairs, National Security Council, and author of Sandstorms: Days and Nights in Arabia
 
 
"A chronicle of one American's journey to the Middle East in search of an answer to the question "why 9/11?",  The Strong Horse offers a fascinating depiction of a culture so different from our own that it is a challenge for us to understand just how great this difference is. Lee Smith has faced this challenge, and the insights he offers require nothing less than a radical paradigm shift in American thinking about the Middle East. If we wish to shape history, and not be run over by it, there is no better place to start than by reading Lee Smith's beautifully crafted and deeply moving journey of discovery."  
 
         —Lee Harris, author of Suicide of Reason: Radical Islam's Threat to the West and Civilization and Its Enemies: The Next Stage of History
 
or
Not Currently Available for Direct Purchase