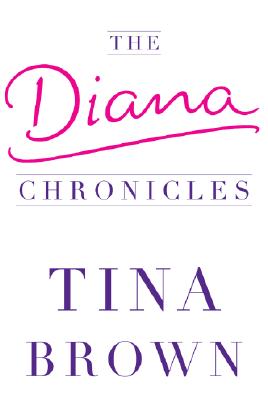 The Diana Chronicles
Hardcover

* Individual store prices may vary.
Other Editions of This Title:
Digital Audiobook (6/11/2007)
Digital Audiobook (6/11/2007)
Paperback (5/20/2008)
Paperback (6/1/2008)
Hardcover, Large Print, Large Print (6/12/2007)
Mass Market Paperback (5/20/2008)
Description
"Intensely well researched and an un-put-down-able read, Tina Brown's extraordinary book parts the brocaded velvet and allows us an unprecedented look at the world and mind of the most famous person on the planet. A social commentary, a historical document and a psychological examination, written by a superb investigative journalist."

–Academy Award® Winning Actress Helen Mirren

Ten years after her death, Princess Diana remains a mystery. Was she "the people's princess," who electrified the world with her beauty and humanitarian missions? Or was she a manipulative, media-savvy neurotic who nearly brought down the monarchy?

Only Tina Brown, former Editor-in-Chief of Tatler, England's glossiest gossip magazine; Vanity Fair; and The New Yorker could possibly give us the truth. Tina knew Diana personally and has far-reaching insight into the royals and the Queen herself.

In The Diana Chronicles, you will meet a formidable female cast and understand as never before the society that shaped them:   Diana's sexually charged mother, her scheming grandmother, the stepmother she hated but finally came to terms with, and bad-girl Fergie, her sister-in-law, who concealed wounds of her own.  Most formidable of them all was her mother-in-law, the Queen, whose admiration Diana sought till the day she died. Add Camilla Parker-Bowles, the ultimate "other woman" into this combustible mix, and it's no wonder that Diana broke out of her royal cage into celebrity culture, where she found her own power and used it to devastating effect.  
Praise For The Diana Chronicles…
REVIEWS

From The New York Times Book Review:

With "The Diana Chronicles," Tina Brown breathes new life into the saga of this royal "icon of blondness" by astutely revealing just how powerful, and how marketable, her story became in the age of modern celebrity journalism....Brown offers an insightful, absorbing account of the pas de deux into which, to her eventual peril, Diana joined with the paparazzi. As the former editor of Vanity Fair and The New Yorker, Brown certainly has the authority to examine the Princess of Wales as a creation and a casualty of the media glare.
-Caroline Weber

From The New Yorker:

By now, there have been dozens of books....But the best book on Diana is the newest, "The Diana Chronicles"... by Tina Brown....her book is, among other things, a miracle of access....She tells the story fluently, with engrossing detail on every page, and the mastery of tone which made her Tatler famous for being popular with the people it was laughing at.

-John Lanchester


From The Chicago Tribune:

...[An] insanely readable and improbably profound new biography...."The Diana Chronicles," Brown's hotly awaited dish on the princess, [is] more than a mere gossip-fest....real charm and substance lie in Brown's analysis of contemporary media....It is terrifically well written, with motion-capture phrases that instantly distill some complicated essence of contemporary life into a few deft adjectives.

-Julia Keller

From The Boston Globe:

"The Diana Chronicles," by Tina Brown, former editor of Vanity Fair and The New Yorker, peels many layers of... mystery away and even makes the old horror stories of [Diana's] life seem fresh....Brown gives them new vigor, with insights based on her own exhaustive research and a wickedly canny, celebrity-trained eye for detail.
-Amy Graves

From The Washington Post:

...Brown's jam-packed, juicy roll in the high cotton is... fragrant with the rich schadenfreude that makes Top People so much easier to bear. And in return for its rumored $2 million advance, it includes shovelfuls of hot fresh dirt, tucked among the standard (and amazingly detailed) iconic fare. Remember the sex-soaked phone tapes (Diana as Squidgy, or Charles's Tampax fantasy)? Remember the Royal Love Train? Dueling media manipulation? Jealous attention-grabbing? Top-of-the-line adultery, divorce and money-grubbing?...The sour wisdom Brown gleaned during decades spent editing chic magazines glints throughout her book, like rhinestones under sackcloth....Diana's tragicomedy is Shakespearean in scale, with its slippery royal machinations, its agonized ironies, its seething jealousies and heartbreaking inevitability....a walloping good read.
-Diana McLellan

From The Wall Street Journal:

Only Ms. Brown could deploy such words as "hottie" and "propinquity" in the same sentence. In her hands, a trashy (if delicious) tale is rendered vividly mordant. She writes with the feline flair of a woman who has met, but not necessarily liked, most of the characters in her book and who has an uncommonly good way with characterization....The book's greatest attraction, however, is its sheer wealth of detail, by turns salacious, vinegary, depressing and hilarious....a psychodrama, a morality play, a pageant of recklessness and revenge, of passion and pity, of loneliness and looniness.
-Tunku Varadarajan


From The LA Times:

I read every whiplash chapter and came away rubbing my cervical vertebrae...."The Diana Chronicles," Brown's account of the young aristocrat's marriage to the heir to the throne, motherhood, divorce and death, has enough of Diana's hairpin personality turns, emotional drops and gleeful summits to be a Disneyland thrill ride....Brown reminds us of her instantly intimate, magical presence.
-Patt Morrison

MORE PRAISE FOR THE DIANA CHRONICLES:

"Nothing comes close to Tina Brown's book for its tight grip on the dark human comedy that was Diana's life and death. Brown knows the ritual dances, the shouts and whispers of the tribes of Britain better than anyone who has ever written this story but she also has a perfect ear for the way ordinary people responded to the doomed Princess. The result is a compulsively page-turning trip to the poisoned place where class met glamour and the result was catastrophe."
–Simon Schama, author of A History of Britain


"This is not only first-rate biography, but a marvelous social history, and a bitingly accurate portrait of the English upper classes."
–Michael Korda, author of Charmed Lives and Ike


"Tina Brown has produced something that is, as well as absorbing and stirring, witty and penetrating."
–Christopher Hitchens, author of God Is Not Great


"A delightfully smart and insightful book that... weaves a compelling human drama into a rich social history."
–Walter Isaacson, author of Einstein: His Life and Universe
Doubleday, 9780385517089, 560pp.
Publication Date: June 12, 2007
or
Not Currently Available for Direct Purchase