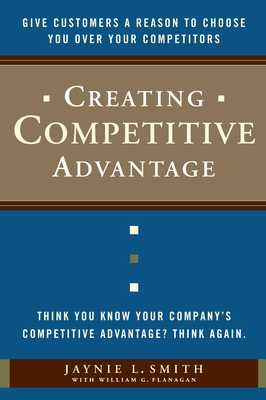 Creating Competitive Advantage (Hardcover)
Give Customers a Reason to Choose You Over Your Competitors
Crown Business, 9780385517096, 240pp.
Publication Date: April 25, 2006
* Individual store prices may vary.
Description
Why should I do business with you… and not your competitor?
Whether you are a retailer, manufacturer, distributor, or service provider – if you cannot answer this question, you are surely losing customers, clients and market share. This eye-opening book reveals how identifying your competitive advantages (and trumpeting them to the marketplace) is the most surefire way to close deals, retain clients, and stay miles ahead of the competition.

The five fatal flaws of most companies:

• They don't have a competitive advantage but think they do
• They have a competitive advantage but don't know what it is—so they lower prices instead
• They know what their competitive advantage is but neglect to tell clients about it
• They mistake "strengths" for competitive advantages
• They don't concentrate on competitive advantages when making strategic and operational decisions

The good news is that you can overcome these costly mistakes – by identifying your competitive advantages and creating new ones. Consultant, public speaker, and competitive advantage expert Jaynie Smith will show you how scores of small and large companies substantially increased their sales by focusing on their competitive advantages. When advising a CEO frustrated by his salespeople's inability to close deals, Smith discovered that his company stayed on schedule 95 percent of the time – an achievement no one else in his industry could claim. By touting this and other competitive advantages to customers, closing rates increased by 30 percent—and so did company revenues.

Jack Welch has said, "If you don't have a competitive advantage, don't compete." This straight-to-the-point book is filled with insightful stories and specific steps on how to pinpoint your competitive advantages, develop new ones, and get the message out about them. 
About the Author
JAYNIE L. SMITH is the founder of ICS Marketing, and president of Smart Advantage, Inc., a management consultancy whose clients include hundreds of middle-market businesses. She also serves as the Florida chair for the Executive Committee (TEC), an international network of over 11,000 CEO. She resides in Hollywood, Florida. WILLIAM G. FLANAGAN has been a writer and editor at Forbes, the Wall Street Journal, BusinessWeek, Esquire, and New York magazine. His last book was Dirty Rotten CEOs (Citadel).
Praise For Creating Competitive Advantage: Give Customers a Reason to Choose You Over Your Competitors…
"So many companies think that differentiation is the key to success. It isn't. The key is knowing how to articulate what's different or better about your product. Creating Competitive Advantage is a must-have for any CEO's library."
-- David Neeleman, CEO, JetBlue Airways

"Jaynie Smith presents you with the most valuable marketing edge you can ever have -- and it won't cost you one cent… Just be sure that you unleash it before your competitors do… The sooner you read [Creating Competitive Advantage], the sooner you'll profit from it."
-- Jay Conrad Levinson, author of Guerrilla Marketing

"Any book that tells you how to be different from your competitors is worth reading. It's what good strategy is all about. Creating Competitive Advantage is just such a book."
-- Jack Trout, author of Trout on Strategy

"With engaging writing, telling insights, and inescapable logic, Jaynie Smith shows us how Creating Competitive Advantage is key to a successful business."
-- Robert B. Cialdini, author of Influence: Science & Practice

"Creating Competitive Advantage is a weapon every business person needs in their arsenal to survive in today's tough world."
–Jack Stack, President & CEO, SRC Holdings Corp., author of The Great Game of Business

Jaynie Smith's experience as an advisor to scores of CEO's has been distilled in this comprehensive look at sound competitive strategies. It's back to the basics, an exercise every business needs to revisit!"
-- Clark Johnson, former CEO, Pier I Imports

"Compelling! The clarity with which Jaynie Smith presents her message is particularly valuable because the concept is, among business leaders, frequently discussed but often understood only superficially.  Finding and using your advantage is the key to not only survival but more importantly, attractively profitable survival. Should be required reading for business leaders."
— Chuck Lillis, former CEO, MediaOne