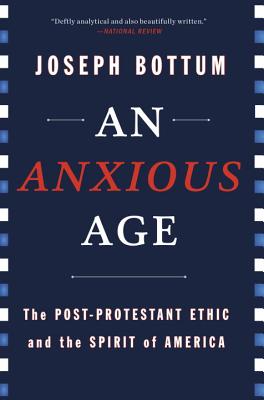 An Anxious Age
The Post-Protestant Ethic and the Spirit of America
Hardcover

* Individual store prices may vary.
Description
We live in a profoundly spiritual age, but not in any good way. Huge swaths of American culture are driven by manic spiritual anxiety and relentless supernatural worry. Radicals and traditionalists, liberals and conservatives, together with politicians, artists, environmentalists, followers of food fads, and the chattering classes of television commentators: America is filled with people frantically seeking confirmation of their own essential goodness. We are a nation desperate to stand of the side of morality--to know that we are righteous and dwell in the light.
In "An Anxious Age, "Joseph Bottum offers an account of modern America, presented as a morality tale formed by a collision of spiritual disturbances. And the cause, he claims, is the most significant and least noticed historical fact of the last fifty years: the collapse of the mainline Protestant churches that were the source of social consensus and cultural unity. Our dangerous spiritual anxieties, broken loose from the churches that once contained them, now madden everything in American life.
Updating "The Protestant Ethic and the Sprit of Capitalism," Max Weber's sociological classic, "An Anxious Age" undertakes two case studies of contemporary social classes adrift in a nation without the religious understandings that gave them meaning. Looking at the college-educated elite he calls "the Poster Children," Bottum sees the post-Protestant heirs of the old mainline Protestant domination of culture: dutiful descendants who claim the high social position of their Christian ancestors even while they reject their ancestors' Christianity. Turning to the Swallows of Capistrano, the Catholics formed by the pontificate of John Paul II, Bottum evaluates the early victories--and later defeats--of the attempt to substitute Catholicism for the dying mainline voice in public life.
Sweeping across American intellectual and cultural history, "An Anxious Age" traces the course of national religion and warns about the strange angels and even stranger demons with which we now wrestle. Insightful and contrarian, wise and unexpected, "An Anxious Age "ranks among the great modern accounts of American culture.

Praise For An Anxious Age: The Post-Protestant Ethic and the Spirit of America…
"A strikingly original diagnosis of the national moral condition. . . . Deftly analytical and also beautifully written, it has the head of Christopher Lasch and the heart of Flannery O'Connor. Anyone wishing to chart the deeper intellectual and religious currents of this American time, let alone anyone who purports to navigate them for the rest of the public, must first read and reckon with An Anxious Age." (National Review, Mary Eberstadt)
 
"Provocative and profound. . . . With his exquisite, precise descriptions, . . . Joseph Bottum has changed the way we will look at American religion." (Washington Times, Gerald Russello)
 
"The writing is so marvelous. Bottum's chapter on John Paul II positively glitters. . . . His side-by-side profile of Bishop Fulton J. Sheen and William F. Buckley Jr. says more about both men in a dozen pages than some books manage to convey. . . . The most interesting, accessible, and perceptive analysis of recent American religious history in years." (The University Bookman, Geoffrey Kabaservice)
 
"An interpretive guide with great explanatory power. . . . James Burnham, Daniel Bell, Christopher Lasch, . . . with the publication of An Anxious Age, I wonder if these earlier thinkers haven't all been surpassed. (The Week, Michael Brendan Dougherty)
 
"Joseph Bottum may be America's best writer on religion. . . . [An Anxious Age is] a new and invaluable contribution to our understanding of America's frame of mind, . . . a work of great importance that should be read, re-read and debated by the literate public, believers and non-believers alike." (American Interest, David Goldman) 

"An Anxious Age is a remarkable work--bursting at the seams with ideas, insights, analyses and propositions about Protestantism and Catholicism, religion and America, God and man, past and present, the public sphere and our private lives. It is one heck of a book." -William Kristol, Editor, The Weekly Standard

"An Anxious Age is bound to be viewed as a classic of American sociology—not only because of its vast knowledge of historical facts and personalities, its depth and multiple layers of meaning, but also because of its literary elegance and imaginative structure. Bottum offers a wholly new way of understanding religion in public life today. His 'Erie Canal Thesis' about the history of American culture is brilliantly laid out, and the magical trick Bottum works when he asks, Where did the Protestant ethic go? is nearly breathtaking. Who would have guessed that the starchy morals of an older generation would evaporate so quickly—and yet later Christianity-less generations would still exude the same old assumption of moral superiority? Joseph Bottum stands among the nation's most vivid and penetrating writers." -Michael Novak, Winner of the 1994 Templeton Prize, Author of Writing from Left to Right
Image, 9780385518819, 296pp.
Publication Date: February 11, 2014
About the Author
JOSEPH BOTTUM is one of the nation s most widely published and influential essayists and author of "The Christmas Plains," classic reflections on the meaning of Christmas and the American prairie. Bottum, whose writing has appeared in "The Atlantic," the "Wall Street Journal," and the "Washington Post," is the former literary editor of "The Weekly Standard" and editor in chief of "First Things." He holds a PhD in medieval philosophy and has done television commentary for programs from NBC's "Meet the Press" to the PBS "Evening News." Bottum Lives with his family in the Black Hills of South Dakota."
or
Not Currently Available for Direct Purchase