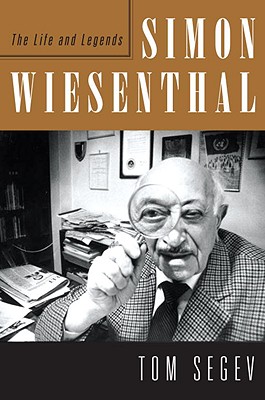 Simon Wiesenthal
The Life and Legends
Hardcover

* Individual store prices may vary.
Other Editions of This Title:
Digital Audiobook (9/6/2010)
Paperback (4/3/2012)
Paperback (9/1/2011)
Description
This first fully documented biography of Simon Wiesenthal, the legendary Nazi hunter, is also a brilliant character study of a man whose life was part invention but wholly dedicated to ensuring both that the Nazis be held responsible for their crimes and that the destruction of European Jewry never be forgotten.

Like most Jews in Eastern Europe on the eve of Hitler's invasion of Poland, twenty-four-year-old Simon Wiesenthal did not grasp the nature of the Nazi threat. But six years later, when a skeletal Wiesenthal was liberated from the concentration camp at Mauthausen, he fully fathomed the crimes of the Nazis. Within days he had assembled a list of nearly 150 Nazi war criminals, the first of dozens of such lists he would make over a lifetime as a Nazi hunter. A hero in the eyes of many, Wiesenthal was also attacked for his unrelenting pursuit of the past, when others preferred to forget.

For this new biography, rich in newsworthy revelations, historian and journalist Tom Segev has obtained access to Wiesenthal's private papers and to sixteen archives, including records of the U.S., Israeli, Polish, and East German secret services. Segev is able to reveal the intriguing secrets of Wiesenthal's life, including his stunning role in the capture of Adolf Eichmann, his relationship with Israel's Mossad, his controversial investigative techniques, his unlikely friendships with Kurt Waldheim and Albert Speer, and the nature of his rivalry with Elie Wiesel.

Segev's challenge in writing this biography was Wiesenthal's own complicated relationship to truth. Wiesenthal told many versions of his life, his suffering in the camps, and his involvement with the arrest of individual Nazis. Segev shows that in order to gain the information he sought and twist the arms of reluctant government figures, Wiesenthal needed to seem more influential than he really was.

For two generations of Americans, Simon Wiesenthal was a Jewish superhero—depicted on film by Ben Kingsley and Laurence Olivier—and the muse for a Frederick Forsyth thriller. Now Segev demonstrates that the truth of Wiesenthal's existence is as compelling as the fiction. Simon Wiesenthal is an unforgettable life of one of the great men of the twentieth century.
Praise For Simon Wiesenthal: The Life and Legends…
Praise for Tom Segev's Simon Wiesenthal: The Life and Legends

"Mr. Segev, justly celebrated for his histories of formative moments of the state of Israel, is as careful a biographer as he is an historian....Gripping yet sober, this meticulous portrait of a complicated man is unlikely to be bettered."
—The Economist 

"[A] meticulous yet forceful new biography...[Segev's] book delivers not merely an intimate account of Wiesenthal's life and times, but also judicious examinations of the many controversial and little-known aspects of that life....It is a serious pleasure to imagine a new generation of readers discovering his life in this careful telling."
—The New York Times

"Segev reveals…a man of profound conflict and contradiction, a lightning rod for controversy and recrimination, but unquestionably a crucial figure in the struggle to retrieve and preserve the evidence of the Holocaust….Segev himself sticks to the 'true story'. That's his stock-in-trade and that's what makes all of his work so compelling. But telling the unvarnished truth ultimately honors the man he is writing about, and Wiesenthal emerges from Segev's book as an even richer and more consequential character than the one he invented for himself."
—Los Angeles Times

"Segev is one of the world's great investigative reporters—in a class with bloodhounds like Seymour Hersh and the late David Halberstam….The real achievement of this warts-and-all biography [is] that truth, justice, and memory are the province not of saints, but of flawed human beings."
—Susan Jacoby, The Washington Post

"Tom Segev has produced a biography that is a model of fascinating description and measured analysis."
—The Sunday Times (UK)

"Segev paints a vivid portrait of this human dynamo who made it his life's work to make people not only confront and remember the Nazi genocide but also to punish as many of its perpetrators as possible."
—San Francisco Chronicle


"A brilliant and gripping account of an extraordinary life. It draws upon extensive research to offer new insights into the complex personality as well as the notable achievements of Simon Wiesenthal."
—Sir Ian Kershaw, author of Hitler: A Biography

Praise for Earlier Books by Tom Segev

The Seventh Million: The Israelis and the Holocaust

"Richly documented and written with great passion."
—Elie Wiesel, Los Angeles Times Book Review

"Superb . . . Throws new light on the central trauma of Israeli society, and the uses and abuses of this trauma for political manipulation. I, for one, learned from this book that, in order to survive, societies must learn not only to remember but also to forget."
—Amos Elon, author of The Israelis: Founders and Sons

"Indispensable reading for anyone interested in Israel's self-image and identity . . . Any further discussion of the Holocaust must confront Tom Segev's work."
—George L. Mosse, author of Nazi Culture


1967: Israel and the Year That Transformed the Middle East

"A marvelous achievement . . . Anyone curious about the extraordinary six days of Arab-Israeli war will learn much from it."
—The Economist

"Tom Segev's 1967 offers a brilliant description of the Six-Day War in its widest context . . . This is probably the best book on those most fateful days in the history of Israel and the Middle East."
—Saul Friedländer, author of The Years of Extermination: Nazi Germany and the Jews, 1939–1945


One Palestine, Complete: Jews and Arabs Under the British Mandate

"The best single account of Palestine under the British mandate . . . This will doubtlessly become the authoritative text for the pre-state history of Israel."
—Omer Bartov, New York Times Book Review

"A brilliant, truthful, and compassionate book . . . In all the vast literature about Palestine/Israel, this is the only book with equal insight into all of the protagonists."
—Arthur Hertzberg, author of Jews: The Essence and Character of a People
Doubleday, 9780385519465, 496pp.
Publication Date: September 7, 2010
About the Author
Tom Segev, who writes a weekly column in "Ha'aretz," Israel's leading daily newspaper, is the author of "The Seventh Million: The Israelis and the Holocaust" and other pathbreaking books, including "One Palestine, Complete," which was named one of the ten best books of 2000 by the "New York Times Book Review." He lives in Jerusalem.

www.doubleday.com
or
Not Currently Available for Direct Purchase