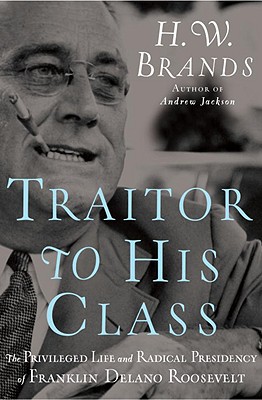 Traitor to His Class
The Privileged Life and Radical Presidency of Franklin Delano Roosevelt
Hardcover

* Individual store prices may vary.
Description
A sweeping, magisterial biography of the man generally considered the greatest president of the twentieth century, admired by Democrats and Republicans alike. Traitor to His Class sheds new light on FDR's formative years, his remarkable willingness to champion the concerns of the poor and disenfranchised, his combination of political genius, firm leadership, and matchless diplomacy in saving democracy in America during the Great Depression and the American cause of freedom in World War II.

Drawing on archival materials, public speeches, personal correspondence, and accounts by family and close associates, acclaimed bestselling historian and biographer H. W. Brands offers a compelling and intimate portrait of Roosevelt's life and career.

Brands explores the powerful influence of FDR's dominating mother and the often tense and always unusual partnership between FDR and his wife, Eleanor, and her indispensable contributions to his presidency. Most of all, the book traces in breathtaking detail FDR's revolutionary efforts with his New Deal legislation to transform the American political economy in order to save it, his forceful—and cagey—leadership before and during World War II, and his lasting legacy in creating the foundations of the postwar international order.

Traitor to His Class brilliantly captures the qualities that have made FDR a beloved figure to millions of Americans.
Praise For Traitor to His Class: The Privileged Life and Radical Presidency of Franklin Delano Roosevelt…
"H.W. Brands is a master at finding the essence of an important American life, telling its story grippingly and showing us why it is important to our own generation.  With Traitor to His Class, he has surpassed even his own high standard.  This judicious and compelling work is the first major one-volume biography written by an historian too young to have lived in Franklin Roosevelt's time.  It deserves a wide audience, especially among those younger Americans who need to be told why we all owe so much to FDR."
-- Michael Beschloss

"This is a rare book, indeed, shedding new light and brilliant insight upon an elusive subject we thought we knew well.  In this elegant, all-encompassing portrayal, master historian H. W. Brands shows us a leader who got the big issues right and, in doing so, forever changed the expectations of the world.  Traitor to His Class will quickly emerge as the finest one-volume biography of FDR."
-David Oshinsky, Winner of the 2006 Pulitzer Prize for History

"We live in the world Franklin Roosevelt created, and we can never know enough about him. In this illuminating portrait of the man who proved far more radical than his upbringing would have ever suggested, H. W. Brands has painted FDR in bright and brilliant colors."
-Jon Meacham, author of Franklin and Winston and American Lion: Andrew Jackson in the White House

"H.W. Brands has accomplished a remarkable feat in this terrific work. As if he were creating characters in a novel, he has brought to vivid life the central figures in his story--FDR, Eleanor, Sara Roosevelt, Winston Churchill, and the inner circle in the White House--while at the same time providing a fresh understanding of the rich historical context for their thoughts and actions at every step along the way."
-Doris Kearns Goodwin, Pulitzer Prize-winning historian and author of Team of Rivals


If you want to understand how a great president should act, Traitor to His Class is must reading"
--New York Observer


"H.W. Brands's wonderful new biography of Roosevelt…shows the precision and attention to detail that one would expect from a scholar and, at the same time, reads like a novel…it is rich in insights and fresh perspectives that will appeal to the expert and the general reader alike. This may well be the best general biography of Franklin Roosevelt we will see for many years to come."
--Christian Science Monitor


"Very much worth reading." — The New Yorker


"Impressive...Roosevelt was prepared to be radical to meet dangerous circumstances. Yet his instincts and the outcomes of many of his policies were often conservative. As a radical, he saved the old order--and advanced Ameriacn power more than any president since Jefferson...Courage, charm, resourceful cunning and a hidden hardness enabled him to save American capitalism, though, as he said himself, it was Dr. Win-the-War, not Dr. New Deal, that ended the Depression. Mr. Brands is masterly in describing the patience with which FDR brought the country to understand the danger of fascism." --The Economist

"The longest-serving president in U.S. history, Roosevelt was arguably the most inscrutable. He kept no diary, wrote no autobiography and unburdened himself to no one. Even his wife had no idea what was on his mind...Brands explains in detail how this ambitious Hudson Valley patrician, the coddled son of an elderly father and dominating mother, managed to defy his family and social class and become the most reform-minded president in U.S. history." --Washington Post Book World
Doubleday, 9780385519588, 896pp.
Publication Date: November 4, 2008
About the Author
H. W. BRANDS is the Dickson Allen Anderson Professor of History at the University of Texas at Austin. The author of "Andrew Jackson," "Lone Star Nation," and "The Age of Gold," he was a finalist for the Pulitzer Prize for biography for "The First American: The Life and Times of Benjamin Franklin." He lives in Austin, Texas.
or
Not Currently Available for Direct Purchase