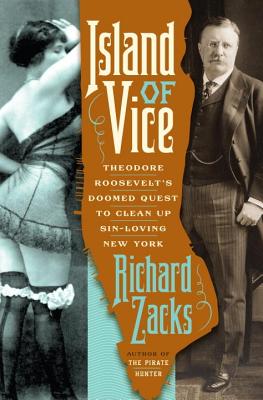 Island of Vice
Theodore Roosevelt's Doomed Quest to Clean Up Sin-Loving New York
Hardcover

* Individual store prices may vary.
Other Editions of This Title:
Digital Audiobook (3/12/2012)
Paperback (9/4/2012)
Compact Disc (3/13/2012)
Description
When young Theodore Roosevelt was appointed police commissioner of New York City, he had the astounding gall to try to shut down the brothels, gambling joints, and after-hours saloons. This is the story of how TR took on Manhattan vice . . . and vice won.

In the 1890s, New York City was America's financial, manufacturing, and entertainment capital, and also its preferred destination for sin, teeming with forty thousand prostitutes, glittery casinos, and all-night dives. Police cap­tains took hefty bribes to see nothing while reformers writhed in frustration.

In Island of Vice, Richard Zacks paints a vivid portrait of the lewd underbelly of 1890s New York, and of Theodore Roosevelt, the puritanical, cocksure police commissioner resolved to clean it up. Writing with great wit and zest, Zacks explores how young Roosevelt goes head to head with Tammany Hall, takes midnight rambles with muckraker Jacob Riis, and tries to convince two million New Yorkers to enjoy wholesome family fun. When Roosevelt's crackdown succeeds too well, even his supporters turn on him, and TR discovers that New York loves its sin more than its salvation.

With cameos by Stephen Crane, Mark Twain, and a horde of very angry cops, Island of Vice is an unforgettable snap­shot of turn-of-the-century New York in all its seedy glory and a brilliant miniature of one of America's most colorful presidents.
Praise For Island of Vice: Theodore Roosevelt's Doomed Quest to Clean Up Sin-Loving New York…
Praise for ISLAND OF VICE:

"Excellent...A fish-out-of-water comedy, in that it tells the story of what happens when one of the virtuous clubmen--a square, incorruptible, 'law-and-order Republican'--is placed in charge of the New York Police Department." 
--The Wall Street Journal

"A fascinating narrative history of Theodore Roosevelt's doomed struggle to put a lid on crime in New York during his tenure as Police Commissioner starting in 1895...One of the achievements of Island of Vice is that Zacks penetrates beneath the bluster into the psychology of this strange, restless man."
--Maureen Corrigan, NPR

"In his delightful and often hilarious ode to Manhattan, Island of Vice, Richard Zacks makes a comparison to another famously wicked metropolis: "As in ancient Rome, the vitality of New York City sometimes seems to come more from the crooks than the do-gooders."
--USA Today

"Richard Zacks, in Island of Vice: Theodore Roosevelt's Doomed Quest to Clean Up Sin-Loving New York, tells the story of Roosevelt's two-year campaign with gusto and authority and the wry observations of an author who knows how it will all predictably turn out."
-- The New York Times Book Review

"Here is young Teddy Roosevelt as the reformist New York City Police Commissioner  confronted in 1895 with a cabal of  unaccountably wealthy police officials, whole neighborhoods of brothels, and the paws of the Tammany Tiger in everything. A delicious municipal history, impeccably researched, excitingly told."
--E. L. Doctorow, award-winning author of Ragtime

"In the early 1890s, New York was America's vice capital, with thousands of prostitutes and countless all-night gambling halls. But then, in 1895, Teddy Roosevelt was appointed police commissioner. Richard Zacks paints an engagingly vivid picture of the rise of Roosevelt, the birth of the reform movement, and the creation of 20th century America. Roosevelt comes alive with all of his blustery and belligerent passion, and so does New York City."
--Walter Isaacson, bestselling author of Steve Jobs and Einstein: His Life and Universe
 
"From the opening pages of his rousing new book, Island of Vice, Richard Zacks plunges readers into the filth, debauchery and corruption of 1890s New York. When an ambitious young Theodore Roosevelt strides in to clean up the mess, the story, already brimming with incredible characters and jaw-dropping details, only gets better. "
--Candice Millard, bestselling author of The River of Doubt and Destiny of the Republic
 
"Island of Vice is as thrilling as the low dives and wanton women it describes.  This is the real-life story of an American icon, Teddy Roosevelt, battling vice and as colorful an array of crooked politicians as Tammany ever assembled, in raucous old, gas-light New York.  Zacks does a superb job as both a historian and a storyteller."
--Kevin Baker, bestselling author of Paradise Alley
 
"An irresistible force – young Theodore Roosevelt, the police commissioner, determined to wipe out vice – meets an immoveable object – the corrupt, pleasure-loving city of New York in the 1890s.  And the result is: a whole lot of fun.  What a marvelous time Richard Zacks must have had researching this story.  The information is fascinating, the amazing tale moves with a headlong pace. I'm sure ISLAND OF VICE will be a best-seller, and it deserves to be." 
--Edward Rutherfurd, bestselling author of New York: The Novel   
 
"It's been said that New York City politics were invented to scare young children. True, according to Richard Zacks whose riveting account lays bare the depravity and corruption of the Gilded Age – and the failed crusade of Police Commissioner Theodore Roosevelt to stop it. A must-read for any student of Gotham." 
--Teresa Carpenter, author of New York Diaries, and winner of the Pulitzer Prize for feature writing

"A lively and often entertaining portrayal of urban life at the close of the 19th century."
--The Chrstian Science Monitor

"Zacks probes this period of Roosevelt's life with exhaustive details, drama, and intrigue. The 40 pages of bibliographic notes indicate the five years of research that went into this remarkable re-creation of fin-de-siècle New York. Writing with a prismatic, poetic slant, Zacks unveils a colorful portrait of a volcanic Roosevelt towering over the soul of the city."
--Publishers Weekly

"Set in gas-lit 1890s Manhattan, Zacks' depiction of virtue versus vice pits Theodore Roosevelt against a gallery of antagonists...[TR's] fight is a fascinating story that Zacks relays with zest. His pungent vignettes of sinful establishments and the police who 'protected' them hang on the main plot of TR's campaigns to dismiss bad cops and enforce long-dormant alcohol and prostitution laws, which often resulted in proceedings showcasing TR at his most combatively indignant. His research artfully attired in active prose, Zacks writes a winner for TR and NYC buffs."
--Booklist

"Zacks returns with a sharply focused look at Theodore Roosevelt's brief tenure as a New York City police commissioner...The author takes us inside fin-de-siecle brothels and bars, Tammany Hall and courtrooms, contentious commissioners' meetings and cops' barracks. A nuanced, comprehensive portrait of a unique man and the surrounding period, culture and political system."
--Kirkus Reviews

Doubleday, 9780385519724, 448pp.
Publication Date: March 13, 2012
About the Author
RICHARD ZACKS is the author of several nonfiction books, including "The Pirate Hunter," "An Underground Education," ""and "History Laid Bare." His writing has appeared in the "New York Times," "Atlantic Monthly," "Time," "Harper's "and "Sports Illustrated," among many other publications. He writes in an office in New York City overlooking Union Square.
or
Not Currently Available for Direct Purchase