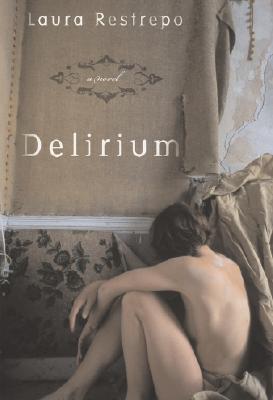 Delirium
Hardcover

* Individual store prices may vary.
Other Editions of This Title:
Paperback, Spanish (11/20/2018)
Paperback (3/11/2008)
Paperback (4/1/2004)
Paperback, Spanish (4/1/2007)
Paperback (9/1/2010)
Paperback (7/1/2008)
Description
Internationally acclaimed for the virtuosity and power of her fiction, Laura Restrepo has created in Delirium a passionate, lyrical, devastating tale of eros and insanity.

Aguilar, an unemployed literature professor who has resorted to selling dog food for a living, returns home from a short trip to discover that his wife, Agustina, has gone mad. He doesn't know what has happened during his absence, and in his search for answers, he gradually unearths profound and shadowy secrets about her past.

On one level, Delirium reads like a detective story, as the reader pieces together information to discover the roots of Agustina's madness. But it is also a remarkably nuanced novel whose currents run much deeper, delving into the minds of four characters: Aguilar, a husband passionately in love with his wife and determined to rescue her from insanity: Agustina, a beautiful woman from an upper-class Colombian family who is caught in the throes of madness; Midas, a drug-trafficker and money-launderer, who is Agustina's former lover; and Nicolás, Agustina's grandfather. Through the mixing of these distinct voices, Laura Restrepo creates a searing portrait of a society battered by war and corruption as well as an intimate look at the daily lives of people struggling to stay sane in an unstable country.

Delirium already has been awarded the 2004 Premio Alfaguara, the 2006 Grinzane Cavour Prize in Italy, and was shortlisted for the prestigious Prix du Meilleur Livre Etranger in France for best translated fiction. It is an ambitious and deeply affecting masterwork by one of Latin America's most important contemporary voices.

Translated from the Spanish by Natasha Wimmer.

Praise For Delirium…
"Delirium is one of the finest novels written in recent memory. Restrepo has a total mastery over what she writes, an astonishing but absolute mastery. Yes, there's violence, narcotraffic, madness, perhaps even love itself as a form of total madness. The important thing is that we're talking about a truly great novel, of a kind that you seldom encounter anymore."
--Jose Saramago

"Laura Restrepo breathes life into a singular amalgam of journalistic investigation and literary creation. Her fascination with popular culture and the play of her impeccable humor…save her novels from any temptation toward pathos or melodrama, and infuse them with unmistakable reading pleasures."
--Gabriel Garcia Marquez

"Laura Restrepo's Delirium has an aesthetic distinction worthy of her precursors Garcia Marquez and Saramago. Like them, her narrative sense of erotic derangement is elaborately nuanced. Ultimately she seems to me an authentic descendent of the greatest New World author and seer of eros, Walt Whitman."
--Harold Bloom

"This beautiful and disturbing book haunted me during the days I read it and long after I put it down. Love, unknowability, loss, and even various forms of gain elide from one to another of its passionate, unnerving voices."
--Vikram Seth

"Laura Restrepo's Delirium is a book-and-a-half: stunning, dense, complex, mind-blowing. This novel goes far above politics, right up into high art."
--The Washington Post

"Restrepo writes with a sinister lyricism and a dry, leavening wit, detailing the ways in which money, power, and corruption have scourged the fragile Agustina and her city."
--The New Yorker

"Saying that Laura Restrepo's writing is beautiful is kind of like saying that the Eiffel Tower is in Europe. Every word in Delirium is perfectly chosen, painfully honest, and brutally effective. Restrepo chooses her words like a poet, with infinite care. Even without her superb writing, though, Restrepo's novel would be excellent, her story intriguing and engrossing."
--The Philadelphia Inquirer

"Delirium is a rich literary journey that delivers lush rewards. Laura Restrepo has created a diamond-hard vision that ultimately yields a layered, subtle, intelligent yet audacious sense of life."
--The San Diego Union-Tribune

"Restrepo is a writer who captures a hitherto hidden way of life....A writer who illuminates a world."
--The Washington Post Book World
Nan A. Talese, 9780385519908, 336pp.
Publication Date: April 3, 2007
or
Not Currently Available for Direct Purchase