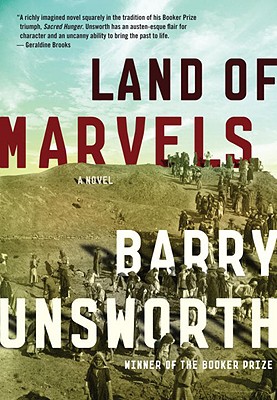 Land of Marvels
Hardcover

* Individual store prices may vary.
Other Editions of This Title:
Paperback (1/1/2010)
Paperback (1/11/2010)
Hardcover (2/1/2009)
Hardcover, Large Print (2/1/2009)
February 2009 Indie Next List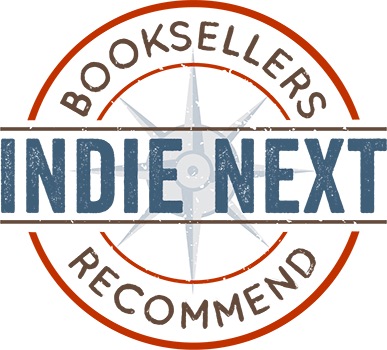 "Barry Unsworth's historical novels consistently manage to evoke comparisons with our own time. In his latest, as WWI becomes inevitable, competing American and European interests in Middle Eastern oil set off a complex chain of events that continues to resonate today."
— Russ Lawrence, Chapter One Book Store, Hamilton, MT
View the List
Description
Barry Unsworth, a writer with an almost magical capacity for literary time travel (New York Times Book Review) has the extraordinary ability to re-create the past and make it relevant to contemporary readers. In Land of Marvels, a thriller set in 1914, he brings to life the schemes and double-dealings of Western nations grappling for a foothold in Mesopotamia (now Iraq) in the dying days of the Ottoman Empire.
Somerville, a British archaeologist, is excavating a long-buried Assyrian palace. The site lies directly in the path of a new railroad to Baghdad, and he watches nervously as the construction progresses, threatening to destroy his discovery. The expedition party includes Somerville's beautiful, bored wife, Edith; Patricia, a smart young graduate student; and Jehar, an Arab man-of-all-duties whose subservient manner belies his intelligence and ambitions. Posing as an archaeologist, an American geologist from an oil company arrives one day and insinuates himself into the group. But he's not the only one working undercover to stake a claim on Iraq's rich oil fields.
Historical fiction at its finest, Land of Marvels opens a window on the past and reveals its lasting impact.
Praise For Land of Marvels…
"A richly imagined novel squarely in the tradition of his Booker Prize triumph, Sacred Hunger. Unsworth has an Austen-esque flair for character and an uncanny ability to bring the past to life."
–Geraldine Brooks, Pulitzer Prize-winning author of March

"This is the work of a master: lean, elegant, and wise, weaving the doomed ambitions of two fallen empires into a compelling story that also deftly comments on the American presence in Iraq."
–Andrea Barrett, National Book Award-winning author of Ship Fever

"Land Of Marvels is up to Unsworth's highest standard, featuring a cast of fascinating characters thrown together in the desert of Mesopotamia just before the Great War, all furiously digging for the past and turning up the future. American readers will recognize the landscape and learn some surprising facts about how we got exactly where we are right now. As well a great read, Land of Marvels is an important book."
–Valerie Martin, Orange Prize-winning author of Property

"An intriguing story, elegantly and eloquently told."
–Peter Ackroyd, bestselling author of London: The Biography

"Immensely intelligent and entertaining… Not only does [Unsworth] confidently steer a complicated narrative populated by numerous characters, all of them believable and interesting, but he displays an impressive command of archaeology and geology, difficult subjects that are at the center of his story… Land of Marvels can-and I believe should-be read as a corrective to the arrogance and overweening self-confidence that led the United States into the morass of Iraq, but it also is a reminder that nothing is forever… but it also can be read as singularly skillful entertainment. Its characters are real, its prose is fluid, its sense of place is pervasive, and its ending is exactly right, on a note of loss, survival and irony. All in all, a lovely, memorable book."
-Jonathan Yardley, The Washington Post

"Unsworth assembles his layers with the subtlety you would expect from a renowned, if restrained, historical novelist and Booker Prize winner… Amid the tension, and some deft characterization, Unsworth's themes of extraction and exploitation are irresistible… Unsworth's denouement is dramatic and richly symbolic…. In Land of Marvels Unsworth succeeds in summoning the demons and the angels of Iraq's present and past. Not bad for a volume you could read in an afternoon."
-The New York Times Book Review

"[Unsworth's] work is as clean as Hemingway's and as dark as Conrad's, and it's braced with a loathing of exploitative power... In seamless prose Unsworth exposes his characters' myriad ulterior motives, all of which mirror today's news. The conclusion is shocking, but the real triumph is the book's commentary on modern Iraq... Beautifully disguised as a literary thriller, the novel is a reminder that if we continue on our present course we won't just be doomed to repeat history, we will be doomed utterly."
—Men's Journal

"One can't help but ponder the what-ifs while reading British author Barry Unsworth's intrigue-fueled historical novel Land of Marvels… Unsworth's portrayals are sensitive and, to an extent, empathetic, giving the story a humanity it otherwise would not possess… Unsworth isn't just spinning a good historical yarn here. Land of Marvels holds up a mirror to our own grand and maybe misguided ambitions in a region that is no less explosive, no less paved with grand and dubious intentions today."
-Seattle Times

"In a way, to call Land of Marvels a murder mystery or thriller is to undersell its considerable qualities. There is mystery aplenty--and murder--but there's a lot more going on here, as is always the case with Unsworth. The book is imbued with local atmosphere and informed by sound knowledge of the history and the culture of this particular corner of the Turkish Empire: Mesopotamia, or what we now know all too well as Iraq."
-Los Angeles Times

"With his usual light hand, [Unsworth] keeps the story snapping along, setting up plot twists galore in an atmosphere that approaches a drawing-room comedy, complete with intrigues among the ruins."
-The Boston Phoenix

"What Unsworth does best here is portray the collision of cultures and political and economic interests that, with the dismantling of the Ottoman Empire a few years later, would lead to the drawing of questionable national boundaries, giving Britain control of the newly named Iraq, and planting the seeds of discontent that, some 85 years later, would find the United States invading a country it did not fully understand. Land of Marvels is subtle in the connections it makes between then and now, but the discerning reader can see clearly the hand of fate planting those seeds of luckless destiny."
-Bookpage

"With measured prose that builds steadily in suspense, Unsworth does an excellent job at simultaneously evoking a past era and foreshadowing American involvement in the modern Middle East."
-Booklist

"One hopes this rich narrative may inspire a film version enlisting the talents of Ralph Fiennes, Kristin Scott Thomas, Ben Kingsley and their peers. A transfixing melodrama alive with crackling suspense, sharply drawn characters, intense historical relevance and ideas in action. Absorbing and irresistible."
-Kirkus Reviews (starred review)

"Unsworth here offers historical fiction at its best. [Land of Marvels] provides some insight into current political divisions in the Middle East as it explores the power and limitations of storytelling…. Unsworth [draws] characters with depth and complexity."
-Library Journal (starred review)

"The tension between the players builds toward a violent, unexpected finale. In elegantly modulated prose, Unsworth creates a tapestry of ambition and greed while, at the same time, foreshadowing the current conflict in the region."
-Publishers Weekly
Nan A. Talese, 9780385520072, 304pp.
Publication Date: January 6, 2009
About the Author
BARRY UNSWORTH, who won the Booker Prize for Sacred Hunger, was a Booker finalist for Pascali s Island and Morality Play, and was long-listed for the Booker Prize for The Ruby in Her Navel. His other works include The Songs of the Kings, After Hannibal, and Losing Nelson. He lives in Italy."
Land of Marvels centers on some central themes, such as fidelity, justice, power, honesty, and accountability. How does Land of Marvels depict these themes? Is it optimistic?
Is Land of Marvels making the argument that human beings, no matter their station, gender, ethnicity, etc, are all driven by a compulsive urge to satisfy their own self-interest? How are the main characters driven in this way and do any find salvation?
Do any of the competing interests in the story, especially those at Tel Erdek, take precedence for you? Is one more important than another? Considering the collision of archeology, rail, and oil – do any have a legitimate claim to the land?
Can you explain the inherent contradiction in Somerville's attitude toward history? Why does he obsess over Tel Erdek, while simultaneously kicking pieces of pottery around like stones? For Somerville, what makes a rare artifact more important than broken pieces of pottery?
How does the historical context affect your sense of race and ethnicity? And after watching Somerville interact with the workers and Jehar, etc, do you feel our racial history has changed much in light of the West's relationship to the Middle East? Are we considerate? And, are the characters necessarily products of their racial dynamics and histories, or do they act on an entirely individual level? If so, to what extent?
How does Jehar's relationship with Ninanna compare to those of the Westerners in the story? Land of Marvels iterates that Jehar has turned his life into a story. What does this mean? Does it make his love for Ninanna and his dealings with Somerville more complicated? By all accounts Jehar has done this purposefully, why do think he has chosen to "make his life a story"? Does it protect him?
With the pervasiveness of duplicity in the story, does anyone act as a moral compass? How can we determine right from wrong in this atmosphere? Is that even possible?
This story is more than just historical fiction: it is also a tragedy. What are the characters' tragic flaws? What leads to their undoing?
Jehar reflects on the Land of Two Rivers, and how the land has had many inhabitants: Sumerians, Babylonians, Hittites, Assyrians, Medes, Chaldeans – all bent on conquest, all convinced they would last forever. Does this reflection seem relevant considering the US invasion of Iraq? Has anything changed? If not, do you believe it will?
What are the roles of the female characters? Do they have any real responsibilities? Do you feel they were marginalized in comparison to those of the male characters? Or is this indicative of the historical moment they were apart of? Also, do you feel the female characters were reduced to objects of affection and/or sex?
The relationship between Edith and Patricia symbolizes the collision of two reigning world views on gender at the beginning of the 20th century. While Patricia corrects the men and asserts herself, in a "progressive" manner, Edith believes Patricia is out of order, that women should know "their place". Yet, Edith is the one that has the affair with Elliot, and Patricia is the one that settles for domestic bliss with Palmer. Do you think Edith's infidelity is a form of liberation for her? Or does it demonstrate a condemnation to unhappiness? What of Patricia? Are their paths opposite? Is Patricia repeating the past that is represented in the chaste domesticity of Edith at the beginning of the story?
In the end, when Somerville finally opens the ancient coffin in the pit at Tel Erdek, Unsworth writes, "Edith and Patricia came forward now and joined the men." Is this a significant moment? What were they joining? We are given the sense that until this moment, they were not allowed to share in the intimate and momentous discovery, but now they join the men and look into the coffin, face to face with history. Are the women now part of this history, that hitherto they were excluded?
Knowing the perilous end of the story, should Somerville still have started his dig? He seems to be one of the only characters that must lead head on into doom. Where he is stubborn and arguably arrogant and idealistic, the others have very particular goals in mind. What is Somerville's goal, and is it somehow more aimless? What's its purpose in the story?
The "dig" is a clear allegory for history itself: how we write it; what it takes to preserve it; the notion that what we can learn is buried deep in the past, or literally underground; the idea that vast treasures await our mining of them. What does Land of Marvels "dig" up? Is it like an archeological dig through social and political history? How so?
It is widely regarded that fiction has the capacity to teach or inform its audience. Did Land of Marvels teach you anything new or enlightening about the history of the Middle East? What did you learn?
or
Not Currently Available for Direct Purchase