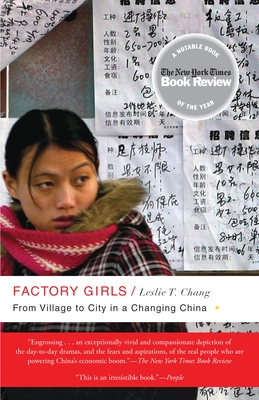 Factory Girls
From Village to City in a Changing China
Paperback

* Individual store prices may vary.
Other Editions of This Title:
Digital Audiobook (1/4/2009)
Paperback, Marathi (1/2/2021)
MP3 CD (1/5/2009)
Compact Disc (1/5/2009)
Description
An eye-opening and previously untold story, Factory Girls is the first look into the everyday lives of the migrant factory population in China.

China has 130 million migrant workers—the largest migration in human history. In Factory Girls, Leslie T. Chang, a former correspondent for the Wall Street Journal in Beijing, tells the story of these workers primarily through the lives of two young women, whom she follows over the course of three years as they attempt to rise from the assembly lines of Dongguan, an industrial city in China's Pearl River Delta.

As she tracks their lives, Chang paints a never-before-seen picture of migrant life—a world where nearly everyone is under thirty; where you can lose your boyfriend and your friends with the loss of a mobile phone; where a few computer or English lessons can catapult you into a completely different social class. Chang takes us inside a sneaker factory so large that it has its own hospital, movie theater, and fire department; to posh karaoke bars that are fronts for prostitution; to makeshift English classes where students shave their heads in monklike devotion and sit day after day in front of machines watching English words flash by; and back to a farming village for the Chinese New Year, revealing the poverty and idleness of rural life that drive young girls to leave home in the first place. Throughout this riveting portrait, Chang also interweaves the story of her own family's migrations, within China and to the West, providing historical and personal frames of reference for her investigation.

A book of global significance that provides new insight into China, Factory Girls demonstrates how the mass movement from rural villages to cities is remaking individual lives and transforming Chinese society, much as immigration to America's shores remade our own country a century ago.
Praise For Factory Girls: From Village to City in a Changing China…
"Engrossing. . . an exceptionally vivid and compassionate depiction of the day-to-day dramas, and the fears and aspirations, of the real people who are powering China's economic boom."
–The New York Times Book Review

"Chang delves deeply into the world of migrant workers to find out who these people are and what their collective dislocation means for China. Chang skillfully sketches migrants as individuals with their own small victories and bitter tragedies, and she captures the surprising dynamics of this enormous but ill-understood subculture."
–The Washington Post

"Chang's deeply affecting book tells the story of the invisible foot soldiers who made China's stirring rise possible."
–The New York Times

"This is an irresistible book."–People

"Excellent."
–Chicago Tribune

"Fascinating. . . Chang powerfully conveys the individual reality behind China's 130 million migrant workers, the largest migration in human history."
–The Boston Globe

"Chang reveals a world staggering in its dimensions, unprecedented in its topsy-turvy effects on China's conservative culture, and frenetic in its pace. . . Chang deftly weaves her own family's story of migrations within China, and finally to the West, into her fascinating portrait. . . Factory Girls is a keen-eyed look at contemporary Chinese life composed of equal parts of new global realties, timeless stories of human striving, and intelligent storytelling at its best."
–San Francisco Chronicle

"Both entertaining and poignant. . . Chang's fine prose and her keen sense of detail more than compensate for the occasional digression, and her book is an intimate portrait of a strange and hidden landscape."
–The New Yorker

"A compelling, atmospheric look at seldom-seen China."
–BusinessWeek

"Chang, a journalist at the Wall Street Journal, spent two years reporting in the gritty southern boomtown of Dongguan trying to put human faces on these workers, and the ones she finds are extraordinary. They are, more than anything else, the face of modern China: a country increasingly turning away from its rural roots and turbulent past and embracing a promising but uncertain future. . . The painstaking work Chang put into befriending these girls and drawing out their stories is evident, as is the genuine affection she has for them and their spirit."
–Time

"In her impressive new book, Factory Girls: From Village to City in a Changing China, former Wall Street Journal reporter Leslie T. Chang explores this boom that's simultaneously emptying China's villages of young people and fueling its economic growth. . . To be sure, this mass migration is a big and well-told story. But Chang brings to it a personal touch: her own forebears were migrants, and she skillfully weaves through the narrative tales of their border crossings. She also succeeds in grounding the trend in wider social context, suggesting that the aspirations of these factory girls signal a growing individualism in China's socialist culture."
–Newsweek

"Elegant. . . Chang is less interested in exposé than in getting to know the young women of Dongguan's assembly lines. Factory Girls reveals the workplace through the workers' eyes."
–Financial Times

"A real coup. . . Chang, a former Beijing correspondent for The Wall Street Journal, does more than describe harsh factory conditions. She writes about the way the workers themselves see migration, bringing us views that are rarely heard. Factory Girls is highly readable and even amusing in many places, despite the seriousness of the subject. In the pages of this book, these factory girls come to life."
–Christian Science Monitor

"Amazing. . . a fascinating ethnography of the young women who labor in the factories of Guangdong, China's richest province, a land of boomtowns where wealth and scams and exploitation and warmth and courage all abound. . . I must have read fifty books about China this year, but this stands out as one of the best."
–Boingboing.net

"A gifted storyteller, Chang crafts a work of universal relevance."
–Publishers Weekly (starred review)

"In-depth reporting [that] contributes significantly to our knowledge about China's development."
–Kirkus Reviews

"Rising head and shoulders above almost all other new books about China, this unflinching and yearningly compassionate portrait of the lives and loves of ordinary Chinese workers is quite unforgettable: it presents the first long, hard look we have ever taken at the people who are due to become, before very much longer, the new masters of the world."
–Simon Winchester, author of The Man Who Loved China

"Often people ask me, 'What's it like for women in China today?' From now on I'll recommend Leslie Chang's Factory Girls, which is brilliant, thoughtful, and insightful.  This book is also for anyone who's ever wondered how their sneakers, Christmas ornaments, toys, designer clothes, or computers are made.  The stories of these factory girls are not only mesmerizing, tragic, and inspiring -- true examples of persistence, endurance, and loneliness -- but Chang has also woven in her own family's history, shuttling north and south through China to examine this complicated country's past, present, and future."
–Lisa See, author of Snow Flower and the Secret Fan


Random House, 9780385520188, 448pp.
Publication Date: August 4, 2009
About the Author
Leslie T. Chang lived in China for a decade as a correspondent for the Wall Street Journal. She is married to Peter Hessler, who also writes about China. She lives in Colorado.