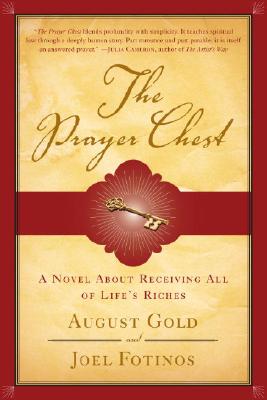 The Prayer Chest
A Novel About Receiving All of Life's Riches
Hardcover

* Individual store prices may vary.
Description
Since the beginning of time every man and woman has prayed—millions of prayers daily. Why then are only a handful of them answered? What roles do luck, chance, or fate have in our lives? How can we discover and live our destiny?

Joseph Hutchinson is a man who knows the reality of tragedy all too well; his life has been filled with misfortune and adversity. A widowed father of two, living on a farm that is about to be taken from him, Joseph embarks on an unexpected journey that will bring him face to face with his greatest fears, and ultimately with his greatest discovery—a mysterious wooden box hidden in his attic more than one hundred years earlier. This box, the Prayer Chest, contains the Three Secrets of Prayer that will change his life and the lives of everyone around him.

What starts out as a journey to save his children and himself turns into a quest through which he—and every reader who has ever struggled—discovers the power to make every prayer come true.

Rich in romance, mystery, and spiritual insight, THE PRAYER CHEST is a wise and warm tale that will revolutionize everything we've ever thought about prayer—and the meaning of our lives here on earth. A parable for people of all faiths—or none—it is to be read, enjoyed, and above all, lived.
Praise For The Prayer Chest: A Novel About Receiving All of Life's Riches…
"I absolutely love The Prayer Chest. Not only is it a good story, it also offers enormously helpful and practical guidance for living a joy-filled and meaningful life."
—Christiane Northrup, MD, author of Mother-Daughter Wisdom, The Wisdom of Menopause, and Women's Bodies, Women's Wisdom

"The Prayer Chest is a wonderful and enlightening book. It tells an inspiring story whose deep secret is that we all need a simple place, a quiet place, a place of miracles, a hiding place where we can write the truth of our hearts and leave it for those we love. We each need our own Prayer Chest, and in times of joy, in times of fear, it will be there to guide us and to help us receive the truth. What a gift is this wonderful book!"
—Judy Collins, singer, songwriter, and writer

"The Prayer Chest resonates on so many levels. The story sings, the lessons abound and the loving truth we all seek pours out of every page. I fell in love with every character and was pleasantly surprised at every turn. If I doubt prayer ever again, I'll re-read it to get my conviction back. This is one for the ages. Bravo!"
—Laura Berman Fortgang, author of Now What and Living Your Best Life

"The Prayer Chest is a treasure chest of bounty: It's a healing story that will have you on the edge of your seat, while at the same time delivering information that can make your life rich, gentle, and joyous. It's like 'A Wonderful Life' meets 'The Secret.' I closed this book eager to avail myself of a new and earnest, secret power. This book answers prayers you didn't even know you had."
—Tama J. Kieves, author of This Time I Dance: Creating the Work You Love

"A spiritual parable that will appeal to fans of It's a Wonderful Life . . . this easy, inspirational read will warm the hearts of seekers everywhere." —Publishers Weekly

"I have used prayer chests for many years, with great results. I applaud your book on the subject. It is much needed for informational and inspirational purposes in these times."
—Catherine Ponder, author of The Dynamic Laws of Prosperity

Doubleday Religion, 9780385520232, 192pp.
Publication Date: October 23, 2007
or
Not Currently Available for Direct Purchase