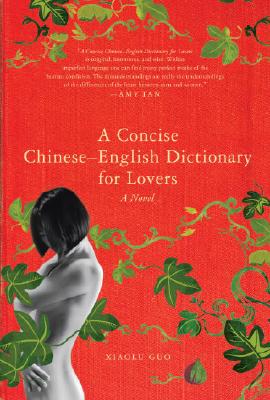 A Concise Chinese-English Dictionary for Lovers (Hardcover)
Nan A. Talese, 9780385520294, 304pp.
Publication Date: September 4, 2007
* Individual store prices may vary.
or
Not Currently Available for Direct Purchase
Description
A Concise Chinese-English Dictionary for Lovers heralds the American debut of a remarkably gifted young writer.

Twenty-three-year-old Zhuang, the daughter of shoe factory owners in rural China, has come to London to study English. She calls herself Z because English people can't pronounce her name, but she's no better at their language. Set loose to find her way through a confusion of cultural gaffes and grammatical mishaps, she winds up lodging with a Chinese family and thinks she might as well not have left home. But then she meets an English man who changes everything. From the moment he smiles at her, she enters a new world of sex, freedom, and self-discovery. But she also realizes that, in the West, "love" does not always mean the same as in China, and that you can learn all the words in the English language and still not understand your lover.

Drawing on her diaries from when she first arrived in the UK, Xiaolu Guo winningly writes the story in steadily improving English grammar and vocabulary. Freshly humorous, sexy, and poignant, A Concise Chinese-English Dictionary for Lovers is an utterly original novel about language, identity, and the cultural divide.
Praise For A Concise Chinese-English Dictionary for Lovers…
Praise for A Concise Chinese-English Dictionary for Lovers

"A Concise Chinese-English Dictionary for Lovers is original, humorous, and wise. Within imperfect language one can find many perfect truths of the human condition. The misunderstandings are really the understandings of the differences of the heart between men and women."
—Amy Tan

"A fast, breezy read, don't be so easily entertained as to miss the many nuances—beyond the most obvious definitions are deeper, more satisfying meanings."
—San Francisco Chronicle

"Xiaolu Guo's novel, her first in English, is smartly absorbing. 'A' "
—Entertainment Weekly

"as absorbing as a peek into a diary."
–San Diego Union-Tribune

"Endearing…. Concise takes us into a new territory, all the more exciting for its virginity."
–Chicago Sun-Times

"What makes this novel winsome is hearing the authentic voice of a young woman–bewildered, self-deprecating, funny, wise–as she navigates the world on her own."
–USA Today

"[The narrator's] voice is funny, childlike and wise all at once."
–Los Angeles Times

"Funny and charming . . . more than a love story; its psychology is politically acute, and things noted lightly in it linger in the mind."
—The Guardian (London)

"An inventive, often humorous and poignant story of a woman's journey over cultural and emotional borders."
-Ms. Magazine

"A Concise Chinese-English Dictionary for Lovers cleverly courts our assumptions about the chasm between Chinese and Western cultures, only to upend them. It is an utterly captivating, and disorientating, journey both through language and through love."
—The Independent (London)

"It is impossible not to be charmed by Xiaolu Guo's matter-of-factness. As A Concise Chinese-English Dictionary for Lovers grows in complexity with [the main character's] growing vocabulary—the narration acquires fluency and tenses almost imperceptibly—it is equally hard not to be impressed by Guo's vivacious talent."
—Sunday Times (London)

"Xiaolu Guo is a fabulous writer, fresh, witty, and intelligent. She handles language in an astonishing way. I don't think I have enjoyed a book as much in the last twelve months."
—Joanne Harris
Advertisement