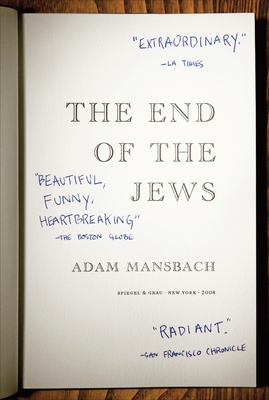 The End of the Jews
A Novel
Paperback

* Individual store prices may vary.
Other Editions of This Title:
Hardcover (3/18/2008)
Description
The ruthlessly engrossing and beautifully rendered story of the Brodskys, a family of artists who realize, too late, one elemental truth: Creation's necessary consequence is destruction.

Each member of the mercurial clan in Adam Mansbach's bold new novel faces the impossible choice between the people they love and the art that sustains them. Tristan Brodsky, sprung from the asphalt of the depression-era Bronx, goes on to become one of the swaggering Jewish geniuses who remakes American culture while slowly suffocating his poet wife, who harbors secrets of her own. Nina Hricek, a driven young Czech photographer escapes from behind the Iron Curtain with a group of black musicians only to find herself trapped yet again, this time in a doomed love affair. And finally, Tris Freedman, grandson of Tristan and lover of Nina, a graffiti artist and unanchored revolutionary, cannibalizes his family history to feed his muse. In the end, their stories converge and the survival of each requires the sacrifice of another.

The End of the Jews offers all the rewards of the traditional family epic, but Mansbach's irreverent wit and rich, kinetic prose shed new light on the genre. It runs on its own chronometer, somersaulting gracefully through time and space, interweaving the tales of these three protagonists who, separated by generation and geography, are leading parallel lives.
Praise For The End of the Jews: A Novel…
Praise for The End of the Jews

"A beautiful, funny, heartbreaking book that manages to take on art, love, identity, class anxiety, being Jewish, and wishing you were black. Very few writers could have attempted all this without farcical results. Adam Mansbach succeeds, brilliantly. The End of the Jews is an intense, painful, poignant book."
-The Boston Globe


"Set against some of the great events of the 20th century -- Mansbach brings off some extraordinary scenes…unique."
-LA Times

"Smart and cynical.. the creative partnerships among artists are suggestively and beautifully portrayed."
-The New York Times

"A stirring panoramic snapshot. The ambition and artfulness in the the novel's pages earns it the right to be part of the same conversation as Call It Sleep and The Ghost Writer."
-Washington City Paper

"A radiant world…full, memorable characters…Mansbach's prose crackles with insight."
-San Francisco Chronicle

"With roving, insightful omniscience, Mansbach considers the predicaments of artists and the pratfalls of love…careful and humane–reverential of human complexity and more impressive for it."
-Time Out New York

"Mansbach nails the itchy resentment embedded in the symbiotic relationship between artist and subject."
-Time Out Chicago

"Painfully honest, compassionately cognizant of human frailty and complexity, alive to the magic of creativity yet aware of its consequences—very exciting fiction indeed."
—Kirkus Reviews (starred review)

"A delight." —Publishers Weekly

"Adam Mansbach is a true talent and his new book is a masterwork of the Jewish arts of humor and sadness."
—Darin Strauss, author of Chang and Eng

"Lyrical, brave, and moving . . . further proof of Adam Mansbach's formidable talent. At every turn, The End of the Jews is startling in its honesty. This novel is not to be missed."
—Daniel Alarcón, author of Lost City Radio

"As Czeslaw Milosz famously said, 'When a writer is born into a family, the family is finished,' but Adam Mansbach takes this notion to new extremes in this smart, moving novel. This is fascinating, scorching drama."
—Sam Lipsyte, author of Home Land

"Mansbach has made something new of the multigenerational Jewish epic; this is far more tough-minded reading than we are used to on the subject. I don't love Jews any less for it, and neither does Mansbach, but I do know us better for what we are. This is a heartfelt, truthful book."
—Keith Gessen, author of All the Sad Young Literary Men

"Few writers tackle a story with as much sheer vigor as Adam Mansbach. Replete with sorrow, humor, and furious energy, The End of the Jews is an unflinching novel of hard truth."
—Peter Orner, author of Esther Stories
Random House, 9780385520423, 320pp.
Publication Date: March 17, 2009
About the Author
Adam Mansbach is the author of Angry Black White Boy and Shackling Water.
or
Not Currently Available for Direct Purchase