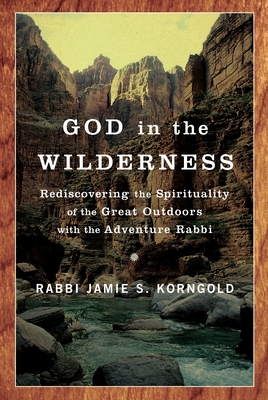 God in the Wilderness: Rediscovering the Spirituality of the Great Outdoors with the Adventure Rabbi (Paperback)
Rediscovering the Spirituality of the Great Outdoors with the Adventure Rabbi
Doubleday Books, 9780385520492, 144pp.
Publication Date: April 8, 2008
Description
Rabbi Jamie Korngold has always loved the outdoors, the place where humankind first met with God. Whether it's mountaineering, running ultramarathons, or just sitting by a stream, she finds her spirituality and Judaism thrive most in the wilderness. In her work as the Adventure Rabbi, leading groups toward spiritual fulfillment in the outdoors, Korngold has uncovered the rich traditions and lessons God taught our ancestors in the wild. In God in the Wilderness Korngold uses rabbinic wisdom and witty insights to guide readers through the Bible, showing people of all faiths that, despite the hectic pace of life today, it is vital for us to reclaim these lessons, awaken our inner spirituality, and find meaning, tranquillity, and purpose in our lives.
About the Author
JAMIE KORNGOLD is a Reform Jewish rabbi. She started the Adventure Rabbi program in 2001 and has become nationally known for her pioneering work integrating spirituality and the outdoors. She was ordained at Hebrew Union College. She lives in Boulder, Colorado, with her husband and two daughters.
Praise For God in the Wilderness: Rediscovering the Spirituality of the Great Outdoors with the Adventure Rabbi…
Advance Praise for God in the Wilderness:

"This book speaks to people of all faiths who have a hunger for reconnecting with the God of their own understandings and traditions."
—Trudy Harris, R.N., author of Glimpses of Heaven

"A small book with powerful messages … Interpreting biblical passages and centuries of commentary, Rabbi Korngold shows how each of us can find the spiritual meaning we seek by slowing down, going outdoors, and exulting in the grandeur of nature."
—Myra H. Strober, professor of education, Stanford University

"Weaving ancient teachings with personal and profound experiences in the wilderness, Rabbi Korngold provides a wonderful trail map for each of our journeys. She leads us to an appreciation of the joy that awaits us if we commit to walking in the natural world that is God's gift."
—Rabbi Peter J. Rubinstein, Central Synagogue, New York City
Advertisement