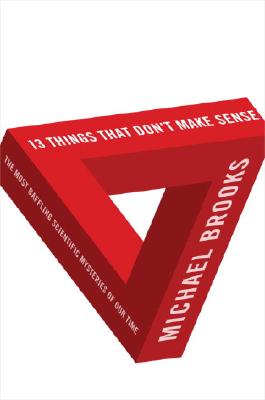 13 Things That Don't Make Sense
The Most Baffling Scientific Mysteries of Our Time
Hardcover

* Individual store prices may vary.
Other Editions of This Title:
Digital Audiobook (8/11/2008)
Paperback (8/11/2009)
Audio Cassette (8/1/2008)
MP3 CD (8/12/2008)
Compact Disc (7/1/2012)
Compact Disc (8/12/2008)
Description
Science starts to get interesting when things don't make sense.
Science's best-kept secret is this: Even today, there are experimental results and reliable data that the most brilliant scientists can neither explain nor dismiss. In the past, similar "anomalies" have revolutionized our world, like in the sixteenth century, when a set of celestial anomalies led Copernicus to realize that the Earth goes around the sun and not the reverse, and in the 1770s, when two chemists discovered oxygen because of experimental results that defied all the theories of the day. And so, if history is any precedent, we should look to today's inexplicable results to forecast the future of science. In "13 Things That Don't Make Sense," Michael Brooks heads to the scientific frontier to meet thirteen modern-day anomalies and discover tomorrow's breakthroughs.
"13 Things" opens at the twenty-third Solvay physics conference, where the scientists present are ready to throw up their hands over an anomaly: is it possible that the universe, rather than slowly drifting apart as the physics of the big bang had once predicted, is actually expanding at an ever-faster speed? From Solvay and the mysteries of the universe, Brooks travels to a basement in Turin to subject himself to repeated shocks in a test of the placebo response. No study has ever been able to definitively show how the placebo effect works, so why has it become a pillar of medical science? Moreover, is 96 percent of the universe missing? Is a 1977 signal from outer space a transmission from an alien civilization? Might giant viruses explain how life began? Why are some NASA satellites speeding up as they get farther from the sun--and what does that mean for the laws of physics?
Spanning disciplines from biology to cosmology, chemistry to psychology to physics, Brooks thrillingly captures the excitement, messiness, and controversy of the battle over where science is headed. "In science," he writes, "being stuck can be a sign that you are about to make a great leap forward. The things that don't make sense are, in some ways, the only things that matter.
Praise For 13 Things That Don't Make Sense: The Most Baffling Scientific Mysteries of Our Time…
Advance Praise for 13 Things That Don't Make Sense

"WOW! is one of the things that Michael Brooks includes here—it is the signal from space that may have come from an alien civilization—but it's also the way I feel about this book's magical mystery tour. You will be amazed and astonished you when you learn that science has been unable to come up with a working definition of life, why death should happen at all, why sex is necessary, or whether cold fusion is a hoax or one of the greatest breakthroughs of all time. Strap yourself in and prepare for a WOW! of an experience." —Richard Ellis, author of The Empty Ocean and Tuna: A Love Story
Doubleday Books, 9780385520683, 240pp.
Publication Date: June 1, 2008
About the Author
MICHAEL BROOKS, Ph.D., is formerly senior features editor, and now a consultant for "New Scientist," in which the wildly popular article on which this book is based first appeared. His writing has appeared in the "Guardian," the "Independent," and the" Observer." He lives in England.
or
Not Currently Available for Direct Purchase