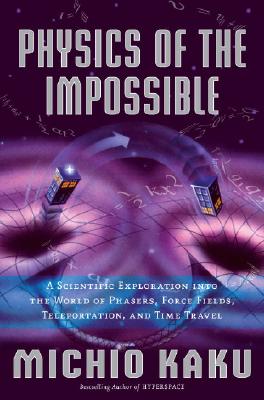 Physics of the Impossible (Hardcover)
A Scientific Exploration Into the World of Phasers, Force Fields, Teleportation, and Time Travel
Doubleday Books, 9780385520690, 329pp.
Publication Date: March 11, 2008
Other Editions of This Title:
Paperback (4/7/2009)
Paperback (4/1/2009)
* Individual store prices may vary.
Description
A fascinating exploration of the science of the impossible from death rays and force fields to invisibility cloaks revealing to what extent such technologies might be achievable decades or millennia into the future.
One hundred years ago, scientists would have said that lasers, televisions, and the atomic bomb were beyond the realm of physical possibility. In Physics of the Impossible, the renowned physicist Michio Kaku explores to what extent the technologies and devices of science fiction that are deemed equally impossible today might well become commonplace in the future.
From teleportation to telekinesis, Kaku uses the world of science fiction to explore the fundamentals and the limits of the laws of physics as we know them today. He ranks the impossible technologies by categories Class I, II, and III, depending on when they might be achieved, within the next century, millennia, or perhaps never. In a compelling and thought-provoking narrative, he explains:
. How the science of optics and electromagnetism may one day enable us to bend light around an object, like a stream flowing around a boulder, making the object invisible to observers downstream
. How ramjet rockets, laser sails, antimatter engines, and nanorockets may one day take us to the nearby stars
. How telepathy and psychokinesis, once considered pseudoscience, may one day be possible using advances in MRI, computers, superconductivity, and nanotechnology
. Why a time machine is apparently consistent with the known laws of quantum physics, although it would take an unbelievably advanced civilization to actually build one
Kaku uses his discussion of each technology as a jumping-off point to explain the science behind it. An extraordinary scientific adventure, Physics of the Impossible takes readers on an unforgettable, mesmerizing journey into the world of science that both enlightens and entertains.
About the Author
MICHIO KAKU is the Henry Semat Professor of Theoretical Physics at the Graduate Center of the City University of New York. He is the cofounder of string field theory. He has written several books, including Parallel Worlds and Beyond Einstein, and his bestseller, Hyperspace, was voted one of the best science books of the year by the New York Times and the Washington Post. He is a frequent guest on national TV, and his nationally syndicated radio program is heard in 130 cities. He lives in New York City.
Praise For Physics of the Impossible: A Scientific Exploration Into the World of Phasers, Force Fields, Teleportation, and Time Travel…
PRAISE FOR PHYSICS OF THE IMPOSSIBLE

"The study of the impossible has opened up entirely new vistas for science, Kaku rightly points out. It is here that the book's strength lies: the impossible is a gateway for discussing what we still do not understand, those gray areas that are surely the most fascinating part of physics.....there is a surprising amount of heavyweight, cutting-edge science woven into the fabric of this book. String theory, dark energy, metamaterials and quantum theory are just a few topics - PHYSICS OF THE IMPOSSIBLE is, in fact, an easy-to-read physics primer in disguise. Kaku has huge reach as a writer and speaker. Hopefully, his acessible, entertaining, and inspiring book will set the next Einstein on his or her path to glory."
-The New Scientist

"Michio Kaku's latest book, PHYSICS OF THE IMPOSSIBLE, aims to explain exactly why some visions of the future may eventually realized while others are likely to remain beyond the bounds of possibility...Science fiction often explores such questions; science falls silent at this point. Mr. Kaku's work helps to fill a void."
-The Economist

"Kaku encourages us to take seriously ideas the world's great intellects consider crazy, reminding us that these same powerful minds sometimes wonder whether such way-out theories and models of the universe are crazy enough to be true."
-The Seattle Times.

"An invigorating experience"
-THe Christian Science Monitor

"A genuine tour de force, skillfully delivering cogent descriptions of everything from subatomic structure to the laws of the universe."
-Kirkus (starred review)

"Science and science fiction buffs can easily follow Kaku's explanations as he shows that in the
wonderful worlds of science, impossible things are happening every day." —Publishers Weekly

"Tour de force of science and imagination."
- LIbrary Journal (starred review)
 "A fascinating exploration of the interface between science and science fiction, extremely well researched, lively, and tremendously entertaining. – Fritjof Capra, author of The Tao of Physics and The Science of Leonardo


CRITICAL ACCLAIM FOR PARALLEL WORLDS

"A wonderful tour, with an expert guide, of a cosmos whose comprehension forces us to stretch to the very limits of imagination." —Brian Greene, author of The Fabric of the Cosmos

"A highly readable and exhilarating romp through the frontiers of cosmology."
—Martin Rees, author of Our Cosmic Habitat and Our Final Century

"A roller-coaster ride through the universe—and beyond—by one of the world's finest science writers." —Paul Davies, Australian Centre for Astrobiology, Macquarie University, Sydney, and author of How to Build a Time Machine


CRITICAL ACCLAIM FOR HYPERSPACE

"One of the best popular accounts of higher physics." —Jim Holt, Wall Street Journal

"Among the best of the genre to appear in recent years . . . What a wonderful adventure it is." —New York Times Book Review

"Mesmerizing . . . the reader exits dizzy, elated, and looking at the world in a literally revolutionary way." —Washington Post Book World
or
Not Currently Available for Direct Purchase