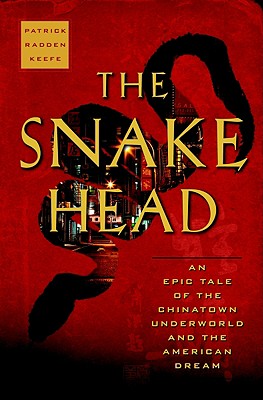 The Snakehead
An Epic Tale of the Chinatown Underworld and the American Dream
Hardcover

* Individual store prices may vary.
Other Editions of This Title:
Digital Audiobook (7/20/2009)
Digital Audiobook (7/20/2009)
Paperback (7/27/2010)
Description
A mesmerizing narrative about the rise and fall of an unlikely international crime boss

In the 1980s, a wave of Chinese from Fujian province began arriving in America. Like other immigrant groups before them, they showed up with little money but with an intense work ethic and an unshakeable belief in the promise of the United States. Many of them lived in a world outside the law, working in a shadow economy overseen by the ruthless gangs that ruled the narrow streets of New York's Chinatown.

The figure who came to dominate this Chinese underworld was a middle-aged grandmother known as Sister Ping. Her path to the American dream began with an unusual business run out of a tiny noodle store on Hester Street. From her perch above the shop, Sister Ping ran a full-service underground bank for illegal Chinese immigrants. But her real business-a business that earned an estimated $40 million-was smuggling people.

As a "snakehead," she built a complex—and often vicious—global conglomerate, relying heavily on familial ties, and employing one of Chinatown's most violent gangs to protect her power and profits. Like an underworld CEO, Sister Ping created an intricate smuggling network that stretched from Fujian Province to Hong Kong to Burma to Thailand to Kenya to Guatemala to Mexico. Her ingenuity and drive were awe-inspiring both to the Chinatown community—where she was revered as a homegrown Don Corleone—and to the law enforcement officials who could never quite catch her.

Indeed, Sister Ping's empire only came to light in 1993 when the Golden Venture, a ship loaded with 300 undocumented immigrants, ran aground off a Queens beach. It took New York's fabled "Jade Squad" and the FBI nearly ten years to untangle the criminal network and home in on its unusual mastermind.

THE SNAKEHEAD is a panoramic tale of international intrigue and a dramatic portrait of the underground economy in which America's twelve million illegal immigrants live. Based on hundreds of interviews, Patrick Radden Keefe's sweeping narrative tells the story not only of Sister Ping, but of the gangland gunslingers who worked for her, the immigration and law enforcement officials who pursued her, and the generation of penniless immigrants who risked death and braved a 17,000 mile odyssey so that they could realize their own version of the American dream. The Snakehead offers an intimate tour of life on the mean streets of Chinatown, a vivid blueprint of organized crime in an age of globalization and a masterful exploration of the ways in which illegal immigration affects us all.

www.doubleday.com
Praise For The Snakehead: An Epic Tale of the Chinatown Underworld and the American Dream…
Keefe (Chatter) examines America's complicated relationship with immigration in this brilliant account of Cheng Chui Ping, known as Sister Ping, who built a multimillion-dollar empire as a "snakehead," smuggling Chinese immigrants into America. Sister Ping herself entered the U.S. legally in 1981 from China's Fuzhou province, but was soon known among Fujianese immigrants in Manhattan's Chinatown as the go-to for advice, loans and connections to bring their families to America. Her empire grew so large that she contracted out muscle work to the local gang, the Fuk Ching. Keefe points to the Golden Venture–a ship full of Fujianese illegals that ran fatally aground in 1993–as the beginning of the end for Sister Ping. She was sentenced in 2000 to 35 years in prison for conspiracy, money laundering and trafficking. Despite an enormous cast of characters in a huge underground web of global crime, Keefe's account maintains the swift pace of a thriller. With the immigration debate still boiling, this exploration of how far people will go to achieve the American dream is a must-read. (July 21) -- Publishers Weekly, starred review

Advance Praise for THE SNAKEHEAD

"Patrick Radden Keefe has written a vivid non fiction thriller. The Snakehead reads like a Chinese-American version of The Sopranos, except that the mob boss is a grandmother who runs a human smuggling enterprise, and the story is true."
—Jane Mayer, author of The Dark Side

"In The Snakehead, Patrick Radden Keefe recreates an absorbing portrait
of a 1993 shipwreck to illuminate the methods used by Chinese racketeers to smuggle illegal immigrants into the United States. At the same time, in an artful twist, Keefe leaves the reader pondering the whole process of immigration."
—Jonathan Spence, author of The Search for Modern China

"The Snakehead is a brilliant tour de force, both a gripping true-crime saga, full of intrigue and suspense, and a chilling exposure of the dark underside of America's deeply flawed immigration system. Through his central account of the smuggling empire of Sister Ping and the FBI investigation that brought her down, Keefe evokes a moving and timeless story about why people continue to risk everything to come illegally to the United States—and what happens to them when they get here. Vividly written and filled with unforgettable characters, The Snakehead is a terrific read, and one that will change the way you think about the vexing dynamics of illegal immigration."
—Amy Chua, author of Day of Empire and World on Fire

"In Keefe's steady hand, the history of immigration to America is brought to life with the story of Chinese sojourners who arrive in a strange new land. You will pick it up for the drama it promises, but you will read it for the warmth and humanity it delivers."
—Sudhir Venkatesh, author of Gang Leader for a Day

"The Snakehead achieves what only the finest reporting can: it peels back an astonishing hidden world. Keefe takes the reader on a spellbinding journey from peasant farms in Asia to the treacherous high seas to the violent streets of Chinatown—a journey that will forever change your understanding of what it means to become an American."
—David Grann, author of The Lost City of Z
Doubleday, 9780385521307, 432pp.
Publication Date: July 21, 2009
About the Author
PATRICK RADDEN KEEFE is a fellow at The Century Foundation and the author of "Chatter." He is a graduate of Columbia College, Cambridge University, the London School of Economics, and Yale Law School, and the recipient of a Marshall Scholarship and a Guggenheim Fellowship. A regular contributor to "The New Yorker," "Slate," and many other publications, he is also a frequent commentator on NPR, the BBC, and CNN.

Visit his Web site at www.patrickraddenkeefe.com.
Coverage from NPR
or
Not Currently Available for Direct Purchase