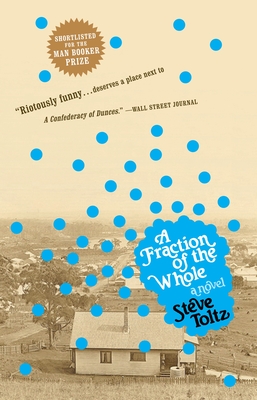 A Fraction of the Whole
A Novel
Paperback

* Individual store prices may vary.
Other Editions of This Title:
Digital Audiobook (12/31/2008)
Digital Audiobook (4/10/2008)
Description
Meet the Deans

"The fact is, the whole of Australia despises my father more than any other man, just as they adore my uncle more than any other man. I might as well set the story straight about both of them . . ."

Heroes or Criminals?
Crackpots or Visionaries?
Families or Enemies?

". . . Anyway, you know how it is. Every family has a story like this one."



Most of his life, Jasper Dean couldn't decide whether to pity, hate, love, or murder his certifiably paranoid father, Martin, a man who overanalyzed anything and everything and imparted his self-garnered wisdom to his only son. But now that Martin is dead, Jasper can fully reflect on the crackpot who raised him in intellectual captivity, and what he realizes is that, for all its lunacy, theirs was a grand adventure.
As he recollects the events that led to his father's demise, Jasper recounts a boyhood of outrageous schemes and shocking discoveries—about his infamous outlaw uncle Terry, his mysteriously absent European mother, and Martin's constant losing battle to make a lasting mark on the world he so disdains. It's a story that takes them from the Australian bush to the cafes of bohemian Paris, from the Thai jungle to strip clubs, asylums, labyrinths, and criminal lairs, and from the highs of first love to the lows of failed ambition. The result is a rollicking rollercoaster ride from obscurity to infamy, and the moving, memorable story of a father and son whose spiritual symmetry transcends all their many shortcomings.
A Fraction of the Whole is an uproarious indictment of the modern world and its mores and the epic debut of the blisteringly funny and talented Steve Toltz.
Praise For A Fraction of the Whole: A Novel…
SHORTLISTED FOR THE MAN BOOKER PRIZE 2008

"A Fraction of the Whole is that rarest of long books–utterly worth it…The story starts in a prison riot and ends on a plane, and there is not one forgettable episode in between…It reads like Mark Twain with access to an intercontinental Airbus…This book moves; it bucks and rocks in a world that feels more than a hemisphere away…So comically dark and inviting that you have no choice but to step into its icy wake." —Esquire

"Rollicking…laugh-out-loud funny." —Entertainment Weekly

"A rich father-and-son story packed with incident, humor, and characters reminiscent of the styles of Charles Dickens and John Irving…Occasionally, a big, sprawling first novel fights its way into print with a flourish, at which point its ambition and the eccentricities of its 'firstness' can become its best marketing tools. Such is the case with A Fraction of the Whole, a book that is willfully misanthropic and very funny…like Irving, Toltz makes minor characters leap off the page…He's a superb, disturbing phrasemaker…this long novel, which lives or dies in the brilliance of its writing, has a subtle, compelling structure…A Fraction of the Whole soars like a rocket." —Los Angeles Times

"Combines the hilarious high-low reference points of early Martin Amis with the annihilating punk inventiveness of Chuck Palahniuk." —Best Life

"One of the best books I've ever read. A Fraction of the Whole is better than The Corrections, and Toltz did it in one book while it took Franzen two to get The Corrections out into the world. Granted, you have your whole life to write your first novel, but my God, A Fraction of the Whole does things that most writers can't do in a lifetime… A wildly addictive exploration into a man's soul, a profoundly moving experience almost religious in its execution and possibly one of the sharpest and irresistibly humorous post-modern adventures I've had the pleasure to read… Steve Toltz has written a masterpiece, a smashing debut that will long be remembered as a colossal example of just how good fiction can be. He keeps you wired to the page from the jump and he defies gravity all the way to the end." —Ain't It Cool News

"First novels these days too seldom dare to raise their voices above an elegant whisper or an ironic murmur. Not so A Fraction of the Whole, a riotously funny first novel that is harder to ignore than a crate of puppies, twice as playful and just about as messy. This is not a book to be read so much as an experience to be wallowed in. Mr. Toltz's merry chaos–a mix of metaphysical inquiry, ribald jokes, freakish occurrences and verbal dynamite booming across the page–deserves a place next to A Confederacy of Dunces in a category that might be called the undergraduate ecstatic. A Fraction of the Whole is a sort of Voltaire-meets-Vonnegut tale." —Wall Street Journal

"Madcap, exhausting, and true in the way the best lies always are." —New York Observer

"Wild…an odyssey that's inspired, sorta stoned, tender, and very funny. Sometimes all at the same time. Toltz's invention is as breathtaking as the speed of his narrative in a book that seems to have had all the boring parts snipped…There is wit on every page…Jorge Luis Borges is obviously an influence on Toltz. There is also a bit of John Irving and Tom Robbins here in the wacky characters and narrative drive. A Fraction of the Whole even has a touch of the weary philosophizing of Vonnegut, too. In its structure–and especially in its ending–there is even a pinch of Tristram Shandy. Very good company, all." —Chicago Sun-Times

"Hold on tight because you are about to ride a juggernaut of words, where things will go by very quickly and you better pay attention…The real pleasure in reading this book is the pace and the language. What Toltz has done masterfully is have his way with every aspect of modern life. He racks 'em up and knocks 'em down with a laser wit, a fine turn of phrase and a devastatingly funny outlook on everything human." —Seattle Times

"An exuberantly funny debut novel that you should just go away and read…There is plenty to laugh at in A Fraction of the Whole–and also, goodness knows, there is plenty of plot and the narrative pace of a puppy with attention deficit disorder. But it also has a heart…A grand achievement and the debut of a great comic talent." —Sunday Times (UK)

"Sparkling comic writing…It gives off the unmistakable whiff of a book that might just contain the secret of life." —Independent (UK)

"This absurdly incident-laden, feverish, farcical life story bears the watermark of long gestation. What's more, it stands above the vast majority of debut novels because it seems so marvelously sure of itself and what it should be…Toltz's fizzing, acid, funny prose is capable of a kind of broken, lyrical beauty…Amid the dizzying whirl of events, Toltz never loses sight of a deep current that runs throughout his story…It's a spiritual search that allows a conclusion that finds an affecting depth of feeling. Yes, A Fraction of the Whole is a wildly looping rollercoaster. But there's much more to it than meaningless exhilaration." —Independent on Sunday (UK)
"With tinges of magical realism and buckets of misanthropic humor it's a clever and funny debut." —Observer (UK)
"Very light on its feet, skipping from anecdote, to rant, to reflection, like a stone skimming across a pond…There's a section about a labyrinth that you could imagine Borges writing, another about a lottery gone wrong that made me think of Vonnegut, and a strange, lovely account of childhood illness that had echoes of Garcia Marquez. In some ways it plays like a modern Arabian Nights…The inevitability of disaster is heartbreaking…Brilliant." —Guardian (UK)

"Quirky, satirical, and absolutely delirious…A Fraction of the Whole is one of the most hilarious, original literary romps in years with sizzle on each and every page. Hold on tight and enjoy the ride." —Tucson Citizen


"A sprawling, dizzying debut…Comic drive and Steve Toltz's far-out imagination carry the epic story . . . a nutty tour de force." –Publishers Weekly, starred review

"What satirical fun is found on the madcap pages of this rough-and-tumble tale…This hilarious, sneaky smart first novel is as big and rangy as Australia . . . Toltz salts it all with uproarious ruminations on freedom, the soul, love, death, and the meaning of life. This is one rampaging and irresistible debut." –Booklist, starred review

"The perfect vacation read for just about everyone…This book allows you to romp along with the characters on an epic journey with two crazy Australian brothers who you fall madly in love with despite their wild, degenerate lives…packed with so many rich characters, setting descriptions, philosophy and fun you need something to aid digestion after each reading…Steve Toltz is hilarious, smart, with a fantastic imagination…His novel is a rollicking worldwide adventure…Take time to enjoy this one; you won't be disappointed." —The Daily Planet, Telluride, CO

"A Fraction of the Whole belongs to a neglected subgenre: serious fiction that refuses to take itself seriously. A ballsy, beautifully idiosyncratic epic, it asks dizzying primal questions about mortality, belief, and the shadowy, unmapped alleyways of human thought–and Toltz manages his metaphysics like a master surfer riding a colossal wave…It's a madcap, propulsive story…The energy of the writing is brilliantly infectious…The novel's heart is as big as its intellect…It feels like an added bonus that, for all its hilarious misanthropy, A Fraction of the Whole testifies to the power of even the most reluctant love." —Sunday Business Post (Ireland)

"Packed with plots, sub-plots, sub-sub-plots, tangents, flashbacks, diversions, philosophical wanderings and spectacular set pieces…Fuelled by brilliant ideas and driven by an original, bracing, and very funny voice." --The Age (Australia)

"Reads like the trajectory of a gleefully crazed Roman candle…a sprawling, entertaining, decidedly quirky, and at times laugh-out-loud funny romp reminiscent of John Irving's family sagas." —Library Journal

Random House, 9780385521734, 576pp.
Publication Date: September 23, 2008
About the Author
resides in Sydney, Australia. A Fraction of the Whole is his first novel.
or
Not Currently Available for Direct Purchase