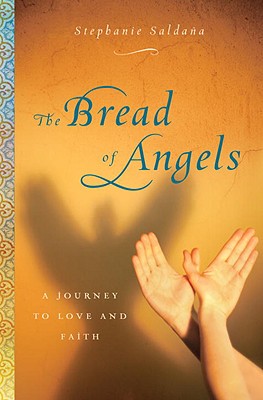 The Bread of Angels
A Journey to Love and Faith
Hardcover

* Individual store prices may vary.
Other Editions of This Title:
Digital Audiobook (2/8/2010)
Paperback (2/8/2011)
Audio Cassette (2/1/2010)
MP3 CD (2/9/2010)
Compact Disc (2/9/2010)
Compact Disc (2/9/2010)
Description
A riveting memoir about one woman's journey into Syria under the Baathist regime and an unexpected love story between two strangers searching for meaning.
 
When Stephanie Saldaña arrives in Damascus, she is running away from a broken heart and a haunted family history that she has crossed the world to escape. Yet as she moves into a tumbling Ottoman house in the heart of the Old City, she is unprepared for the complex world that awaits her: an ancient capital where Sunni and Shia Muslims, Christians, Alawites, Kurds, and Palestinian and Iraqi refugees share a fragile co-existence.

Soon she is stumbling through the Arabic language, fielding interviews from the secret police, and struggling to make the city her own. But as the political climate darkens and the war in neighboring Iraq threatens to spill over, she flees to an ancient Christian monastery carved into the desert cliffs, where she is forced to confront the life she left behind. Soon she will meet a series of improbable teachers: an iconoclastic Italian priest, a famous female Muslim sheikh, a wounded Iraqi refugee, and Frédéric, a young French novice monk who becomes her best friend.

What follows is a tender story of a woman falling in love: with God, with her own life, with a country on the brink of chaos, and with a man she knows she can never have. Wise, funny, and heartbreaking, The Bread of Angels celebrates the hope that appears even in war, the surprising places we can call home, and the possibility of true love.
Praise For The Bread of Angels: A Journey to Love and Faith…
From Publishers Weekly:

Starred Review: With a family history of untimely death and madness, Saldaña easily took to a career of danger journalism, reporting from risky locales. In a deliberate attempt to stop courting danger, Saldaña attempted a normal life at Harvard Divinity School. When the love affair that had provided her a sense of normalcy ended, she opted to take the Fulbright scholarship she had won to study the Muslim Jesus in Damascus, arriving in Syria in 2004 amid the post-9/11 war in Iraq. The tension of American foreign policy and Saldaña's own vivid memories of death and destruction witnessed during her reporting life earlier in the Middle East haunted her, particularly when she embarked upon the Catholic rite of spiritual exercises at the Syrian desert monastery of Mar Musa. In lovely prose and with elements of foreshadowing, Saldaña shares her struggles to become religious again and overcome feelings that God has abandoned her. Touches of melodrama weigh down an otherwise gorgeous and enlightening read, as Saldaña's scholarly knowledge of Christianity, Islam, and Judaism subtly infuse her story. An Eat, Pray, Love for the intellectual set, Saldaña's beautiful memoir should not be missed. (Feb.)
Copyright © Reed Business Information, a division of Reed Elsevier Inc. All rights reserved.



Praise for The Bread of Angels:

"A remarkable, wise, and lovely book from a truly gifted new writer, The Bread of Angels brims with originality and insight. There is poetry here—the language and the depth of attention recall the young Annie Dillard. But this is, above all, a love story, and a compelling one. Not many people can write transcendent, mystical prose and also create a page-turner that keeps you up nights. Stephanie Saldaña's achievement is extraordinary."
—Geraldine Brooks, Pulitzer Prize–winning author of March

"In the tradition of Elizabeth Gilbert's Eat, Pray, Love, Stephanie Saldaña's The Bread of Angels is a stunning memoir that is both a contemporary spiritual quest and a sweet, surprising love story . . . Carefully observed, beautifully detailed, structured like a ceremony, The Bread of Angels takes us from a fallen world into a luminous, resurrected one through faith and love and the exquisite skill of a fine writer who writes like an angel!"
—Julia Alvarez, author of How the García Girls Lost Their Accents

"Brace yourself for an intense inner and outer journey. Bread of Angels is a many-layered personal story, ricocheting from Damascus to Texas to the desert fathers to scruffy Cambridge. A passionate young scholar confronts war, love, the mysteries of language, and God. Stephanie Saldaña is up to the task. A brilliant debut."
—Frances Mayes, author of Under the Tuscan Sun

"A fragrant, elegantly observed journey that captures the dilapidated glory of Damascus and the resilient wit of its people. Saldaña's tale of spiritual dislocation and self-discovery is remarkable for its poignancy and keen intelligence."
—Azadeh Moaveni, author of Lipstick Jihad and Honeymoon in Tehran

"The Bread of Angels is dazzling, delicious, wise, brilliantly funny, endearing in every way. It is a love letter to the Middle East and to one's own entire life, replete with doubt and fear, faith and deep connection. A masterpiece."
—Naomi Shihab Nye, author of 19 Varieties of Gazelle: Poems of the Middle East
Doubleday, 9780385522007, 320pp.
Publication Date: February 9, 2010
About the Author
Stephanie Saldana grew up in Texas and received a B.A. from Middlebury College and a master's degree from Harvard Divinity School. She was a Watson and a Fulbright scholar and has won several awards for her poetry. She lives in Jerusalem and teaches at the Honors College for Liberal Arts and Sciences, a partnership of Bard College and Al-Quds University.
In the beginning of the book, Stephanie is faced with a difficult decision: pursue a Fulbright scholarship in Damascus—an utterly foreign place—or stay in Cambridge, where she is comfortable with a man she loves, but who doesn't love her in the same way. Have you ever been confronted with a dilemma like hers? How have you resolved or coped with it? Looking back on it, would you have done anything differently?  
When Stephanie arrives in Syria, she is faced with many intimidating challenges, such as learning Arabic through the "vocabulary of war" and navigating a culture that often clashes with her own experiences. How well do you think she handles these obstacles? If you were in her place, how would you have reacted? Could she have done things differently?  
The narrative paints a fascinating portrait of Damascus, a city of paradoxes, where members of opposing faiths, ideologies, and cultures live side-by-side peacefully—and frequently under the threat of war. What do you think it would be like to live in a society like that? How do you think you would approach the demands and daily interactions of your life if you lived in a place like Damascus?  
A major theme in the book is the individual quest to find God. This search for faith can be carried out in many ways. What is your opinion of how Stephanie pursued this? Reflecting on your own situation, have you experienced a similar search for meaning or significance in something in your life? How have you pursued that?  
Multiple characters reveal that they draw on aspects of different cultures, traditions, and religions to form their own beliefs and decisions. What factors, if any, do you think have influenced your outlook, actions and beliefs?  
Out of the many people Stephanie meets on the streets of Damascus and in the monastery, who is your favorite and why? What qualities or characteristics do you like and/or dislike about this character? What do you think they exemplify about Stephanie's struggle and life in the Middle East?  
Stephanie refers to her lessons on the Quran as "lessons in humility." What about studying the Quran is so difficult for her? What does she learn about herself and her own faith through this experience? Have you ever had a similar experience in which you understood some new aspect of yourself only by confronting someone or something very different?  
In the monastery, the mosque, and in Damascus, Stephanie meets some incredible women. How did they influence and challenge her? What surprised you most about their lives?  
While Stephanie is struggling in the aftermath of the Spiritual Exercises, Frédéric tells her: "You don't believe in resurrection." What do you think he means? Does Stephanie succeed in finding resurrection by the end of her journey?  
At one point in her journey, Stephanie prays that she might learn how to be a "novice in love." What did you think of that request? By the end of her journey, who and what are some of the things she has learned how to love that she couldn't before?  
The ending of The Bread of Angels is open, leaving the reader to imagine what happens next. What do you think happens?
or
Not Currently Available for Direct Purchase