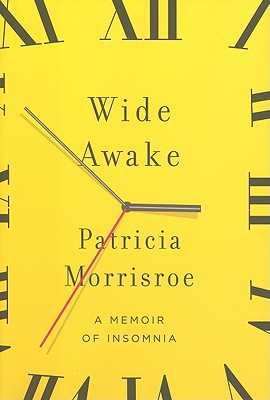 Wide Awake
What I Learned About Sleep from Doctors, Drug Companies, Dream Experts, and a Reindeer Herder in the Arctic Circle
Hardcover

* Individual store prices may vary.
Description
A fourth-generation insomniac, Patricia Morrisroe decided that the only way she'd ever conquer her lifelong sleep disorder was by becoming an expert on the subject. So, armed with half a century of personal experience and a journalist's curiosity, she set off to explore one of life's greatest mysteries: sleep. Wide Awake is the eye-opening account of Morrisroe's quest—a compelling memoir that blends science, culture, and business to tell the story of why she—and forty million other Americans—can't sleep at night.            

Over the course of three years of research and reporting, Morrisroe talks to sleep doctors, drug makers, psychiatrists, anthropologists, hypnotherapists, "wake experts," mattress salesmen, a magician, an astronaut, and even a reindeer herder. She spends an uncomfortable night wired up in a sleep lab. She tries "sleep restriction" and "brain music therapy." She buys a high-end sound machine, custom-made ear plugs, and a "quiet" house in the country to escape her noisy neighbors in the city. She attends a continuing medical education course in Las Vegas, where she discovers that doctors are among the most sleep-deprived people in the country. She travels to Sonoma, California, where she attends a Dream Ball costumed as her "dream self." To fulfill a childhood fantasy, she celebrates Christmas Eve two hundred miles north of the Arctic Circle, in the famed Icehotel tossing and turning on an ice bed. Finally, after traveling the globe, she finds the answer to her insomnia right around the corner from her apartment in New York City. 

 
A mesmerizing mix of personal insight, science and social observation, Wide Awake examines the role of sleep in our increasingly hyperactive culture. For the millions who suffer from sleepless nights and hazy caffeine-filled days, this humorous, thought-provoking and ultimately hopeful book is an essential bedtime companion. It does, however, come with a warning: Reading it will promote wakefulness.
Praise For Wide Awake: What I Learned About Sleep from Doctors, Drug Companies, Dream Experts, and a Reindeer Herder in the Arctic Circle…
"By writing about sleep Morrisroe tells an important story, providing a specific example of a profound social and political question: the relationship between medicine and money."—Robert Pinsky, The New York Times Book Review

"Cheerfully anecdotal...a journalistic stunt-a-thon full of deadpan funny adventures...a fine firsthand look at insomniac eccentricities."—Janet Maslin, The New York Times
 
"Reading Wide Awake it's clear Morrisroe is well-versed in the scientific background of sleep. She intelligently breaks down jargon-filled research articles found in academic journals to educate readers about various sleep disorders and treatments."—Sleep Education Review/American Academy of Sleep Medicine

"Morrisroe has livened up what could have been a wearisomely fact-heavy read by venturing into the field and embracing the spirit of adventure...As with Fast-Food Nation, the book neatly points up the way technology has altered our lives and our health. But far from being earnest, Morrisroe's romp through the sleep industry is often very funny and full of fascinating examples."—The Globe and Mail

"Morrisroe's sparkling writing carries her through. That her journey ends happily, with her discovery of Qigong, means readers will be as encouraged as well as informed, with as much on overcoming insomnia as avoiding snake-oil salesmen."—Publishers Weekly

"A weird, wonderful journey in search of a good night's sleep."—Kirkus Reviews

"As someone who cherishes sleep almost as much as my kids, I found Wide Awake a fascinating romp through all aspects of insomnia. Stumbling onto this underground nation of sleep deprived people was like discovering a whole new sector of the population. I never quite understood the magnitude or the desperation until I read Morrisroe's personal, humorous, and well-researched memoir about the one thing we can never seem to get enough of."—Lee Woodruff, author of In an Instant: A Family's Journey of Love and Healing

"Patricia Morrisroe sets out to cure her insomnia with help from America's booming sleep industry, which peddles everything from Ambien to dental appliances. What she discovers along the way will aid anyone who worries they aren't getting enough rest."—Melody Petersen, author of Our Daily Meds: How the Pharmaceutical Companies Transformed Themselves into Slick Marketing Machines and Hooked the Nation on Prescription Drugs

"Patricia Morrisroe is such an entertaining writer—smart, honest, bitingly funny—that you'll be riveted by her eye-opening tales of the waking world of insomnia. Anyone looking for a read that will put them to sleep won't find it here. This is both a page turner and a head turner. You'll learn everything you ever wanted to know about the multi-billion dollar sleep industry, and in the process, you might even learn to sleep." —Lucy Danziger, Editor-in-Chief, SELF magazine and author of The Nine Rooms of Happiness

"Patricia Morrisroe tosses and turns her way through the landscape of insomnia, taking us along on a guided tour so rich in literary allusion, sleep lore, and uniquely personal insight that I stayed up all night reading it.  At once poetic, intimate, and surprisingly informative, Wide Awake is a self-portrait of the insomniac as author—a story full of nuance, revelation and surprise that might just as easily be subtitled, Alice's Adventures In Slumberland. As for the title itself—I'm proud to share it!"—Alan Berliner, director of the HBO documentary film, Wide Awake.

"Bursting with fresh revelations, Wide Awake is a mesmerizing exegesis on sleep and its discontents, written with wit, charm, and, above all, wisdom born of Morrisroe's triumphant struggle with insomnia." —A. Roger Ekirch, author of At Day's Close: Night in Times Past

"Wide Awake manages to be both witty and informative, an absolute must-read for anyone looking to get the bottom of why Americans spend 20 billion a year trying to get a better night's sleep.  Morrisroe's hard-won conclusion might just change your life."—Alexandra Fuller, author of Don't Let's Go to the Dogs Tonight

Spiegel & Grau, 9780385522243, 288pp.
Publication Date: May 4, 2010
About the Author
Patricia Morrisroe received a B.A. from Tufts University and an M.A. from NYU. She is the author of "Mapplethorpe: A Biography" and was for many years a contributing editor to" New York "magazine. She has written for numerous other publications, including "Vanity Fair" and "Vogue. "With her husband, Lee, she divides her time between a noisy apartment in New York City and a (relatively) quiet house in Westchester County.
Coverage from NPR
or
Not Currently Available for Direct Purchase