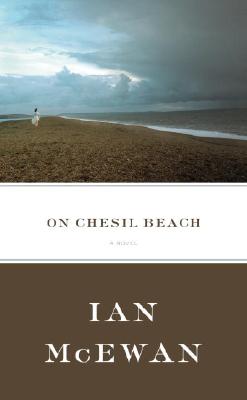 On Chesil Beach (Hardcover)
Nan A. Talese, 9780385522403, 208pp.
Publication Date: June 5, 2007
Other Editions of This Title:
Digital Audiobook (6/4/2007)
Paperback (6/10/2008)
Hardcover, Large Print, Large Print (6/5/2007)
Compact Disc (6/5/2007)
Hardcover (4/1/2007)
Paperback (1/1/2008)
Pre-Recorded Audio Player (7/1/2007)
* Individual store prices may vary.
Description
A novel of remarkable depth and poignancy from one of the most acclaimed writers of our time.

It is July 1962. Florence is a talented musician who dreams of a career on the concert stage and of the perfect life she will create with Edward, an earnest young history student at University College of London, who unexpectedly wooed and won her heart. Newly married that morning, both virgins, Edward and Florence arrive at a hotel on the Dorset coast. At dinner in their rooms they struggle to suppress their worries about the wedding night to come. Edward, eager for rapture, frets over Florence's response to his advances and nurses a private fear of failure, while Florence's anxieties run deeper: she is overcome by sheer disgust at the idea of physical contact, but dreads disappointing her husband when they finally lie down together in the honeymoon suite.

Ian McEwan has caught with understanding and compassion the innocence of Edward and Florence at a time when marriage was presumed to be the outward sign of maturity and independence. On Chesil Beach is another masterwork from McEwan—a story of lives transformed by a gesture not made or a word not spoken.
About the Author
IAN McEWAN is the author of two collections of stories and ten previous novels, including "Enduring Love," "Amsterdam," for which he won the Booker Prize in 1998, "Atonement, " and "Saturday."
Praise For On Chesil Beach…

"Breathtaking...On Chesil Beach takes on subjects of universal interest and creates a small but complete universe around them. McEwan's prose is as masterly as ever, here striking a remarkably subtle balance between detachment and sympathy, dry wit and deep compassion. It reaffirms my conviction that no one writing in English surpasses or even matches McEwan's accomplishment."
—The Washington Post Book World

"Remarkable, engaging, and gripping...On Chesil Beach is not only a wonderful read but also perhaps the rarest of things: a perfect novel. Certainly it affords the reader every kind of satisfaction, from graphic and dramatic scenes to subtle pentimento effects, from quotidian matters to high drama and intense emotion...McEwan is reminiscent of that greatest of novelists in matters sexual: D.H. Lawrence...[But] in On Chesil Beach, Ian McEwan has outdone D.H. Lawrence, given the daunting challenge he has set himself in writing a novel on a fraught and loaded topic like this. What higher praise can there be?"
—The San Francisco Chronicle

"Momentous...On Chesil Beach builds a potent suspense swiftly, and McEwan details the couple's sexual encounter with unnerving precision. Such meticulousness underscores how a few moments can define a future, how difficult it is to lay ourselves bare, how human to flee from better destinies. Fortunately, though life is never easy, as the narrator reminds us, gorging ourselves on McEwan's impeccable prose is."
—The Miami Herald

"Wrenching, funny, smart, and hugely gratifying in unexpected ways, On Chesil Beach packs a pretty good wallop of its own...On Chesil Beach is as merciful to its characters as it is merciless in its heartbreak. Their bruised pasts and querulous hopes unfold beautifully through the novel, almost destined to collide and then fade into the sorrow of real life."
—The Boston Globe

"How McEwan writes such extraordinary suspense into the ordinary is a marvel...On Chesil Beach leaves one's appetite for the woes and stuff of life unsated. It's mostly a story of how we mistake those we love most, and how we are imprisoned in our inability to name what we urgently must speak."
—The New York Post

"On Chesil Beach is completely absorbing...This short book is intense and powerful...It is no exaggeration to say that the book is a masterpiece--in miniature, maybe, but a masterpiece nonetheless."
—The Philadelphia Inquirer

"In structure and design, this small and exquisite novel is markedly different from McEwan's magisterial Atonement, but it still possesses the author's moody worldview, wherein beauty and human intimacy are frailties too often crushed by chance. A newly married couple in mid-20th-century England, bringing their worries and their pasts to their wedding night, try only to connect: The result is a cello suite of sadness, encompassing an entire swatch of English culture and the legacy of roads not taken."
-Boston Globe

"short, intense, brilliantly written...McEwan's fiction just gets better and better, and even when he's in a minor mode, as he is here, he is nothing short of amazing.
-Washington Post

"McEwan [is] one of our best contemporary fiction writers...In On Chesil Beach, he continues his fine tradition as sage and master storyteller."
-The Roanoake Times

"Exquisite... Sexual squeamishness has never been written about more adroitly or sympathetically...a small masterpiece. 'A.'"
-Entertainment Weekly

"A book that shouldn't be shocking on this side of the '60s, On Chesil Beach shocks us nonetheless by showing how very little our institutions understand the messiness of the human heart. McEwan is at his best here, extending a single moment to include all moments...The rush of the last chapter skidding into the present will surely give you vertigo as the past and the present collide in a remarkable conclusion. On Chesil Beach is both delicate and brawny—vintage McEwan."
-Santa Cruz Sentinel

"elegant [and] unflinching...McEwan has worked his prose to an almost Edwardian cadence...
This is McEwan's fourth short novel, and it is the most deceptively subversive...oddly beautiful."
-St. Louis Post-Dispatch

"Achingly beautiful…. An ingenious exploration of addled psychology."
–Booklist
or
Not Currently Available for Direct Purchase