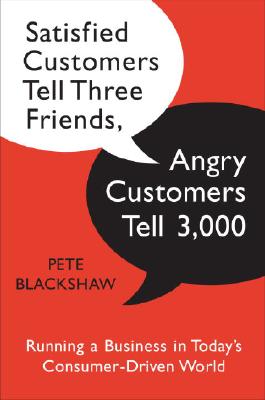 Satisfied Customers Tell Three Friends, Angry Customers Tell 3,000: Running a Business in Today's Consumer-Driven World (Hardcover)
Running a Business in Today's Consumer-Driven World
Broadway Business, 9780385522724, 193pp.
Publication Date: July 8, 2008
* Individual store prices may vary.
or
Not Currently Available for Direct Purchase
Description
In today's Internet-driven world, customers have more power than ever. Through what interactive marketing expert Pete Blackshaw calls "consumer-generated media" blogs, social networking pages, message boards, product review sites even a single disgruntled customer can broadcast his complaints to an audience of millions. Blackshaw shows managers, marketers, and business leaders how to establish and maintain credibility for their brand by being authentic, listening and responding to customers, and forming relationships built on openness, transparency, and trust.Filled with stories based on his experience working with Fortune 500 brands such as Toyota, Dell, Nike, Sony, General Motors, Hershey, Unilever, Nestle, Lexus, and Bank of America, Blackshaw offers a clear strategy to sustain a competitive advantage by creating enduring, loyal relationships with today's consumer.
About the Author
PETE BLACKSHAW is executive vice president of strategic services at Nielsen Online. A former coleader of interactive marketing at Procter & Gamble and a graduate of University of California at Santa Cruz, and then Harvard Business School, he has been on the cutting edge of online media, consumer opinion, and word-of-mouth behavior for more than a decade, and is quoted frequently in the media. He lives in Cincinnati, Ohio.
Praise For Satisfied Customers Tell Three Friends, Angry Customers Tell 3,000: Running a Business in Today's Consumer-Driven World…
"This book deserves a spot on the desk of every executive who worries about his company's reputational risk."
-Time Magazine

"A distillation of the experiences of a pioneer in amplifying the voice of the customer. Anyone who wants to understand the world of consumer generated media should read Pete Blackshaw's book."
-James L. Heskett, Baker Foundation Professor, Emeritus, Harvard Business School


"When bad news hits, you won't have time to read this book -- so you better read it now!.  For marketers coping with a consumer who's skeptical and networked, Pete gives us a first aid kit, a bullet, and a shot of whiskey." 
- Ted McConnell, Director of Interactive/Digital Innovation, Procter & Gamble

"The only way this book could provide a more substantial take on consumer generated media is if Blackshaw allowed his readers to write it themselves."
-Dave Balter, CEO, BzzAgent

"Blackshaw is absolutely right.  We're experiencing an unmistakable ground shift in how consumers talk to companies. Pete's book calls it out, and lays out a practical road map for managing these new dynamics."
-Beth Thomas-Kim, Director of Consumer Services, Nestlé USA, and Chair, Society of Consumer Affairs Professionals

"Much more than a cautionary tale -- this book helps marketers understand how to build and nurture brands in a world where consumer generated media is growing by leaps and bounds."
-Ted Woehrle, SVP Marketing & Brand Management, Newell Rubbermaid

"Pete Blackshaw really gets it. For marketers and other corporate control freaks, it's about diving in and letting go. As a blogger myself at Sony, I've dogeared several pages from the book that I will be referring back to from time to time. "
-Rick Clancy, SVP, Corporate Communications, Sony Electronics


"Powerful and compelling.  [Blackshaw's] book lays out a straightforward roadmap for companies and brands to follow to re-engineer the way they listen, respond, and engage with today's empowered consumers!"
-Linnea Johnson, Director, Unilever Consumer Services

"Highly-readable….Proves the importance and value of credibility, and delivers practical advice on how to earn credibility through authentic relationship management."
- Jim Boyce, President, North America, Convergys Corporation

"Provides frank insight…on how marketers and consumer affairs professionals can more effectively navigate this new landscape. Net result: [SATISFIED CUSTOMERS TELL THREE FRIENDS] helps me stay on top of my game. "
-Tom Asher, Head of Consumer Relations North America, Levi Strauss & Co

""This book is far less about technology or the 'next cool thing' than very simple truths and principles - earning trust and building credibility through listening, responsiveness, dependability and performance. BBB has served as the marketplace voice for these principles for nearly 100 years, and Pete puts them all into a contemporary mission critical context."
- Steven J. Cole, President and CEO, Council of Better Business Bureaus, Inc.

"Pete's book suggests that the fastest growing media is that which consumers create and share themselves. Consumer talk and 'create media' when they have great, authentic and credible customer experiences, and we've known that at Peet's since our inception. This book should be on the bookshelf of every chief marketing officer." -Chris Lansing, Chief Marketing Officer, Peet's Coffee & Tea

"If you really want to understand why listening, responding, and nurturing community with your loyal customers truly matters, Pete's book is an essential read.  His six drivers of brand credibility are not only spot-on, but hugely relevant to today's digitally-charged environment." -Diane Hessan, President, CEO Communispace

"A practical how-to guide -- filled with great examples and stories -- on how to build your brand authentically in today's world." - Tony Hsieh, CEO - Zappos.com

"We invited pete to deliver a presentation on Tell 3000 book themes and the response among attendees -- including top global 500 companies - was phenomenal. His book should be on the must-read list of anyone in the customer relations management industry."
-Randy Saunders, Marketing Manager, Cincom Systems

"In June 2006, a man named Vincent Ferrari had a shockingly combative conversation with an AOL sales rep; he recorded it and posted it on YouTube. More than 62,827 viewings later, AOL's reputation was irretrievably damaged. In the digital age, disgruntled customers are now in the driver's seat, argues Blackshaw in this thoughtful and engaging book. With the advent of Consumerist.com and other venues where customers can blow off steam about bad service or deficient products, consumer generated media is a force to be reckoned with. Since consumers trust other consumers above companies or brands, a company's success depends on its credibility and its ability to gain the trust and support of Web-savvy, outspoken and influential customers. Through remarkable stories of mass consumer advocacy and the power of bloggers and ordinary Joes with an Internet connection and a bone to pick, Blackshaw advises executives on how to build credibility into their businesses through blogs, Web sites and video postings. Informative, energetic and entertaining, this is a marvelous argument for corporate responsibility and accountability, interesting to laypeople and instructive for executives. "
-Publisher's Weekly
Advertisement