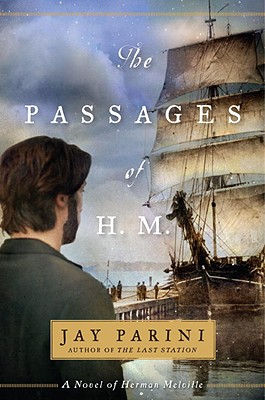 The Passages of H. M.: A Novel of Herman Melville (Hardcover)
A Novel of Herman Melville
Doubleday, 9780385522779, 464pp.
Publication Date: November 2, 2010
* Individual store prices may vary.
or
Not Currently Available for Direct Purchase
Description
From the author of the international bestseller The Last Station, a stirring novel about the adventurous life and tragic literary career of Herman Melville.
 
As The Passages of H. M. opens, we see, through the eyes of his long-suffering wife Lizzie, an aging, angry, and drunken Herman Melville wreaking domestic havoc in his unhappy New York home. He is decades past his flourishing career as a writer of bestselling tales of seagoing adventures like Typee and Omoo. His epic but ungainly novel Moby-Dick was meant to make him immortal, but critics scoffed and readers fled. His days are spent trudging the docks of New York as a customs inspector and contemplating his malign literary fate. But within him is stirring, perhaps, one great work yet—the tale of a handsome sailor in the Napoleonic Wars, undone by one moment of uncontrollable rage . . .

Lizzie's chapters alternate with third-person accounts of Melville's crowded life: his shipping off to sea on a merchant vessel as an impoverished young aristocrat; his fateful voyage on a whaling ship; his desertion in the Marquesas Islands and sojourn with cannibals—a great adventure and polymor­phous sexual idyll—and his instant fame as a novelist; his fateful encounter and soul-deep friendship with Nathaniel Hawthorne; and the long years of physical decline and liter­ary obscurity.

Jay Parini creates a Melville who is at once sympathetic and maddening, in sync with the vast forces of the universe and hopelessly impractical and abstracted. And one who, in thought and deed, is unambiguously attracted to men—a surmise well supported by the known biographical facts but still sure to cre­ate controversy. Parini penetrates the mind and soul of a liter­ary titan, using the resources of fiction to humanize a giant while illuminating the sources of his matchless creativity.
About the Author
JAY PARINI is a poet, biographer, scholar, and author of seven novels, most notably "The Last Station," which has been translated into twenty languages and has just been released as a feature film. He is the D. E. Axinn Professor of English and Creative Writing at Middle-bury College, and the author of "Promised Land: Thirteen Books That Changed America."
Praise For The Passages of H. M.: A Novel of Herman Melville…
"Part literary biography, part novel, The Passages of H.M. turns the author's life into an adventure of its own. . . .  Melville's life is such a gripping tale, it almost made me want to pick up my old copy of Moby-Dick and actually finish it this time."—Entertainment Weekly
 
"Parini's creative reanimation of Melville injects humanity into a tormented soul whose bright, promising early days peaked dramatically before curdling into a mass of dejection.  Melville's adventures make for good reading . . . Parini manages a generous and appreciative assessment."—Publishers Weekly

"An appealing portrait of a questing, turbulent spirit."—Kirkus Reviews
 
 
U.K.
 
"[Parini's] eminently readable narrative convincingly fills in hitherto dark places….The Passages of Herman Melville will not replace the standard biographies; it will, however, add flesh to their bones. It's very well done."—Financial Times
 
"[A] compelling novel… What is most rewarding about this richly detailed book is Parini's ability to frame a story of heroic failure with the knowledge that its subject will one day triumph."—Stephen Amidon, Sunday Times
 
"Parini's novel is a bravura and often engrossing attempt to blend the disparate strands of Melville's art and life in two perspectives."—Philip Hoare, The Guardian
 
 


ADVANCE PRAISE FOR THE PASSAGES OF H. M.

"An extraordinary catch-and-release operation. Jay Parini, against all odds, captures his white whale of a subject and then frees him for us to behold. The Passages of H. M. re-animates Melville to startling effect: the creator walks as a character; the genius turns back into a husband; imperishable literature springs from the accidents of life."
—Tom Mallon, author of Fellow Travelers and Henry and Clara.

"Who would have thought it would have taken until now, the twenty-first century, to get a clear view of America's most mysterious novelist, Herman Melville?  We have it now, through the magic of Jay Parini's superior novel, The Passages of H. M."
—Gore Vidal

"Suprising, insightful, and deeply moving.  Melville has never seemed more alive to me -- and more human."
—Chris Bohjalian, author of Secrets of Eden, The Double Bind, and Midwives.

"Once again Jay Parini has taken us into literary imagination, cultural history, and biography through his ingenious fiction.... This is a novel of startling and inventive journeys, and no reader will come away from it seeing Melville the same."
—Peter Balakian, author of Black Dog of Fate

"Parini's creative reanimation of Melville injects humanity into a tormented soul whose bright, promising early days peaked dramatically before curdling into a mass of dejection. Melville's adventures make for good reading ... a generous and appreciative assessment."—Publishers Weekly

"Parini splices his third-person narrative of Melville's adventures with a first-person account of Melville's marriage by his wife, a sparsely documented figure. Parini's voicing is impeccable; and with her disarming candor, Lizzie is a treasure.... An appealing portrait of a questing, turbulent spirit."— Kirkus Reviews

Advertisement