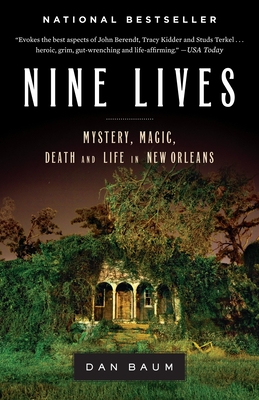 Nine Lives (Paperback)
Mystery, Magic, Death, and Life in New Orleans
Spiegel & Grau, 9780385523202, 368pp.
Publication Date: February 16, 2010
Other Editions of This Title:
Compact Disc (8/9/2016)
MP3 CD (8/9/2016)
Hardcover (2/10/2009)
* Individual store prices may vary.
Description
Nines Lives is a multivoiced biography of a dazzling, surreal, and imperiled city, told through the lives of nine unforgettable characters and bracketed by two epic storms: Hurricane Betsy, which transformed New Orleans in the 1960s, and Hurricane Katrina, which nearly destroyed it. Dan Baum brings this kaleidoscopic portrait to life, showing us what was lost in the storm and what remains to be saved.
About the Author
Dan Baum is a former staff writer for The New Yorker, and has written for numerous other magazines and newspapers. He lives in Boulder, Colorado.
Praise For Nine Lives: Mystery, Magic, Death, and Life in New Orleans…
"Nine Lives reaches for, and grasps, an astonishing range of experience in New Orleans. In tracing the paths of these lives over decades, and across the lines of age, race, class, and gender, it gives an essential perspective on what was lost, and found, by the survivors of Hurricane Katrina. Dan Baum doesn't live in New Orleans, but New Orleans lives in him, and on every page of this harrowing, compassionate book." —Tom Piazza, author of City of Refuge and Why New Orleans Matters

"Nine Lives is stunning work. Dan Baum has immersed himself in New Orleans, the most fascinating city in the United States, and illuminated it in a way that is as innovative as Tom Wolfe on hot rods and Truman Capote on a pair of murderers. Full of stylistic brilliance and deep insight and an overriding compassion, Nine Lives is an instant classic of creative nonfiction."—Robert Olen Butler, Pulitzer Prize–winning author of A Good Scent from a Strange Mountain

"Dan Baum writes with grace and heart in this extraordinary homage to that most beautiful and broken of America's cities, New Orleans. This is an important American story, and Dan Baum has done a wonderful thing in telling it." —Jon Lee Anderson, author of Che Guevara: A Revolutionary Life and The Fall of Baghdad

"Dan Baum tests the power of a very haunting place to bring these beautifully crafted narratives into a coherent whole—and New Orleans comes through with soulful aplomb. Nine Lives is a masterful portrait of a fragile American outpost between two terrible storms." —Jed Horne, author of Breach of Faith: Hurricane Katrina and the Near Death of a Great American City

"Nine Lives may be this young year's most artful and emotionally resonating nonfiction book so far, and for that, to Mr. Baum, a belated New Year' s toast."—New York Times

"Brilliantly reported… Compassionate and clear-eyed, Nine Lives brings you into the heart of an American tragedy." —People, four stars

"A splendid book… Baum continually serves up wonderful detail and phrasing… People in Nine Lives sometimes use the phrase "You feel me?" the way other people say "You understand?" If Baum had employed these words as the last line of his book, as a question about everything he's told us, the answer would be a firm, appreciative yes."—New York Times Book Review

"Nine Lives: Death and Life in New Orleans is one of the most moving—and riveting—books ever written about the rich and complicated life we live here." —Times-Picayune

"[A] shimmering portrait . . . [Baum] adroitly moves his subjects through parades, prisons, divorces, sex changes, fancy balls and gun brawls—yes, the stuff of life here—showing New Orleans as a magnetic, enduring force."—Washington Post