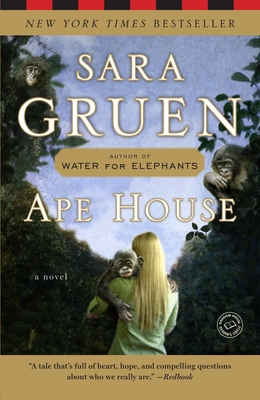 Ape House
A Novel
Paperback

* Individual store prices may vary.
Other Editions of This Title:
Digital Audiobook (9/6/2010)
September 2010 Indie Next List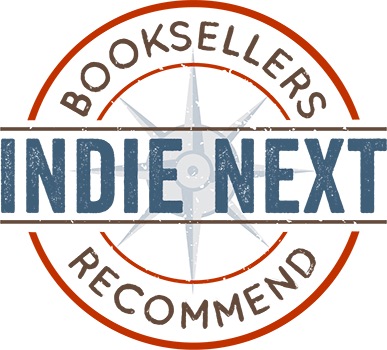 "In her new novel, Water for Elephants author Sara Gruen once again examines the relationship - both emotional and biological - between man and animal. This time, focusing on highly intelligent bonobo apes, she infuses the story with an unexpected level of humor, mystery and a foray into popular culture. What the reader can be assured of is yet another thoroughly engaging story, brimming with deftly drawn characters and compelling storylines. A delight!"
— Sue Beale, Nicola's Books, Ann Arbor, MI
View the List
Description
The wildly entertaining new novel from the bestselling author of Water for Elephants.

 
Sam, Bonzi, Lola, Mbongo, Jelani, and Makena are no ordinary apes. These bonobos, like others of their species, are capable of reason and carrying on deep relationships—but unlike most bonobos, they also know American Sign Language.

Isabel Duncan, a scientist at the Great Ape Language Lab, doesn't understand people, but animals she gets—especially the bonobos. Isabel feels more comfortable in their world than she's ever felt among humans . . . until she meets John Thigpen, a very married reporter who braves the ever-present animal rights protesters outside the lab to see what's really going on inside.

When an explosion rocks the lab, severely injuring Isabel and "liberating" the apes, John's human interest piece turns into the story of a lifetime, one he'll risk his career and his marriage to follow. Then a reality TV show featuring the missing apes debuts under mysterious circumstances, and it immediately becomes the biggest—and unlikeliest—phenomenon in the history of modern media. Millions of fans are glued to their screens watching the apes order greasy take-out, have generous amounts of sex, and sign for Isabel to come get them. Now, to save her family of apes from this parody of human life, Isabel must connect with her own kind, including John, a green-haired vegan, and a retired porn star with her own agenda.

Ape House delivers great entertainment, but it also opens the animal world to us in ways few novels have done, securing Sara Gruen's place as a master storyteller who allows us to see ourselves as we never have before.


BONUS: This edition contains a reader's guide.
Praise For Ape House: A Novel…
"Consider reality TV, meth labs, over-the-top animal-rights activists, Botox, tabloids and Internet diatribes, and you, too, might come to the conclusion: People should be more like animals. Sara Gruen's entertaining, enlightening new novel will certainly leave you thinking so."—Miami Herald 
 
 "Propulsive...Gruen writes with the commercial breathlessness of a cozier Dan Brown."—Entertainment Weekly  
 
"Gruen delivers a tale that's full of heart, hope, and compelling questions about who we really are."—Redbook

"Animal lovers, gather 'round...[Ape House] is much better [than Water for Elephants]—funny because of some weird characters and circumstances that make life difficult for our intrepid reporter, and at the same time, compelling because those apes put to shame our beloved Homo sapiens."—Newark Star Ledger 
 
"Part expose, part thriller, part gothic romance and part comedy and farce...Gruen is a master at the popular novel plot."—Asheville Citizen Times
 
"Gruen is clearly enjoying herself here. It is fun...the conceit of a household of language-­endowed apes as the ne plus ultra of reality TV — leering humans greedy for profits and naughty thrills...apes who are at once innocent and more compassionate and dignified than the producers and the viewers — is terrific: an incisive piece of social commentary."—New York Times Book Review

"[Ape House] hums along with a pop-culture plot full of slick profiteers, sleazy pornographers, idiotic reality TV and gossip rags — with botox and ape sex thrown in for entertaining reading."—Des Moines Register

"Gruen has a knack for pacing and for creating distinctive animal characters. Scenes involving the bonobos are winsome without being sappy, and the reader comes to share Isabel's concern for the animals."—Boston Globe 

"Gruen's astute, wildly entertaining tale of interspecies connection is a novel of verve and conscience."—Booklist (Starred review)

"Has the dramatic tension of a crime thriller...Twists and turns, lies, and treachery abound in this funny, clever, and perceptive story."—Library Journal (Starred review)

"Sara Gruen knows things—she knows them in her mind and in her heart. And, out of what she knows, she has created a true thriller that is addictive from its opening sentence. Devour it to find out what happens next, but also to learn remarkable and moving things about life on this planet. Very, very few novels can change the way you look at the world around you. This one does."—Robert Goolrick, author of A Reliable Wife
 
"I read Ape House in one joyous breath. Ever an advocate for animals, Gruen brings them to life with the passion of a novelist and the accuracy of a scientist. She has already done more for bonobos than I could do in a lifetime. The novel is immaculately researched and lovingly crafted. If people fall in love with our forgotten, fascinating, endangered relative, it will be because of Ape House."—Vanessa Woods, author of Bonobo Handshake

Random House, 9780385523226, 336pp.
Publication Date: April 5, 2011
About the Author
Sara Gruen is the #1 New York Times and USA Today bestselling author of At the Water's Edge, Water for Elephants, Ape House, Riding Lessons, and Flying Changes. Her works have been translated into forty-three languages and have sold more than ten million copies worldwide. Water for Elephants was adapted into a major motion picture starring Reese Witherspoon, Rob Pattinson, and Christoph Waltz in 2011. She lives in western North Carolina with her husband and three sons, along with their dogs, cats, horses, birds, and the world's fussiest goat.
The bonobos in Ape House are described as matriarchal, with Bonzi acting as the nurturing and intelligent "undisputed leader" (p. 6) of the group. Discuss how Bonzi's relationship with her family compares or contrasts with the various human characters' relationships with their own families. Consider Amanda's desire—and Ivanka's—to have children in your discussion.
What does the success of the show Ape House reveal about human society? Why do you think its audience finds it especially compelling? How does it compare to the other types of media discussed in the novel?
Why is Isabel so attached to the bonobos? What does she enjoy about their company (and that of Stuart, her late fish) that other people do not offer her? What prevents her from connecting at the beginning, and how does that change by the end?
Isabel says, "[The bonobos] know they're bonobos and they know we're human, but it doesn't imply mastery, or superiority" (p. 10). The bonobos are clearly sentient animals, demonstrating the use of both language and tools, two criteria often cited as proof of the separation between humans and other primates. What, then, actually separates us from them?
"At this moment, the story in his head was perfect. [John] also knew from experience that it would degenerate the second he started typing, because such was the nature of writing" (p. 215). John and Amanda are both writers who struggle to maintain integrity while making a living. Discuss the importance of writing, language, and creativity in the novel, as well as the compromises the characters are forced to accept.
In Ape House, Sara Gruen uses humor to reveal the many flaws of human society. Is this device effective for revealing human foibles? Did you identify with her portrayal of human behavior?
Which of the human characters in Ape House is most like a bonobo?
Contrast the physical and emotional transformations of Isabel and Amanda. What are the reasons for their change? How does it affect both of them and their relationships with the other characters?
Do you think the use of animals for research, even when it does not physically or emotionally harm them, is an inherent infringement upon the animal's free will, as the ELL would argue? Or is there a way for animal-related research to be beneficial to human society while also protecting and respecting the animals' rights? Discuss how Ape House explores the different sides of this issue.
Over the course of the novel, John grows increasingly concerned about the possibility of having fathered a child with Ginette Pinegar, while Isabel doesn't understand why a biological link to the boy should make a difference. For the bonobos, on the other hand, the concept of paternity is irrelevant. Discuss the way Ape House deals with family structures.
Compare the bonobos' behavior with that of the humans in the novel. Do you think of human behavior differently after reading the novel?
or
Not Currently Available for Direct Purchase