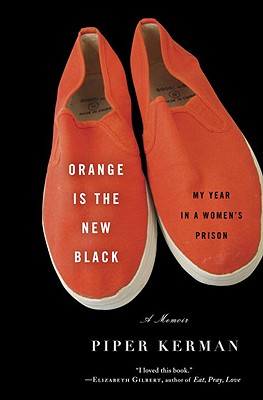 Orange Is the New Black (Hardcover)
My Year in a Women's Prison
Spiegel & Grau, 9780385523387, 320pp.
Publication Date: April 6, 2010
Other Editions of This Title:
Digital Audiobook (6/10/2012)
Paperback (3/8/2011)
Prebound (8/6/2013)
Hardcover, Large Print (10/1/2014)
Paperback, Large Print (12/17/2014)
Compact Disc (6/11/2012)
MP3 CD (6/11/2012)
Compact Disc (6/11/2012)
* Individual store prices may vary.
Description
NOW A NETFLIX ORIGINAL SERIES • #1 NEW YORK TIMES BESTSELLER
 
With a career, a boyfriend, and a loving family, Piper Kerman barely resembles the reckless young woman who delivered a suitcase of drug money ten years before. But that past has caught up with her. Convicted and sentenced to fifteen months at the infamous federal correctional facility in Danbury, Connecticut, the well-heeled Smith College alumna is now inmate #11187–424—one of the millions of people who disappear "down the rabbit hole" of the American penal system. From her first strip search to her final release, Kerman learns to navigate this strange world with its strictly enforced codes of behavior and arbitrary rules. She meets women from all walks of life, who surprise her with small tokens of generosity, hard words of wisdom, and simple acts of acceptance. Heartbreaking, hilarious, and at times enraging, Kerman's story offers a rare look into the lives of women in prison—why it is we lock so many away and what happens to them when they're there.
 
Praise for Orange Is the New Black
 
"Fascinating . . . The true subject of this unforgettable book is female bonding and the ties that even bars can't unbind."—People (four stars)
 
"I loved this book. It's a story rich with humor, pathos, and redemption. What I did not expect from this memoir was the affection, compassion, and even reverence that Piper Kerman demonstrates for all the women she encountered while she was locked away in jail. I will never forget it."—Elizabeth Gilbert, author of Eat, Pray, Love
 
"This book is impossible to put down because [Kerman] could be you. Or your best friend. Or your daughter."—Los Angeles Times
 
"Moving . . . transcends the memoir genre's usual self-centeredness to explore how human beings can always surprise you."—USA Today
 
"It's a compelling awakening, and a harrowing one—both for the reader and for Kerman."—Newsweek.com
About the Author
Piper Kerman is vice president of a Washington, D.C.-based communications firm that works with foundations and nonprofits. A graduate of Smith College, she lives in Brooklyn.
Praise For Orange Is the New Black: My Year in a Women's Prison…
"Kerman's book is a fascinating look down the rabbit hole that is prison… Unforgettable." –People
 
"Orange transcends the memoir genre's usual self-centeredness to explore how human beings can always surprise you. You'd expect bad behavior in prison. But it's the moments of joy, friendship and kindness that the author experienced that make Orange so moving and lovely…You sense [Kerman] wrote Orange to make readers think not about her but her fellow inmates. And, boy, does she succeed." –USA Today
 
"In Orange Is the New Black: My Year in a Women's Prison, Kerman puts us inside, from the first strip search...to the prison-issue unwashed underwear to the cucumbers and raw cauliflower that count as salad.... This book is impossible to put down because she could be you. Or your best friend. Or your daughter."
–Los Angeles Times
 
"Kerman neither sentimentalizes nor lectures. She keeps the details of her despair to a minimum along with her discussion of the outrages of the penal system, concentrating instead on descriptions of her direct experiences, both harrowing and hilarious, and the personalities of the women who shared them with her."
–Boston Globe

"Vivid, revealing…" —Entertainment Weekly
 
"[An] insightful and often very funny book…" —Salon.com
 
"Ten years after a fleeting post-Smith College flirtation with drug trafficking, Piper Kerman was arrested–a P.O.W. in the war on drugs. In Orange Is the New Black (Spiegel & Grau), Kerman presents–devoid of self-pity, and with novelistic flair–life in the clink as less Caged Heat and more Steel Magnolias. —Vanity Fair

"I loved this book, to a depth and degree that caught me by surprise. Of course it's a compelling insider's account of life in a women's federal prison, and of course it's a behind-the-scenes look at America's war on drugs, and of course it's a story rich with humor, pathos and redemption: All of that was to be expected. What I did not expect from this memoir was the affection, compassion, and even reverence that Piper Kerman demonstrates for all the women she encountered while she was locked away in jail. That was the surprising twist: that behind the bars of women's prisons grow extraordinary friendships, ad hoc families, and delicate communities. In the end, this book is not just a tale of prisons, drugs, crime, or justice; it is, simply put, a beautifully told story about how incredible women can be, and I will never forget it." —Elizabeth Gilbert, author of Eat, Pray, Love

"Don't let the irreverent title mislead: This is a serious and bighearted book that depicts life in a women's prison with great detail and—crucially—with empathy and respect for Piper Kerman's fellow prisoners, most of whom did not and do not have her advantages and options. With its expert reporting and humane, clear-eyed storytelling, Orange Is the New Black will join Ted Conover's Newjack among the necessary contemporary books about the American prison experience." — Dave Eggers, author of Zeitoun and co-author of Surviving Justice: America's Wrongfully Convicted and Exonerated

"I can't stop thinking about this marvelous book, about the generous and lovely women with whom Piper Kerman served her time. I never expected to pick up a memoir about prison and find myself immersed in a story of grace, of friendship, of loyalty and love. I have never read anything like this book, and I will read and reread it again and again."—Ayelet Waldman, author of Bad Mother and Daughter's Keeper
 
Coverage from NPR
or
Not Currently Available for Direct Purchase