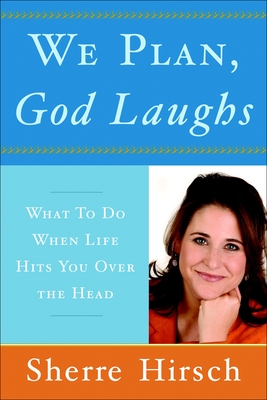 We Plan, God Laughs: 10 Steps to Finding Your Divine Path When Life Is Not Turning Out Like You Wanted (Paperback)
10 Steps to Finding Your Divine Path When Life Is Not Turning Out Like You Wanted
Harmony, 9780385523622, 180pp.
Publication Date: June 16, 2009
Description
The old Yiddish proverb, "We plan, God laughs," expresses a truth everyone can relate to. At every stage of life we make plans, setting out where we want to go and imagining what we will be like when we have "arrived." But things have a way of turning out not quite as we hoped or expected. In WE PLAN, GOD LAUGHS, Sherre Hirsch argues that too often our plans are limited to ones we think up at bedtime, or are devised by our parents, or by what looks good on a resume. Addressing serious spiritual issues, Hirsch takes readers through ten basics steps for formulating a plan that reflects who we are now and who we want to be--a plan that is alive, organic, and in sync with God. Hirsch teaches the importance of letting go and recognizing that even the most ordinary life is extraordinary in the eyes of God. She makes no foolish promise that life will turn out as we plan, but shows that with hope, faith, and belief, we can change our lives for the better and make a positive difference in the lives of others.
About the Author
Sherre Hirsch was a rabbi at Sinai Temple in Los Angeles for eight years and is the Spiritual Life Consultant and a speaker for Canyon Ranch. She appeared regularly on Noami Judd's New Morning. She has been featured on Today, Tyra, and PBS's Thirty Good Minutes and is also a contributor to Momlogic.com. Hirsch lives in Los Angeles with her husband and three children.
Praise For We Plan, God Laughs: 10 Steps to Finding Your Divine Path When Life Is Not Turning Out Like You Wanted…
"An uplifting book! Where there is despair, Rabbi Hirsch offers hope, and where there is confusion, she shows us the path to clarity."
—Rabbi Harold Kushner, author of When Bad Things Happen to Good People

"Sherre's humor, insights, and warmth charm me. This book is like an inspiring visit with a wise spiritual teacher."
—Naomi Judd

"Rabbi Sherre Hirsch has blessed us with a wonderful book to lift our souls. In a voice of wisdom and compassion, she inspires us to heal our hurts, realize our dreams, and laugh with God."
—Naomi Levy, author of To Begin Again and Talking to God
Advertisement