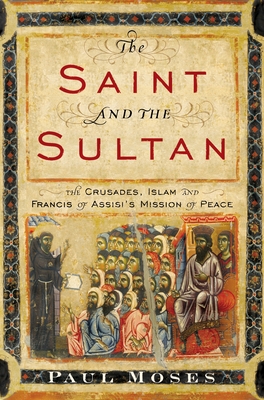 The Saint and the Sultan: The Crusades, Islam, and Francis of Assisi's Mission of Peace (Hardcover)
The Crusades, Islam, and Francis of Assisi's Mission of Peace
Doubleday Religion, 9780385523707, 302pp.
Publication Date: September 29, 2009
Description
An intriguing examination of the extraordinary and little known meeting between St. Francis of Assisi and Islamic leader Sultan Malik Al-Kamil that has strong resonance in today's divided world.
For many of us, St. Francis of Assisi is known as a poor monk and a lover of animals. However, these images are sadly incomplete, because they ignore an equally important and more challenging aspect of his life -- his unwavering commitment to seeking peace. In The Saint and the Sultan, Paul Moses recovers Francis''s message of peace through the largely forgotten story of his daring mission to end the crusades.
In 1219, as the Fifth Crusade was being fought, Francis crossed enemy lines to gain an audience with Malik al-Kamil, the Sultan of Egypt. The two talked of war and peace and faith and when Francis returned home, he proposed that his Order of the Friars Minor live peaceably among the followers of Islam a revolutionary call at a moment when Christendom pinned its hopes for converting Muslims on the battlefield.
The Saint and the Sultan captures the lives of St. Francis and Sultan al-Kamil and illuminates the political intrigue and religious fervor of their time.In the process, itreveals a startlingly timely story of interfaith conflict, war, and the search for peace. More than simply a dramatic adventure, though it does not lack for colorful saints and sinners, loyalty and betrayal, and thrilling Crusade narrative, The Saint and the Sultan brings to life an episode of deep relevance for all who seek to find peace between the West and the Islamic world.
Winner of the 2010 Catholic Press Association Book Award for History
About the Author
Paul Moses, former Newsday city editor and senior religion writer, is a professor of journalism at Brooklyn College and the City University of New York Graduate School of Journalism. He was the lead writer on a Newsday team that won the Pulitzer Prize. He lives in Brooklyn with his wife, Maureen.
Praise For The Saint and the Sultan: The Crusades, Islam, and Francis of Assisi's Mission of Peace…
"The story of these two men—Francis and the sultan—is told engagingly in this well-researched, timely and fascinating book by Paul Moses ... dramatically narrated ... I highly recommend this book for readers interested in St. Francis, the Crusades, Islam and how the story of Francis and al-Kamil offers us a Franciscan approach to the interfaith challenges we face today." - Murray Bodo, O.F.M., St. Anthony Messenger.

"...this is a wonderfully written, well researched and timely book. It will surely serve to bring the message of peace that is exhibited in the encounter between Francis and the Sultan to a world desperately in need of recalling such possibilities ... This is a book that belongs int he personal libraries of all Franciscans and all who strive to encounter the other in a loving, Christian and respectful manner." - Daniel P. Horan, O.F.M.

"Moses's realistic and powerful book gives readers an informed idea of how difficult it was to follow Francis in an age of papal power and the broad acceptance of violence." - Joseph Cunneen, History News Network

"An important book ... The Saint and the Sultan is fascinating reading that will change the reader's concept of who St. Francis of Assisi was ... It's sure to stir a lot of conversation in religious circles." - Ed Wilkinson, editor-in-chief of The Tablet

"Moses' lively account of a little-known but significant chapter in the life of the popular saint of Assisi deserves a wide readership, resonating as it does with world events of our own time." - America Magazine

"Paul Moses' fascinating account of St. Francis of Assisi's meeting with Sultan Malik al-Kamil in the midst of the Fifth Crusade not only details the historical record, puts it into context, and tries to strip it of centuries of tendentious distortions, it also documents how its true significance has recently come to blossom and bear fruit in Christian-Muslim relations. In his thoroughly researched and engaging book Moses uncovers and retells the true story of the Christian saint's audience with the Muslim ruler. - Meinrad Scherer-Emunds, Executive Editor, U.S. Catholic

"The care and – there is no other word for it – love with which Moses has drawn the scene for us is really a prayer for ... peace." - Melinda Henneberger, editor-in-chief, PoliticsDaily

"The Saint and the Sultan is a provocative, in-depth examination of that little-known but powerful meeting between St. Francis and the 13th century Islamic leader Sultan Malik al-Kamil...Moses ... shows how the encounter between them is of great relevance to our divided world today." - Brooklyn Daily Eagle

"In this sprightly and smart book, Paul Moses rediscovers an ancient moment in time that, in his telling, has timeless resonance."
— Jon Meacham, Author of American Lion: Andrew Jackson in the White House

"This brilliant retelling of a largely forgotten chapter in the life of the most beloved of saints comes just when we need it most. The Saint and the Sultan shows that faith leads to action, and that true holiness can lead to actions that provoke, astonish and even baffle the world."
— James Martin, Author of My Life with the Saints

"The Saint and the Sultan is a MUST read, supremely relevant today in relations between the Muslim world and the West . . . Paul Moses' outstanding and engaging portrayal offers a unique insight into Francis' overlooked counter-cultural role as a peacemaker during the Crusades for whom Christianity was a religion of peace not conflict."
— John L. Esposito, Georgetown University Professor of Religion & International Affairs, and author of What Everyone Needs to Know about Islam

"In The Saint and the Sultan Paul Moses delivers a fascinating lesson from a lost episode of history, and shows how critical it is to understanding today's global conflicts — and the possibility of peace through religious dialogue. In the process, he also delivers a terrific story about a Christian saint everyone thought they knew — Francis of Assisi — and a Muslim world that few realize existed."
— David Gibson, author of The Coming Catholic Church and The Rule of Benedict

"The Saint and the Sultan is an important and timely book. Paul Moses reminds us that the true agents of dialogue and constructive encounter must be courageous enough to talk as well as to listen, even opposing their own people, in the name of justice, dignity and love. Such religious voices are very much needed today, to help us follow the demanding path of peace while avoiding the traps of undignified wars."
— Tariq Ramadan, Oxford University Professor of Contemporary Islamic Studies, and author of In the Footsteps of the Prophet 

"Paul Moses' fascinating book throws new light on St. Francis' exemplary ministry of reconciliation. In the midst of widespread ignorance and war the efforts of St. Francis to build trust and overcome mutual antipathy speak powerfully to us today, when misunderstanding and conflict between Christians and Muslims threaten all who share our planet."
— Charles Kimball, author of When Religion Becomes Evil

"The Saint and the Sultan sheds new light on spiritual vision' s power to transcend conflict. Through this book we learn not only about a remarkable set of events of medieval  history, but also a lesson in peace making that is of the greatest importance for both those Westerners and Muslims who seek to create better understanding of each other across religious and cultural frontiers rather than simply vilifying one another." 
— Seyyed Hossein Nasr, Professor of Islamic Studies at George Washington University, and author of The Heart of Islam
Advertisement