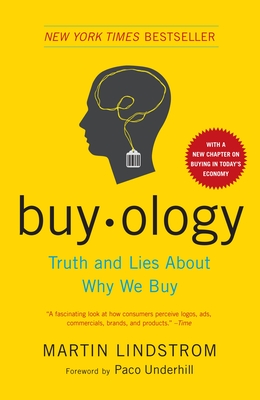 Buyology (Paperback)
Truth and Lies About Why We Buy
Currency, 9780385523899, 272pp.
Publication Date: February 2, 2010
Other Editions of This Title:
Digital Audiobook (10/20/2008)
Hardcover (10/21/2008)
Paperback (10/1/2009)
* Individual store prices may vary.
Description
How much do we know about why we buy? What truly influences our decisions in today's message-cluttered world? An eye-grabbing advertisement, a catchy slogan, an infectious jingle? Or do our buying decisions take place below the surface, so deep within our subconscious minds, we're barely aware of them?

In BUYOLOGY, Lindstrom, who was voted one of Time Magazine's most influential people of 2009, presents the astonishing findings from his groundbreaking, three-year, seven-million-dollar neuromarketing study, a cutting-edge experiment that peered inside the brains of 2,000 volunteers from all around the world as they encountered various ads, logos, commercials, brands, and products. His startling results shatter much of what we have long believed about what seduces our interest and drives us to buy. Among the questions he explores:

Does sex actually sell? To what extent do people in skimpy clothing and suggestive poses persuade us to buy products?
Despite government bans, does subliminal advertising still surround us – from bars to highway billboards to supermarket shelves?
Can "Cool" brands, like iPods, trigger our mating instincts?
Can other senses – smell, touch, and sound - be so powerful as to physically arouse us when we see a product?
Do companies copy from the world of religion and create rituals – like drinking a Corona with a lime – to capture our hard-earned dollars?

Filled with entertaining inside stories about how we respond to such well-known brands as Marlboro, Nokia, Calvin Klein, Ford, and American Idol, BUYOLOGY is a fascinating and shocking journey into the mind of today's consumer that will captivate anyone who's been seduced – or turned off – by marketers' relentless attempts to win our loyalty, our money, and our minds.
About the Author
MARTIN LINDSTROM was voted by Time Magazine as one of the world's most influential people of 2009 for this work on neuromarketing. As one of the world's most respected marketing gurus with a global audience of over a million people, Lindstrom spends 300 days on the road every year, advising top executives of companies including McDonald's Corporation, Procter & Gamble, Nestlé, Microsoft, The Walt Disney Company and GlaxoSmithKline. He has been featured in The Washington Post, USA TODAY, Fast Company, and more. His previous book, BRANDsense, was acclaimed by the Wall Street Journal as one of the ten best marketing books ever published.
Praise For Buyology: Truth and Lies About Why We Buy…
"A page-turner"
-Newsweek

" Lindstrom dishes up results, alongside a buffet of past research, with clear writing and deft reasoning."
-Fast Company

"Lindstrom … has an encyclopedic knowledge of advertising history and an abundance of real-world business experience"
-The Washington Post

"Martin Lindstrom, the boy wonder of branding, tells that the future of shopping is all in the mind"
-The Sunday Times (UK)

"Shatters conventional wisdom"
- CNBC

"...brings together a great many strands of research to build a fascinating case. The writing is snappy and the book's a page turner"
-BBC Focus Magazine

"Lindstrom's research should be of interest to any company launching a new product or brand"
-USA Today

"Lindstrom...has an original, inquisitive mind...His new book is a fascinating look at how consumers perceive logos, ads, commercials, brands, and products."
-Time

"When someone tells you that a book is a "page-turner," you probably think of the latest top-list best-seller. Now you'll think of Buyology….Pick up a copy of this book and get one of those highlighting thingamajiggies before you fix your ad budget for the new year. "Buyology" is definitely money well-spent."
-The Eagle Tribune


"An entertaining and informative tome"
-The Seattle Examiner


"Why do rational people act irrationally? Written like a fast paced detective novel, "Buyology" unveils what neuromarketers know about our decision making so we can buy and sell more insightfully."
- Dr. Mehmet C Oz Professor of Surgery, Columbia University, and author of YOU -The Owner's Manual

"Move over Tipping Point and Made to Stick because there's a new book in town: Buyology. This book lights the way for smart marketers and entrepreneurs."
-Guy Kawasaki, Author of The Art of the Start

"Martin Lindstrom is one of branding's most original thinkers"
-Robert A. Eckert, CEO & Chairman, Mattel, Inc.

"Lindstrom takes us on a fascinating journey inside the consumer brain. Why do we make the decisions we do? Surprising and eye opening, Buyology is a must for anyone conducting a marketing campaign."
-Ori Brafman, author of the bestselling book, Sway

"Full of intriguing stories on how the brain, brands and emotions drive consumer choice. Martin Lindstrom's brilliant blending of marketing and neuroscience supplies us with a deeper understanding of the dynamic, largely unconscious forces that shape our  decision making. One reading of this book and you will look at consumer and producer behavior in an entirely new light."
-Philip Kotler, Ph.D., S. C. Johnson & Son Distinguished Professor of International Marketing, Kellogg School of Management, Northwestern University

"A riveting read. Challenging, exciting, provocative, clever, and, even more importantly, useful!"
-Andrew Robertson, CEO & President, BBDO Worldwide


Lindstrom can be a charming writer. He has an encyclopedic knowledge of advertising history and an abundance of real-world business experience