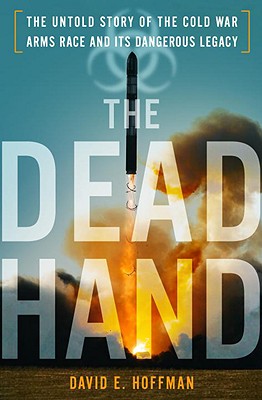 The Dead Hand (Hardcover)
The Untold Story of the Cold War Arms Race and its Dangerous Legacy
Doubleday, 9780385524377, 592pp.
Publication Date: September 22, 2009
Other Editions of This Title:
Paperback (11/1/2011)
Compact Disc, Abridged, Abridged (9/22/2009)
Hardcover (2/1/2011)
* Individual store prices may vary.
Description
"A tour de force of investigative history." —Steve Coll

The Dead Hand is the suspense-filled story of the people who sought to brake the speeding locomotive of the arms race, then rushed to secure the nuclear and biological weapons left behind by the collapse of the Soviet Union—a dangerous legacy that haunts us even today.

The Cold War was an epoch of massive overkill. In the last half of the twentieth century the two superpowers had perfected the science of mass destruction and possessed nuclear weapons with the combined power of a million Hiroshimas. What's more, a Soviet biological warfare machine was ready to produce bacteria and viruses to sicken and kill millions. In The Dead Hand, a thrilling narrative history drawing on new archives and original research and interviews, David E. Hoffman reveals how presidents, scientists, diplomats, soldiers, and spies confronted the danger and changed the course of history.

The Dead Hand captures the inside story in both the United States and the Soviet Union, giving us an urgent and intimate account of the last decade of the arms race. With access to secret Kremlin documents, Hoffman chronicles Soviet internal deliberations that have long been hidden. He reveals that weapons designers in 1985 laid a massive "Star Wars" program on the desk of Soviet leader Mikhail Gorbachev to compete with President Reagan, but Gorbachev refused to build it. He unmasks the cover-up of the Soviet biological weapons program. He tells the exclusive story of one Soviet microbiologist's quest to build a genetically engineered super-germ—it would cause a mild illness, a deceptive recovery, then a second, fatal attack. And he details the frightening history of the Doomsday Machine, known as the Dead Hand, which would launch a retaliatory nuclear strike if the Soviet leaders were wiped out.

When the Soviet Union collapsed, the dangers remained. Soon rickety trains were hauling unsecured nuclear warheads across the Russian steppe; tons of highly-enriched uranium and plutonium lay unguarded in warehouses; and microbiologists and bomb designers were scavenging for food to feed their families.

The Dead Hand offers fresh and startling insights into Reagan and Gorbachev, the two key figures of the end of the Cold War, and draws colorful, unforgettable portraits of many others who struggled, often valiantly, to save the world from the most terrifying weapons known to man.
About the Author
David E. Hoffman is a contributing editor at the "Washington Post," where he previously served as White House correspondent, Moscow bureau chief, and assistant managing editor for foreign news. He is the author of "The Oligarchs: Wealth and Power in the New Russia. "

He lives in Maryland.
Praise For The Dead Hand: The Untold Story of the Cold War Arms Race and its Dangerous Legacy…
Praise for The Dead Hand

"Authoritative and chilling. . . . A readable, many-tentacled account of the decades-long military standoff between the United States and the Soviet Union. . . . The Dead Hand is deadly serious, but this story can verge on pitch-black comedy—Dr. Strangelove as updated by the Coen Brothers."
—The New York Times

"Revealing, alarming and compelling throughout. . . . This richly reported account vividly chronicles the insanity of the arms race. . . . Taut, crisply written. . . . The Dead Hand puts human faces on the bureaucracy of mutual assured destruction, even as it underscores the institutional inertia that drove this monster forward. . . . A fine book indeed."
—T. J. Stiles, Minneapolis Star Tribune

"In a compelling narrative packed with vivid detail and telling quotations, Hoffman tells the story of how Reagan and Gorbachev halted the arms race."
—The Times Literary Supplement

"Gripping. . . . Hoffman reinforces his scary thesis with breathtakingly detailed research."
—St. Louis Post-Dispatch

"Unsettling. . . . The Dead Hand argues convincingly that America's victory in the Cold War wasn't nearly as triumphant as the most self-congratulatory among us have tended to believe."
—The Washington Post

"A stunning feat of research and narrative. Terrifying."
—John le Carré
 
"The Dead Hand is a brilliant work of history, a richly detailed, gripping tale that take us inside the Cold War arms race as no other book has. Drawing upon extensive interviews and secret documents, David Hoffman reveals never-before-reported aspects of the Soviet biological and nuclear programs. It's a story so riveting and scary that you feel like you are reading a fictional thriller."
—Rajiv Chandrasekaran, author of Imperial Life in the Emerald City: Inside Iraq's Green Zone

"In The Dead Hand, David Hoffman has uncovered some of the Cold War's most persistent and consequential secrets—plans and systems designed to wage war with weapons of mass destruction, and even to place the prospective end of civilization on a kind of automatic pilot. The book's revelations are shocking; its narrative is intelligent and gripping. This is a tour de force of investigative history."
—Steve Coll, author of Ghost Wars and The Bin Ladens

"An extraordinary and compelling story, beautifully researched, elegantly told, and full of revelations about the superpower arms race in the dying days of the Cold War. The Dead Hand is riveting."
—Rick Atkinson, Pulitzer Prize–winning author of An Army At Dawn

"No one is better qualified than David Hoffman to tell the definitive story of the ruinous Cold War arms race. He has interviewed the principal protagonists, unearthed previously undiscovered archives, and tramped across the military-industrial wasteland of the former Soviet Union. He brings his characters to life in a thrilling narrative that contains many lessons for modern-day policymakers struggling to stop the proliferation of weapons of mass destruction. An extraordinary achievement."
—Michael Dobbs, author of One Minute to Midnight: Kennedy, Khrushchev, and Castro on the Brink of Nuclear War

Coverage from NPR
or
Not Currently Available for Direct Purchase