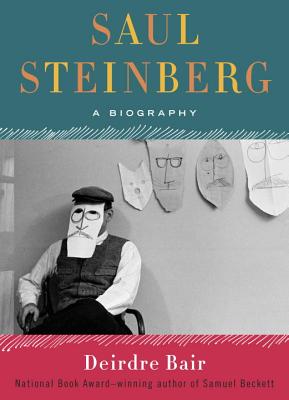 Saul Steinberg
A Biography
Hardcover

* Individual store prices may vary.
Description
From National Book Award winner Deirdre Bair, the definitive biography of Saul Steinberg, one of The New Yorker's most iconic artists.
 
The issue date was March 29, 1976. The New Yorker cost 75 cents. And on the cover unfolded Saul Steinberg's vision of the world: New York City, the Hudson River, and then...well, it's really just a bunch of stuff you needn't concern yourself with. Steinberg's brilliant depiction of the world according to self-satisfied New Yorkers placed him squarely in the pantheon of the magazine's—and the era's—most celebrated artists.
 
But if you look beyond the searing wit and stunning artistry, you'll find one of the most fascinating lives of the twentieth century. Born in Romania, Steinberg was educated in Milan and was already famous for his satirical drawings when World War II forced him to immigrate to the United States. On a single day, Steinberg became a US citizen, a commissioned officer in the US Navy, and a member of the OSS, assigned to spy in China, North Africa, and Italy. After the war ended, he returned to America and to his art. He quickly gained entree into influential circles that included Saul Bellow, Vladimir Nabokov, Willem de Kooning, and Le Corbusier. His wife was the artist Hedda Sterne, from whom he separated in 1960 but never divorced and with whom he remained in daily contact for the rest of his life. This conveniently freed him up to amass a coterie of young mistresses and lovers. But his truly great love was the United States, where he traveled extensively by bus, train, and car, drawing, observing, and writing.
 
His body of work is staggering and influential in ways we may not yet even be able to fully grasp, quite possibly because there has not been a full-scale biography of him until now. Deirdre Bair had access to 177 boxes of documents and more than 400 drawings. In addition, she conducted several hundred personal interviews. Steinberg's curious talent for creating myths about himself did not make her job an easy one, but the result is a stunning achievement to admire and enjoy.
Praise For Saul Steinberg: A Biography…
A New York Times Notable Book of 2012

"Gripping and revelatory ... There is much that is new in Bair's book, and Steinberg emerges from her account as a paradigmatic 20th-century exile and traveler, crossing and recrossing fixed boundary lines in both his life and his work ... Steinberg certainly produced his share of classics, and in the process he helped pave the way for a culture of boundary-blurrers ... He showed that literature can be created without using a single sentence."
—Deborah Solomon, The New York Times Book Review

"A meticulously researched and soberly written portrait revealing an artist whose personality was both more troubled and more troubling than his fans would have ever imagined ... A tour de force of biographical craftsmanship."
—The Wall Street Journal

"The pre-eminent New Yorker cartoonist leads a life worthy of his own ironic art in this scintillating biography ... Steinberg emerges as a tangle of neurotic contradictions ... Bair's long and amply researched biography unfolds in a graceful prose that's stocked with absurdist scenes and colorful characters ... Her breezy writing works subtly and slyly to unearth psychological depths beneath that amusing surface of the Steinbergian picaresque."
—Publishers Weekly, starred and boxed review

"With this enthralling and exhaustive biography, Deirdre Bair traces the first complete portrait of the private, astringent (and now formerly) inscrutable artist/cartoonist in a nonjudgmental manner, all the while gaping at the famous friendships, expansive career, and, most surprisingly, messy affairs that Steinberg so peripatetically and painfully inhabited. Steinberg was not only the most 'twentieth century' of twentieth century artists, but also one of the most flabbergasting."
—Chris Ware, cartoonist
 
"Does his reading Huck Finn in an Italian concentration camp, his belief that Cyrillic 'looks like sneezes,' his TV commercial for Jell-O, or the hunch that Mickey Mouse was black explain Saul Steinberg?  Not entirely, but Deirdre Bair does the rest, in her sensitive, stylish portrait of an American original.  A rich, sparkling joy of a book."
—Stacy Schiff, Pulitzer Prize-winning author of Cleopatra

"The definitive portrait of an illustrator, an artist, who created some of the defining images of the 20th Century. Bair has written the enchanting and illuminating biography that Steinberg always deserved."
—Steven Naifeh and Gregory White Smith, Pulitzer Prize-winning authors of Van Gogh: The Life
 
"I thought I knew Saul Steinberg, yet in Deirdre Bair's biography I learned of the extraordinary life, replete with his most intimate musings, this guardedly private man lived.  It brought back the unique wit and humanism that make Steinberg one of the towering creative forces of the 20th Century."
—Françoise Mouly, Art Editor, The New Yorker 

"[Full of] fresh revelations ... A comprehensive and engaging biography."
—The Boston Globe
Nan A. Talese, 9780385524483, 752pp.
Publication Date: November 20, 2012
About the Author
DEIRDRE BAIR received the National Book Award for Samuel Beckett: A Biography. Her biographies of Simone de Beauvoir and Carl Jung were finalists for the Los Angeles Times Book Prize. Her biographies of Simone de Beauvoir and Anaïs Nin were chosen by The New York Times as Best Book of the Year (Beauvoir) and Notable Book of the Year (Nin).
or
Not Currently Available for Direct Purchase