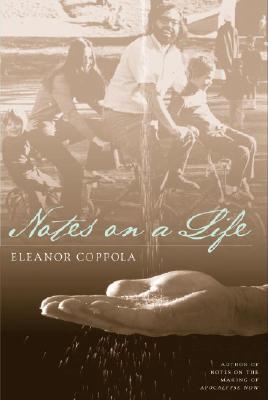 Notes on a Life
Hardcover

* Individual store prices may vary.
Other Editions of This Title:
Paperback (6/1/2010)
Description
Eleanor Coppola shares her extraordinary life as an artist, filmmaker, wife, and mother in a book that captures the glamour and grit of Hollywood and reveals the private tragedies and joys that tested and strengthened her over the past twenty years.

Her first book, Notes on the Making of Apocalypse Now, was hailed as "one of the most revealing of all first hand looks at the movies" (Los Angeles Herald Examiner). And now the author brings the same honesty, insight, and wit to this absorbing account of the next chapters in her life.

In this new work we travel back and forth with her from the swirling center of the film world to the intimate heart of her family. She offers a fascinating look at the vision that drives her husband, Francis Ford Coppola, and describes her daughter Sofia's rise to fame with the film Lost in Translation. Even as she visits faraway movie sets and attends parties, she is pulled back to pursue her own art, but is always focused on keeping her family safe. The death of their son Gio in a boating accident in 1986 and her struggle to cope with her grief and anger leads to a moving exploration of her deepest feelings as a woman and a mother.

Written with a quiet strength, Eleanor Coppola's powerful portrait of the conflicting demands of family, love and art is at once very personal and universally resonant.
Praise For Notes on a Life…
"Winning and quietly provocative."
–New York Times Book Review

"Notes on the Making of 'Apocalypse Now,' Eleanor Coppola's 1979 production diary of husband Francis' audacious, flawed film released that year, remains one of the best accounts ever written of the insane difficulties involved in shooting a big-budget movie on location. Nearly 30 years later, she brings the same scrupulous honesty and lucid, thoughtful prose to her memoir Notes on a Life.

Ranging episodically over several decades, Coppola offers a poignant self-portrait of middle age.... The author could have come off as an overprivileged whiner as she describes jaunts to Brazil, Thailand and Bali, a cruise of the Caribbean in George Lucas' chartered yacht, the Coppolas' apartment at the Sherry-Netherland in New York and their mansion in the Napa Valley. But her detailed evocations of such lavish scenes are coupled with an awareness of how rarefied they are….

Like many women of her generation, she pushed aside many of her aspirations when she married and had children. The difference is that she didn't marry a guy with an ordinary job, she married a man who turned out to be one of America's greatest film directors. Francis Ford Coppola is, not surprisingly, the elephant in the room in his wife's memoir, which is a three-dimensional portrait of a marriage unlike any other, and yet not so very different after all….

The fact that she generally was an onlooker rather than a participant in this world was her choice, Coppola acknowledges in this nuanced assessment of her life. Her mature understanding illuminates this engaging memoir, which chronicles with equal acuity regrets over the paths not taken and pleasure in the ones that were."
–Los Angeles Times

"[An] affecting memoir.... Eleanor is the glue that holds her family together, yet the tone of this memoir is always self-effacing, reticent, reserved…. Eleanor quietly stands at the ready, watching for opportunities both to help and to make art, giving an entirely different meaning to that old poetic line: 'They also serve who only stand and wait.'"
–Carolyn See, The Washington Post

"[An] emotionally naked [book that is] compulsively readable."
–Houston Chronicle

"Eleanor's life, the constant push-pull between her desire for her own emotional primacy and her need to be a helpmate to her husband and mother to her children, is most reminiscent of another distinguished diarist: Anne Morrow Lindbergh….although [Eleanor]'s far more emotionally naked than Lindbergh."
–Palm Beach Post

"Notes on a Life details the price often paid to attain artistic greatness, and the toll that quest can have on the lives of everyone involved in it…. Coppola takes you deeply inside the daily routines, trials, failures and triumphs of an extraordinary family, one that ultimately isn't really all that different from anybody else, regardless of their celebrity status and awards."
–Nashville City Paper

"Coppola's most touching memories…are expressed with honesty and dignity…. An intriguing view of one of the central figures in the Coppola filmmaking dynasty."
–Publishers Weekly

"Coppola has an artist's eye for the world around her…. What emerges from these 'notes' is a portrait of an extraordinary woman who, while traveling the world, renovating huge estates, making award-winning films, and rubbing elbows with celebrities, is also just a woman like any other, struggling to balance work and family, dealing with unexpected grief, and trying to achieve spiritual and creative fulfillment. It is Coppola's words alone, however, that make these reflections on life so thoughtful, imaginative, and completely absorbing."
–Bookslut.com

"Eleanor Coppola is a multi-talented artist who reveals in this riveting book how she has managed to help and reinforce her famous film-maker husband and to produce talented, original, and loyal children, while still holding on to her own innate creativity. In this deeply poetic and tantalizing book, replete with accounts of the Coppola appetite for visual beauty and good food, she honestly and generously shares her discoveries, while battling tragedy and disappointment, of her own magic formulas for finding joy and serenity in life."
–Lillian Ross

"Like everything Coppola writes, these are richly told stories of family and film and solitude, spanning years of creation and joy. She is a narrator you trust to pay the most wonderful attention to what is real and human in life, through the highly intelligent and kind eyes of a mother, an artist, a wife."
–Anne Lamott

"Eleanor Coppola is inspirational in the way she has managed her complicated life and family, and her artistic life, and for her candor about the frustrations and tragedies too. And how interesting a time she's had as the steady hand on the helm of that talented family."
–Diane Johnson, the author of Le Marriage and Le Divorce
Nan A. Talese, 9780385524995, 304pp.
Publication Date: May 6, 2008
About the Author
ELEANOR COPPOLA is an artist, documentary filmmaker and the author of "Notes on the Making of "Apocalypse Now. She lives in Napa Valley, California.
Eleanor Coppola often refers to the contradictions within herself; these oppositions are an ongoing theme in her life. Discuss how you see this theme play out throughout Notes on a Life. What sort of contradictory characteristics have you encountered in your own experiences?
Discuss the various locations to which Eleanor travels with Francis and what effect these settings have on her existence and emotional state. How does filming on location in foreign lands differ from her life at home in Napa Valley? What role does cultural heritage play in shaping the lives of the Coppola family?
How does Eleanor react to being thrust into the spotlight when her documentary, Hearts of Darkness, receives critical acclaim? How does this compare to her later artistic endeavors? What does this imply about the nature of fame?
Discuss the effect of the non-linear narration on your understanding of Eleanor's personal growth? How does her approach to time and memory, perspective and place, enhance the realism of her storytelling? When you look back at your life, do your memories follow a similar pattern?
How does the death of her son, Gio, affect Eleanor's outlook on life and mortality? How does this new perspective manifest itself in her life and legacy? Discuss the hope and solace that lives on through Gio's daughter, Gia.
What is the significance of the giant oak tree that grows on the Coppola estate in Napa Valley? Discuss in particular the two incidents in which the tree's branch breaks off and the tree completely collapses. How does the illustration of the Niebaum-Coppola Estate, with the great tree towering above, affect you as a reader?
Often, Eleanor questions her decisions as a young woman and her role as a wife and mother. How does the nature of womanhood change from her generation to her daughter, Sofia's? Discuss Eleanor's reaction to this paradigm shift and how she reconciles her emotions with her desire to be a supportive mother.
How does artistic ambition play a primary role in shaping the lives of the Coppola family? Discuss in particular the ways in which art acts as educator, entertainer, and healer.
Discuss the role of Eleanor Coppola as a documentarian and observer of the creative process. How does her approach as a documentary filmmaker compare to her methods as an author of memoirs?
Eleanor quotes Tom Waits as saying, "Family and career don't like each other … one is always trying to eat the other. You're always trying to find balance. But one is really useless without the other. What you really want is a sink and a faucet. That's the ideal." How does this relate to Eleanor's struggle to maintain her role as mother, wife, and artist?
What repetitions of certain numbers are significant in Notes on a Life? How does this culminate with Eleanor's reflection on the death of Gio and birth of Gia?
How does Eleanor's installation piece, Circle of Memory, help to heal the emotional wounds she has endured in life? What does this imply about the nature of life and death, hope and grief?
Discuss the role of the media in molding the image and identity of the famous family. How does Eleanor's place in her own family alter according to the manipulation of the media? Is her role diminished due to the media? How does this seem to affect her personally?
In what ways do Francis and Eleanor have opposite views on ambition, travel, and leisure time? As a couple, how do they balance one another emotionally, personally, and artistically?
At one point, Eleanor describes Francis's desire to create a new language of cinema to express time and consciousness. Discuss how Eleanor has achieved this goal in her own memoirs. Do your own reminiscences or journal entries possess cinematic traits?
or
Not Currently Available for Direct Purchase