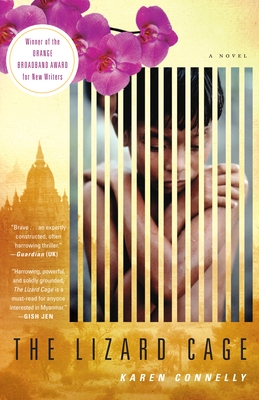 The Lizard Cage (Paperback)
Spiegel & Grau, 9780385525039, 464pp.
Publication Date: April 8, 2008
Other Editions of This Title:
Hardcover (3/20/2007)
Paperback (3/1/2008)
* Individual store prices may vary.
Description
Beautifully written and taking us into an exotic land, Karen Connelly's debut novel The Lizard Cage is a celebration of the resilience of the human spirit.

Teza once electrified the people of Burma with his protest songs against the dictatorship. Arrested by the Burmese secret police in the days of mass protest, he is seven years into a twenty-year sentence in solitary confinement. Cut off from his family and contact with other prisoners, he applies his acute intelligence, Buddhist patience, and humor to find meaning in the interminable days, and searches for news in every being and object that is grudgingly allowed into his cell.

Despite his isolation, Teza has a profound influence on the people around him. His very existence challenges the brutal authority of the jailers, and his steadfast spirit inspires radical change. Even when Teza's criminal server tries to compromise the singer for his own gain, Teza befriends him and risks falling into the trap of forbidden conversation, food, and the most dangerous contraband of all: paper and pen.

Yet, it is through Teza's relationship with Little Brother, a twelve-year-old orphan who's grown up inside the walls, that we ultimately come to understand the importance of hope and human connection in the midst of injustice and violence. Teza and the boy are prisoners of different orders: only one of them dreams of escape and only one of them will achieve it—their extraordinary friendship frees both of them in utterly surprising ways.
About the Author
lived for almost two years on the Thai-Burma border, among Burmese exiles and dissidents, many whose stories on which The Lizard Cage draws. She won the Governor General's Award for Nonfiction for Touch the Dragon, A Thai Journal, published in the United States as Dream of a Thousand Lives, a New York Times Notable Travel Book. The Lizard Cage is her first novel and was a finalist for the 2006 Kiriyama Prize for Fiction.
Praise For The Lizard Cage…
"In a feat of epic vision, Karen Connelly uses her every art to tell the urgent story of what the New York Times calls 'Myanmar, arguably the most repressive regime in the world.' The suspense never relents. Hope is small, but it lives, strengthened by this powerful book." —Maxine Hong Kingston

"The Lizard Cage combines a thrillerlike pace with finely etched portraits that show how each character takes control of his own freedom." —Publishers Weekly

"The Lizard Cage ranks with the best books written about Southeast Asia . . . It is a compassionate, honest and moving exploration of faith and endurance." —Globe and Mail

"The Lizard Cage is an exquisite example of the art of storytelling at its best."
—Weekend Post