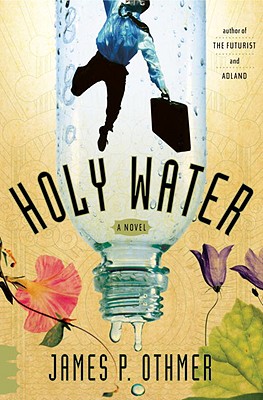 Holy Water (Hardcover)
Doubleday, 9780385525138, 304pp.
Publication Date: June 15, 2010
Other Editions of This Title:
Compact Disc (6/16/2010)
Paperback (6/14/2011)
MP3 CD (6/16/2010)
Compact Disc (6/16/2010)
* Individual store prices may vary.
Description
A mordant, ruefully funny novel about downsizing, outsourcing, globalization,  third-world dictatorships, and vasectomies, by the acclaimed author of The Futurist and Adland.

Henry Tuhoe is the quintessential twenty-first-century man. He has a vague, well-compensated job working for a multinational  conglomerate—but everyone around him is getting laid off as the company outsources everything it can to third-world countries.

He has a beautiful wife—his college  sweetheart—and an idyllic new home in the leafy suburbs, complete with pool. But his wife won't let him touch her, even though she demanded he get a vasectomy; he's seriously overleveraged on the mortgage; and no matter what chemicals he tries the pool remains a corpselike shade of ghastly green.

Then Henry's boss offers him a choice: go to the tiny, magical, about-to-be-globalized Kingdom of Galado to oversee the launch of a new customer-service call center for a boutique bottled water company the conglomerate has just acquired, or lose the job with no severance. Henry takes the transfer, more out of fecklessness than a sense of adventure.

In Galado, a land both spiritual and corrupt, Henry wrestles with first-world moral conundrums, the life he left behind, the attention of a steroid-abusing, megalomaniacal monarch, and a woman intent on redeeming both his soul and her country. The result is a riveting piece of fiction of and for our times, blackly satirical, moving, and profound.
About the Author
JAMES P. OTHMER is the author of "Adland: Searching for the Meaning of Life on a Branded Planet" and the novel "The Futurist," expanded from a short story published in the "Virginia Quarterly" that was a finalist for the National Magazine Award in Fiction. He lives in upstate New York with his wife and children.
Praise For Holy Water…
"Manages to be at the same time cynical and soul-searching...rewarding....walks a perfect line between satire and compassion....[a] brilliant, always caustic corporate satire....smart, elegant, witty"--The Washington Post

" 'Nothing in the corporate world should shock anyone anymore. Whatever you think will happen won't, and whatever you think doesn't have a chance will sneak up and kick you in the ass.' That's Henry Tuhoe's philosophy, and he's our knowing protagonist through this dark screwball business comedy by James P. Othmer. The action starts when a conglomerate transfers Tuhoe from marketing deodorant to setting up a call center for a bottled-water brand in a Himalayan country that has little potable H2O. As Tuhoe evolves from goofball to grown-up, Othmer, a former ad creative, keeps the action humming with satirical riffs on corporate trainers, figurehead founders, and how business really gets done in a developing nation. The book's gooey center inside its hard-candy shell is about finding meaning in work and life, and after all the high jinks in this beach read for BlackBerry addicts, Othmer has earned it."--Fast Company

PRAISE FOR THE FUTURIST
 
"A funny, thoughtful satire of corporate life." —Washington Post
or
Not Currently Available for Direct Purchase